Personal health management system - Healthy me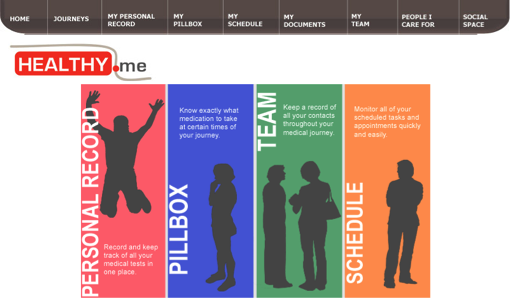 Project members - Macquarie University
Dr Annie Lau - Senior Research Fellow
Project main description
Healthy.me is a personal health management system developed by the Centre for Health Informatics, Australian Institute of Health Innovation. It is a research platform, available in web-based and mobile app platform (iOS, Android), which allows individuals to connect with health services, peers, information sources, and tools to manage their health.
Clinical studies using Healthy.me have been conducted since 2009 across 11 clinical settings and one health domain. More than 3,600 consumers were invited to use the web-based version in multiple trials ranging from 8 weeks to 12 months. Consumers were encouraged to manage their chronic condition, uptake preventative health actions, and/or improve their health understanding and literacy. Improved health outcomes were found across most of the trials, with important insights across different settings.
Preventive care
Influenza vaccination: Vaccination rates more than doubled among a sample of 600 participants.
Sexual health: The number of people being tested for STIs more than doubled in a sample of 600 young adults.
Physical and mental wellbeing: established online community where 1985 consumers could seek support from general practitioner and psychologists to support their physical and mental wellbeing concerns.
Promotion of physical activity and weight management with the fit.Healthy.me mobile application integrated with tracking devices (Fitbit Flex 2, Fitbit Aria scale) and providing social comparison.
Chronic disease self-management
Asthma: supported 300 asthma sufferers to visit their healthcare professional for a written asthma action plan.
Gout: improve self-management amongst people suffering from gout in general practice (study in progress).
Cardiovascular risk assessment: promoted lifestyle changes amongst individuals at risk of cardiovascular disease.
Cancer survivorship
Breast cancer: supported 50 survivors of early stage breast cancer post-treatment after hospital discharge.
Prostate cancer: support patient follow-up and early intervention after prostatectomy procedure (study in progress).
Lymphoedema: improve adherence to rehabilitation program amongst individuals suffering from lymphoedema (study in progress).
Specialist care
In-vitro fertilization (IVF): supported 14 women over 8 weeks to complete their IVF cycle.
Orthopaedics: improved adherence to post-operative rehabilitation program amongst individuals after rotator cuff repair (study in progress).
References
Nathan J Mortimer; Joel Rhee; Rebecca Guy; Andrew Hayen; Annie Y S Lau. A Web-Based Personally Controlled Health Management System Increases Sexually Transmitted Infection Screening Rates in Young People: A Randomized Controlled Trial. Journal of the American Medical Informatics Association 2015; doi: 10.1093/jamia/ocu052.
Arguel, A; Lau AYS; Dennis, S; Liaw, S. T.; Coiera, E. An internet intervention to improve asthma management: rationale and protocol of a randomized controlled trial JMIR Research Protocols (2013) 2 2 e28 P12185831
Lau, AYS; Dunn, A; Mortimer, N; Gallagher, A; Proudfoot, J; Andrews, A; Liaw, S. T.; Crimmins, Jacinta; Amael, A; Coiera, E. Social and Self-Reflective Use of a Web-based Personally Controlled Health Management System J Med Internet Res (2013) 15 9 e211 P12185833
Lau, AYS; Proudfoot, J.; Andrews, A.; Liaw, S. T.; Crimmins, J.; Arguel, A.; Coiera, E. Which bundles of features in a Web-based personally controlled health management system are associated with consumer help-seeking behaviors for physical and emotional well-being? J Med Internet Res (2013) 15 5 e79 P12185832
Tiong, SS, Delaney, GP, Lau, AYS, Koh, E, Adams, Bell, V, Sapkota, P, Harris, T, Girgis, A, Przezdziecki, A, Lonergan, D, Treloar, J & Coiera, E. Utilisation and acceptability of an e-health strategy to facilitate care of breast cancer survivors. Asia-Pacific Journal of Clinical Oncology. 2012;8 (Suppl 3):330.
Lau, AYS, Parker, A, Early, J, Sacks, G, Anvari, F & Coiera, E, 2012, 'Comparative usage of a web-based personally controlled health management system and normal support: a case study in IVF', Electronic Journal of Health Informatics., vol. 7, no. 2, pp. Article no. 16, https://www.ncbi.nlm.nih.gov/pmc/articles/PMC3422818/
Lau, AYS, Sintchenko, V, Crimmins, J, Magrabi, F, Gallego Luxan, B & Coiera, E, 2012, 'Protocol for a randomised controlled trial examining the impact of a web-based personal health management system on the uptake of influenza vaccination rates', BMC Health Services Research, vol. 12, no. 1, pp. 86-95
Related links
Project sponsors
HCF Health and Medical Foundation
Macquarie University
Collaborative partners
St Vincent's Hospital, University of Sydney
Royal Hospital for Women, University of New South Wales
Macquarie University Hospital
IVF Australia
Liverpool Hospital
Related projects
Mobile app for self-management and consumer engagement
Social Network Interventions for Consumer Health
Consumer Decision Support System
Project status
Current
Centres related to this project