Social network interventions for consumer health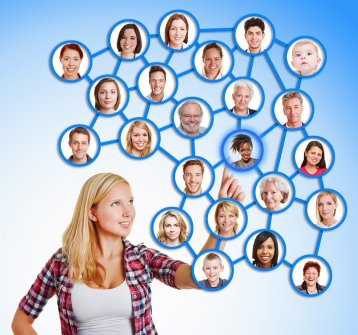 Project members - Macquarie University
Dr Annie Lau - Senior Research Fellow
Dr Liliana Laranjo - Research Fellow
Ms Paige Newman - Research Officer
Project main description
Social processes underpin everything from our lifestyle choices, our health decisions, to the way healthcare is conceived and delivered. Social media - information tools that both exploit and celebrate our social nature - are beginning to be used across healthcare. However, could social media have an even stronger role? Could they enable us to treat socially-shaped diseases such as obesity, depression, diabetes, and heart disease?
In this research, we seek to understand how patients and consumers use social media for health purposes (i.e. e-health sociology), and examine ways we can design "social network intervention" to change the network around us to achieve better health outcomes.
Opportunities (scholarships, grants and research positions)
Our postgraduate programs allow candidates to undertake advanced research leading to a Master's or PhD degree under the supervision of experienced senior research staff in one of AIHI's research areas. Current research opportunities at AIHI.
References
Coiera E. Social networks, social media, and social diseases. BMJ. 2013;346.
Laranjo L, Arguel A, Neves AL, Gallagher A, Kaplan R, Mortimer N, Mendes G, Lau AYS. The influence of social networking sites on health behavior change: a systematic review and meta-analysis. Journal of the American Medical Informatics 1. Association. 2015;Jan;22(1):243-56. doi: 10.1136/amiajnl-2014-002841. Epub 2014 Jul 8.
Lau, AYS, Kwok, TMY & Coiera, E, 2011, 'How Online Crowds Influence the Way Individual Consumers Answer Health Questions', Applied Clinical Informatics, vol. 2, no. 2, pp. 177 - 189
Lau, AYS & Coiera, E, 2008, 'Impact of web searching and social feedback on consumer decision making: a prospective online experiment', Journal of Medical Internet Research, vol. 10, pp. 1 – 8
Gabarron E, Serrano JA, Wynn R, Lau AYS. Tweets content related to sexually transmitted diseases: No joking matter. Journal of Medical Internet Research 2014;16:e228.
Hansen MM, Miron-Shatz T, Lau AYS, Paton C. Big Data in Science and Healthcare: A Review of Recent Literature and Perspectives. Yearb Med Inform 2014;Aug 15;9:21-6. doi: 10.15265/IY-2014-0004.
Gabarron E, Fernandez Luque L, Armayones M, Lau AYS. Identifying Measures Used for Assessing Quality of YouTube Videos with Patient Health Information: A Review of Current Literature. IJMR-interactive Journal of Medical Research. 2013;2(1):e6.
Paton C, Hansen M, Fernandez-Luque L, Lau AYS. Self-Tracking, Social Media and Personal Health Records for Patient Empowered Self-Care: Contribution of the IMIA Social Media Working Group. Yearb Med Inform. 2012;7(1):16-24.
Lau, AYS, Fernandez-Luque, L, Gabarron, E & Armayones, M, 2012, 'Social Media in Health - What are the Safety Concerns for Health Consumers?', Health Information Management Journal, vol. 41, no. 2, pp. 30 - 35
Lau, AYS, Siek, KA, Fernandez-Luque, L, Tange, H, Chhanabhai, P, Li, SYW, Elkin, PL, Arjabi, A, Walczowski, L, Ang, CS & Eysenbach, G, 2011, 'The Role of Social Media for Patients and Consumer Health', Yearb Med Inform, vol. 6, no. 1, pp. 131 - 138
Liaw, ST, Lau, AYS & Dennis, SM, 2010, 'General practice: engaging the online social networking revolution', Australian Family Physician, vol. 39, no. 11, pp. 809 - 810,
Project sponsors
NHMRC Centre for Research Excellence in eHealth, Macquarie University
Collaborative partners
University of Melbourne
University of NSW
Related Projects
Personal Health Management System (Healthy.me)
Measuring the spread and persistence of clinical evidence and misinformation in the public domain
Mobile app for self-management and consumer engagement
Project status
Current
Centres related to this project