Events
Upcoming Events
Humans in Deserts - Stories of Exploitation and Survival, May 16th-17th, 2020
NOTE: Due to the COVID-19 situation this event has been postponed.
Human history is marked by the need to adapt to changing environments and circumstances. Environmental aridification has been a foremost concern for past cultures and remains a key issue for contemporary society. While physical survival and continued access to resources essential for life are obvious considerations, there are also cult, socio-cultural and political reactions and adaptations to arid environments and the process of aridification which are to be taken into account. This event will consider how humans in ancient times were able to survive in, but at the same time exploit deserts and arid environments.
For more information visit the workshop website here.
---
Living Digital Heritage Conference, October 10th-12th, 2020
More information can be found on the conference website here!
---
Leadership in Times of Crisis in the Later Roman Empire: An Ancient History Workshop, MQ Arts Precinct, April 2021
The Later Roman Empire was fraught with risks and opportunities for leadership, in the imperial, military, civic and church spheres. What we might call in retrospect 'good' and 'bad' leaders and advisors flourished amid the various crises that engulfed Rome and its territories from 100 to 500 CE. A one-day workshop will examine some of the significant questions that arise: what forms did crisis- and risk-management take? What input did advisors have to crucial decisions of leadership and the choice of new leaders? What opportunities and risks did the end of one tenure and the beginning of the next offer to enterprising men, and occasionally to women?

Our keynote speaker will be Philip Bosman, Stellenbosch University, who will speak on the use of Oracles to redefine the political and religious landscape during the brief reign of Emperor Julian (361-63).

We welcome abstracts of 200 words from any branch of ancient history. The number of papers will be limited due to space restrictions in the venue. The event is sponsored by CACHE and ARC DP200100334 "Leadership in Times of Crisis in the Eastern Roman Empire (250-1000 CE)."
Contacts: Bronwen Neil (bronwen.neil@mq.edu.au) and Eva Anagnostou-Laoutides (eva.anagnostou-laoutides@mq.edu.au)
Past Events
Mentoring Kick-Starter
5th November, 1:30–4:30pm, Room 3.202, Level 3, Australian Hearing Hub
This event is for early-career, mid-career, and senior researchers to come together and explore opportunities for mentorship and research funding.
1:30–3:00pm: Mentoring workshop with Vicky Jones from Best Practice Consulting
3:00–3:30pm: Afternoon tea provided
3:30–4:30pm: Ancient History-tailored information session on research grants across categories 1, 2, and 3 with Jo Chipperfield and Robert Reynolds from the MQ Arts Research Office and Amelia Brown from UQ
All ECRs, HDRs close to completion, mid-career and senior researchers, are encouraged to attend to find out what our new mentoring program can do for you and what funding opportunities are out there.
Vicky Jones from Best Practice Consulting will kick us off with a session about mentoring and setting your research goals.
Coach / Mentor / Trainer / Speaker
This will be followed by an advice session from Jan Zwar and Jo Chipperfield from the Arts Research Office about available grant funding in Categories 1, 2, and 3, tailoring their information to our disciplines of history and archaeology.
All ECRs and HDRs close to completion, as well as mid-career and senior researchers, are encouraged to attend to find out what's out there for you!
Meet other members of the ECR and research cohort
Hear from senior researchers and the Arts Research Office about grants and opportunities
Find out what our new mentoring program can do for you
Afternoon tea will be provided.
---
---
Drop-In Grant Writing Workshop
6th November, 10–4pm
An all-day drop-in centre for writing grants in a friendly environment. Some of CACHE's mentors and researchers, including Prof. Majella Franzmann, will be on hand to discuss your research plans, offer practical advice, and share their experience of a successful grant-writing with you. The goal is to work out a plan for submitting a grant in 2020 or 2021.
Come with an idea for an individual or collaborative project, whether it is brand new or something you are resubmitting for funding. Proposals for projects that fall within CACHE's ambit of ancient cultural heritage and its reception and preservation, ancient peoples and their natural or built environments, or ancient models of leadership for the modern world are especially encouraged, but feel free to bring along anything else you are working on!
Morning session: 10–12:30pm
Lunch: 12:30–1:30pm
Afternoon session: 1:30–3:30pm, with drinks to follow.
Feel free to come to one or both sessions, or part thereof.
Lunch will be provided - please register
here
if you would like to join us for a bite!
If you have any questions, please don't hesitate to contact us at
cache@mq.edu.au
.
Location
Conference Room A, Level 3
MUSE Building, 18 Wally's Walk
Macquarie University, NSW 2109
---
Exploring the Past with Data
18th November, 9am-5pm, Museum of Ancient Cultures Seminar Room - 29 Wally's Walk, Building X5B, Level 3
Artwork by Katie Shead
Workshop Abstract:
Archaeology offers a unique insight into the long-term trajectories of cultures and populations, and can be used to trace the origins of many modern-day global technologies, staple food crops, cultures, beliefs and values. Like many fields of study, archaeology can be complicated, not least because the ever-growing mass of data becomes more and more difficult to deal with as it accumulates. Much research has become ultra-specialised, and a burgeoning number of publications are geared towards refining methods and incremental improvements to knowledge, rather than developing new models of the trends that link past, present and future. This workshop will explore new data-driven methods in archaeology and history that unravel patterns in the data and provide fresh insight into the powerful but sometimes hidden forces that shape society.
Registrations are essential - This free workshop will be restricted to a maximum of 50 participants in total - Register now to avoid disappointment.
https://www.eventbrite.com/e/exploring-the-past-with-data-tickets-78124802387
Speakers:
Dr Rowan McLaughlin (Queen's University Belfast)
Prof. David Christian (Macquarie University)
A/Prof. Shawn Ross (Macquarie University)
Dr Brian Ballsun-Stanton (Macquarie University)
Dr Penny Crook (LaTrobe University)
Dr Kevan Edinborough (University of Melbourne)
Dr Alan Williams (EMM Consulting)
Dr Emilie Ens (Macquarie University)
'Brains Trust' Panel Discussants:
Dr Rowan McLaughlin (Queen's University Belfast) - Chair
Dr Sue Barrell (Vice President of Science & Technology Australia; fmr. Bureau of Meterology Chief Scientist)
Prof. David Christian (Macquarie University, Big History Institute)
Uncle Phil Duncan (Walanga Muru, Indigenous Cultural Expert)
Dr Maurizio Manuguerra (Macquarie University, Deputy Head of Department, Mathematics and Statistics)
Ms Jane Thogersen (Macquarie University, Manager, Australian History Museum)
Convenor:
A/Prof. Ronika Power (Macquarie University)
Event Partner:
Archaeology Society of Macquarie University
Event Artwork:
By Katie Shead
---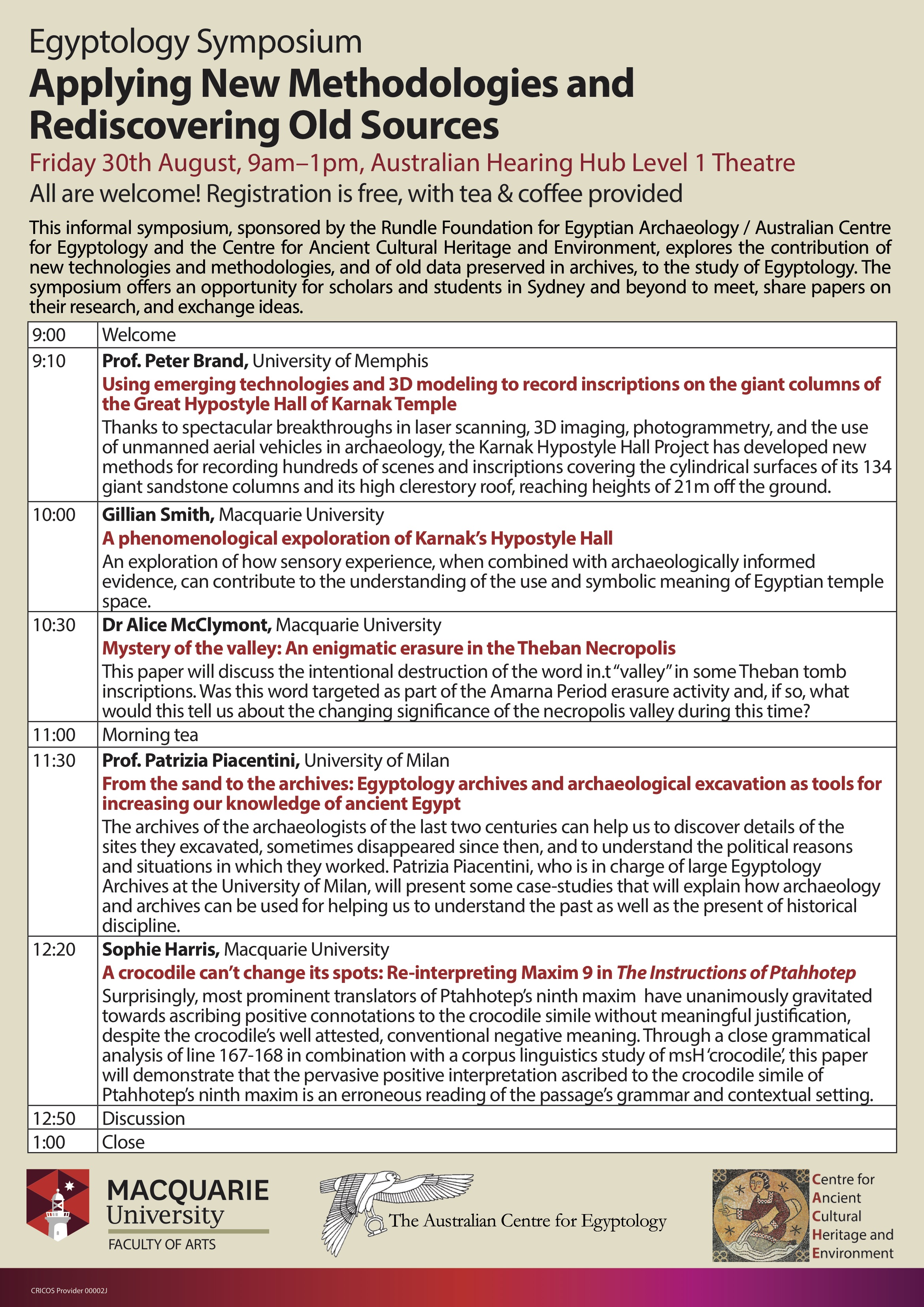 ---