Study with us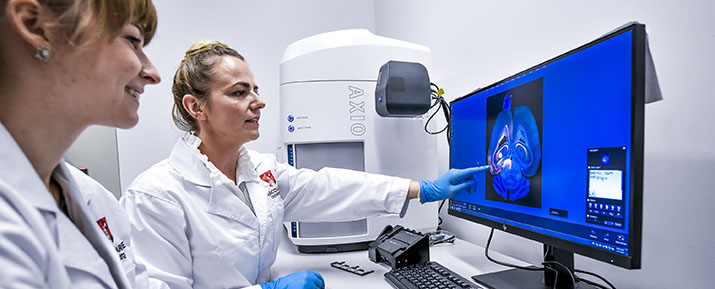 Higher degree research program
Enhance your employment opportunities and get international recognition for your qualifications. The Master of Research provides you with intensive research preparation before you begin doctoral study. Consistent with the internationally recognised Bologna model, this program prepares you to complete a PhD in three years – well short of the national average.
Program structure
The two-year program is available in all of Macquarie's research areas, allowing you access to a variety of disciplines so you can construct a program relevant to your specific interests, subject to academic approval.
In the first year, you will undertake advanced coursework units including the study of research frontiers in your area of study. If you successfully complete Year 1 and decide not to continue, you can exit the program with a Bachelor of Philosophy.
The second year is a masters-level postgraduate research training program. You will specialise in research preparation and focus on a specific research topic. You are required to submit a thesis of 20,000 words for completion.
Standard admission requirements
You must have a bachelor degree from a recognised institution, at a specified level of performance – usually the equivalent of a credit average (65 per cent) in your final year (or 300-level).
Some disciplines may have extra admission requirements, such as a portfolio of work or a higher level of performance of bachelor study. If you hold an honours degree or a masters degree, you may apply for recognition of prior learning (RPL) of up to 32 credit points (Year 1). This may allow you to complete the Master of Research in less than two years.
Click here to view entry requirements.
Exchange program
The Master of Research Exchange Program provides you with opportunities to undertake international experiences during your studies. If you continue on to a PhD, opportunities include research collaboration with international universities under our cotutelle and joint PhD programs.
The Doctor of Philosophy (PhD) is an ungraded degree awarded for research that demonstrates that the candidate has the capacity to conduct research independently, and form a distinct contribution to the knowledge of the subject and to afford evidence of coherence and originality shown either by the discovery of new facts or by the exercise of independent critical power. The candidate's program of study will be supervised by at least two supervisors. More information is available here.
Admission requirements
From 1 January 2014, admission to Macquarie University's Doctor of Philosophy (PhD) program will have the following new requirements:
applicant to have completed the Macquarie University's Master of Research (MRes) with at least 75% in second year of the MRes; or
applicant to have completed a Master of Philosophy; or
applicant to have completed Master's degree from another institution with major research component. The size and length of the research thesis may vary, but it is expected to be of an equivalent scale and scope to the Macquarie University MRes thesis. Performance to be at Distinction level (75% or greater).
Macquarie University does not accept the Undergraduate Honours degree for direct entry to its Higher Degree Research programs. All candidates are expected to have undertaken a Masters degree, (or equivalent) predominantly focused on research and research preparation. This degree may vary in length and name, and will be assessed together with the totality of the candidate's qualifications. In exceptional cases, a combination of other university degrees and/or a significant track record of other research may be considered for entry.
The standard period of candidature for the PhD at Macquarie University is three years, full-time equivalent. For admission to the PhD, the university needs to confirm that prospective candidates will be able to complete their degree within this time, and that:
They have undertaken significant study of their discipline beyond undergraduate level, and are equipped to make strategic decisions about the state of research in their field and key new directions for research, and are thus ready to conduct an HDR level project.
Candidates have undertaken a substantial research project at Masters level, which indicates they have significant experience in independently identifying a research question; designing a research project using a methodology that they have been able to justify in relation to alternatives and that their project has produced coherent and well-justified conclusions, situated in relation to the literature.
All candidates enrolling in HDR will have completed their research proposal in the same format as candidates completing the MRes.
All other peer-reviewed research output may be taken into consideration under Rule 7(10) of the University's Higher Degree Research Rule for admission to the new PhD program.
Candidates who have not completed an MRes degree and do not meet the above criteria may be asked to undertake the Master of Research as a research training pathway to the new Doctoral degree. Candidates with previous study at Bachelor Honours or Masters level may receive credit towards the MRes for a maximum of 50% of the program. The period of candidature for the new PhD will be three years.
Scholarship information is available via the Higher Degree Research Office.
Higher Degree Research Office
Research HUB
Building C5C (East), Level 3
Macquarie University NSW 2109
T: +61 (2) 9850 7987
Academic Advice is available from the following people in the Faculty of Medicine and Health Sciences: