Improving health outcomes in children
Improving health outcomes in children suffering major injury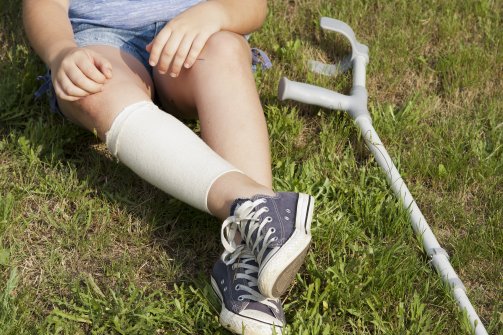 Project Members - Macquarie University
Rebecca Mitchell - Associate Professor E: r.mitchell@mq.edu.au
Project Main Description
A review of 1,138 severely injured children in New South Wales (NSW) identified that children treated at adult trauma centres were 3 to 6 times less likely to survive than those who received definitive treatment at a paediatric trauma centre. Yet, there has been no comprehensive assessment of the processes of care and the systems for treating severe paediatric injury in Australia, nor have any strategies been developed to improve health care services and health outcomes. This research is identifying the most effective treatment pathways to ensure the best possible health outcomes for seriously injured children.
This research has involved a review of care provision, care pathways, and survival following severe paediatric injury in NSW. Pre-hospital and in-hospital care provision was peer-reviewed, paediatric trauma outcomes, such as mortality and function, monitored and health service delivery outcomes, such as cost and hospital length of stay, have been assessed.
Research evidence from this study into practice
The peer-review panel identified that non-cuffed endotracheal tubes were being used NSW Ambulance paramedics and that the use of these tubes was resulting in potential compromised ventilation for this patient group, and children were requiring reintubation on arrival to hospital. These preliminary findings were formally communicated to NSW Ambulance in October 2016. At the time of receiving the preliminary findings NSW Ambulance were in the process of reviewing airway management practices, and this provided further evidence for change. NSW Ambulance has since changed their practice from using non-cuffed endotracheal tubes to cuffed tubes for paediatric airway management.
Publications
Curtis K. Kennedy B. Holland A J. Tall G. Smith H. Soundappan SV. Burns B. Mitchell RJ. Wilson K. Loudfoot A. Dinh M. Lyons T. Gillen T. Dickinson S. (in-press, accepted 16 January 2019) Identifying areas for improvement in paediatric trauma care in NSW Australia using a clinical, system and human factors peer-review tool. Injury
Curtis K. Mitchell R. McCarthy A. Wilson K. Van C. Kennedy B. Tall G. Holland A. Foster K. Dickinson S. Stelfox H. (2017) Development of the major trauma case review tool. Scandinavian Journal of Trauma, Resuscitation and Emergency Medicine 25:20.
Curtis K. McCarthy A. Mitchell R. Black D. Foster K. Jan S. Burns B. Tall G. Rigby O. Kennedy B. Holland A. (2016) Paediatric trauma systems and their impact on the health outcomes of severely injured children: protocol for a mixed methods cohort study. Scandinavian Journal of Trauma, Resuscitation and Emergency Medicine 24(1): 1-8.
Project Sponsors
NHMRC Partnership Project APP1092499
Collaborative Partners
Australian Trauma Quality Improvement Program
Day of Difference Foundation
NSW Agency for Clinical Innovation
NSW Ambulance and Helicopter Emergency Medical Service
NSW Institute of Trauma and Injury Management
NSW Ministry of Health
Collaborators
Associate Professor Kate Curtis (Project Lead), Sydney Nursing School, University of Sydney
Professor Andrew Holland, Sydney Medical School, University of Sydney
Professor Deborah Black, Faculty of Health Sciences, University of Sydney
Professor Stephen Jan, Sydney Medical School, University of Sydney
Professor Kim Foster, Nursing and Midwifery, University of Canberra
Professor Johan Duflou, Department of Forensic Medicine, Sydney
Dr Oran Rigby, NSW Institute of Trauma and Injury Management
Associate Professor Brian Burns, Greater Sydney Area Helicopter Emergency Medical Service
Related Projects
Better outcomes for injured children
Project Status
Current
Centres Related to this Project