News and events
Upcoming Events
We currently have no upcoming events - please check in with us later
Past Events
A/Professor Sheila Degotardi, A/Professor Naomi Sweller and Dr Emilia Djonov presented the 'story so far' of their ARC Discovery Grant research which investigates the implications of infants' language environment for their subsequent language development.
Professor Greg Leigh (Director of RIDBC Renwick Centre & Professor of Educational Studies at Macquarie University) presented research on the developmental impacts of earlier identification of hearing loss in children, specifically the linguistic developmental correlates of earlier intervention.
Dr Amy Bird (Lecturer in Clinical Psychology from University of Wollongong) presented the benefits and challenges of working with small and large sample sizes, specifically with regards to elucidate interaction processes among families experiencing mental health difficulties.
Penny Van Bergen (Department of Educational Studies) and Naomi Sweller (Department of Psychology) present techniques for quantitatively coding and analysing speech data from conversations, classroom and family observations, and interviews.
Professional Development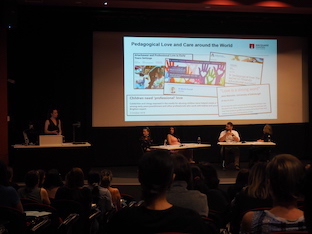 On Wednesday, November 6, the Centre for Children's Learning in a Social World hosted their inaugural Professional Development evening: What's Love Got to do with It? Pedagogical Love and Care in Early Childhood Education. Hosted by Centre Co-Director, Associate Professor Penny Van Bergen, the expert panel of Dr Fay Hadley, Mel Ferris, Anthony Fennell and Professor Linda Harrison drew on their research and practice to debate the importance of pedagogical love and care as a foundational practice for all teachers. The panel debated the role of professional love in prior to school and school settings and considered how the notion of professional love is enacted by individuals differently. All panelists believed that pedagogical love in its professional form is beneficial for all children. The sold-out event, with over 180 registrations, drew in professionals from the early childhood sector, schools, parents, policy professionals, academics and students.
For those who were unable to attend the event, a recording of audio and presentation slides is available
* Please be aware that listening to this recording does not fulfil NESA accreditation requirements*
Media Coverage
Why Children Lie

A/Prof Penny Van Bergen and Dr Carol Newall co-authored an article for The Conversation exploring lying from a developmental perspective. A/Prof Van Bergen also appeared on Studio 10 to share what we know about why children lie.

Why educator talk to infants is integral to early childhood program quality

A/Prof Sheila Degotardi discussed her research on the importance of child-educator conversational interactions for high quality early childhood education programs with The Sydney Morning Herald.

What Your Earliest Memories Say About You

A/Prof Van Bergen and Dr Andrews alongside University of Wollongong's Dr Amy Bird explored the factors that shape our earliest memories for The Conversation. A/Prof Van Bergen appeared on 6PR882 and Dr Andrews appeared on 2ser to discuss the factors that influence our ability to remember early childhood events.

Gender Bias in Science Education

Dr Carol Newall discussed her recent research on gender bias in science education for primary school aged children with the Sydney Morning Herald.