Improving the quality use of medicines in residential aged care
Project description
Medication safety and the quality use of medicines (QUM) in residential aged care facilities (RACFs) is a concern globally. Previous efforts to understand medication use have required labour intensive methods involving medication chart review. The implementation of electronic records and medication management systems in RACFs provides an opportunity to examine medication use on a larger scale than previously possible. Our team is at the forefront of working with data extracted from the electronic health records in RACFs, including standardising medication administration data to the World Health Organisation's Anatomical Therapeutic Chemical Classification System (ATC) and building algorithms to code health conditions from free text fields. We are exploring ways to leverage electronic records in order to improve medication management and the QUM which will be beneficial to the safety of residents across Australian aged care facilities.
Osteoporosis: Underreporting and undertreatment in residential aged care facilities puts people at risk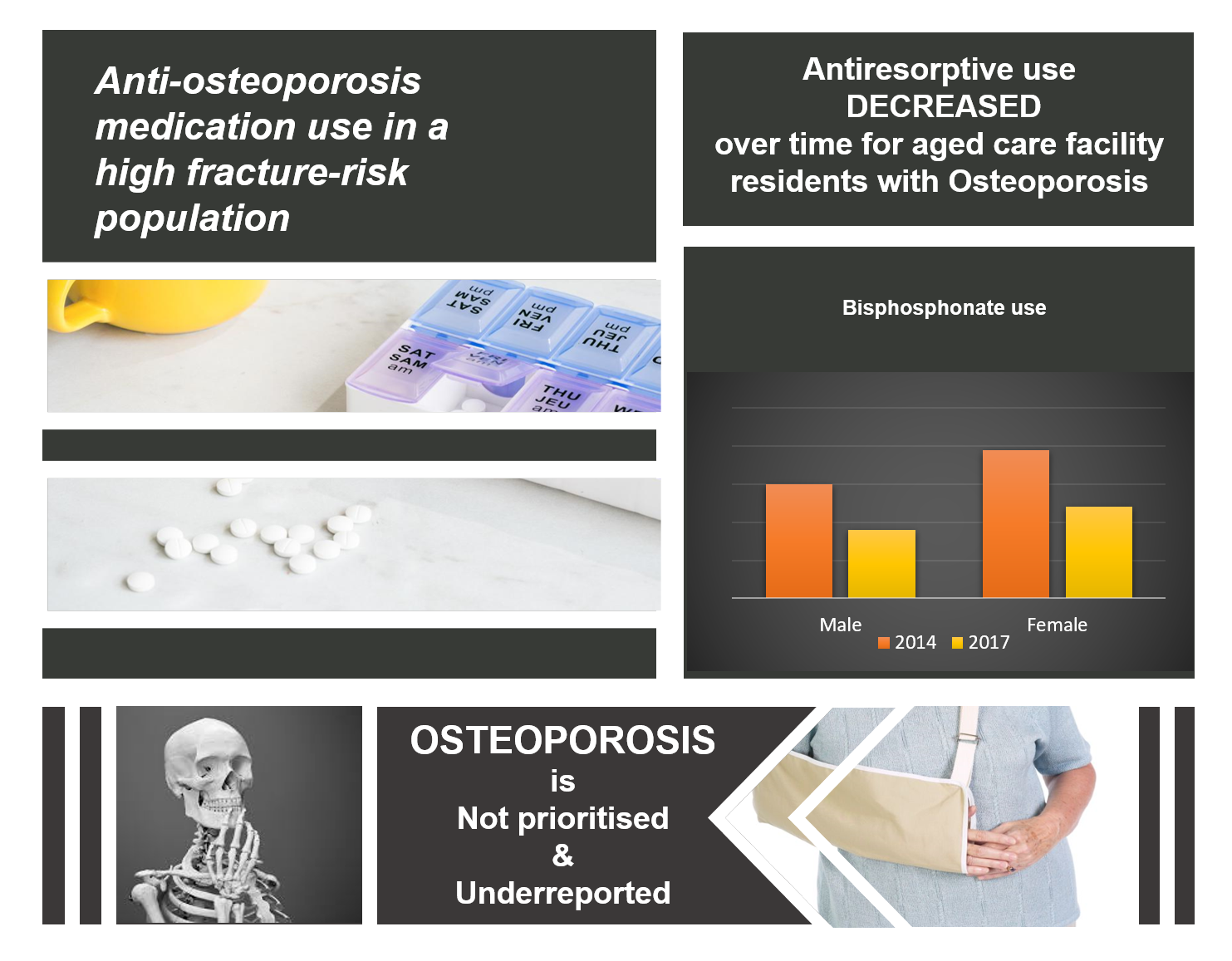 Osteoporosis causes a significant reduction in bone density and currently affects over 1 million Australians. Although preventable, if the condition is not treated with medication, exercise and dietary changes older people can be at increased risk of fractures which can lead to chronic pain, increased dependency, functional decline, and premature death. Untreated osteoporosis will lead to an estimated 866 out of 100,000 women suffering from a hip or femur fracture within the span of a year. For older individuals with osteoporosis, even minor bumps could result in fracture cascades.
The first large study of osteoporosis medication use among people in Australian residential aged care facilities showed that osteoporosis is likely underreported in electronic health records. Based on international studies, 85% of people in residential aged care are expected to have osteoporosis. However, according to research by Dr Kim Lind and the ACER team at the Australian Institute of Health Innovation published in the journal of Health Services Insights the recognition of osteoporosis is much lower – only 34%.
Results from the study suggest that many people may not be receiving the PBS subsidised medication that would reduce their risk of fracture. Researchers speculate that since multiple chronic health conditions are common for people living in residential aged care facilities, osteoporosis remains unrecognised and not prioritised, leading to undertreatment and underreporting.
The Royal Commission in Aged Care Quality and Safety has highlighted that medication management is a leading concern. Osteoporosis identification and management is a prime example of where systematic monitoring of adherence to medication guidelines could quickly improve the care of our most vulnerable people. As a result of these findings from over 10,000 residents in 68 residential aged care facilities in NSW and ACT, Macquarie University researchers are urging for better recognition and treatment of osteoporosis for people living in aged care facilities.
Antidementia medication use: Implications for medication management in RACFs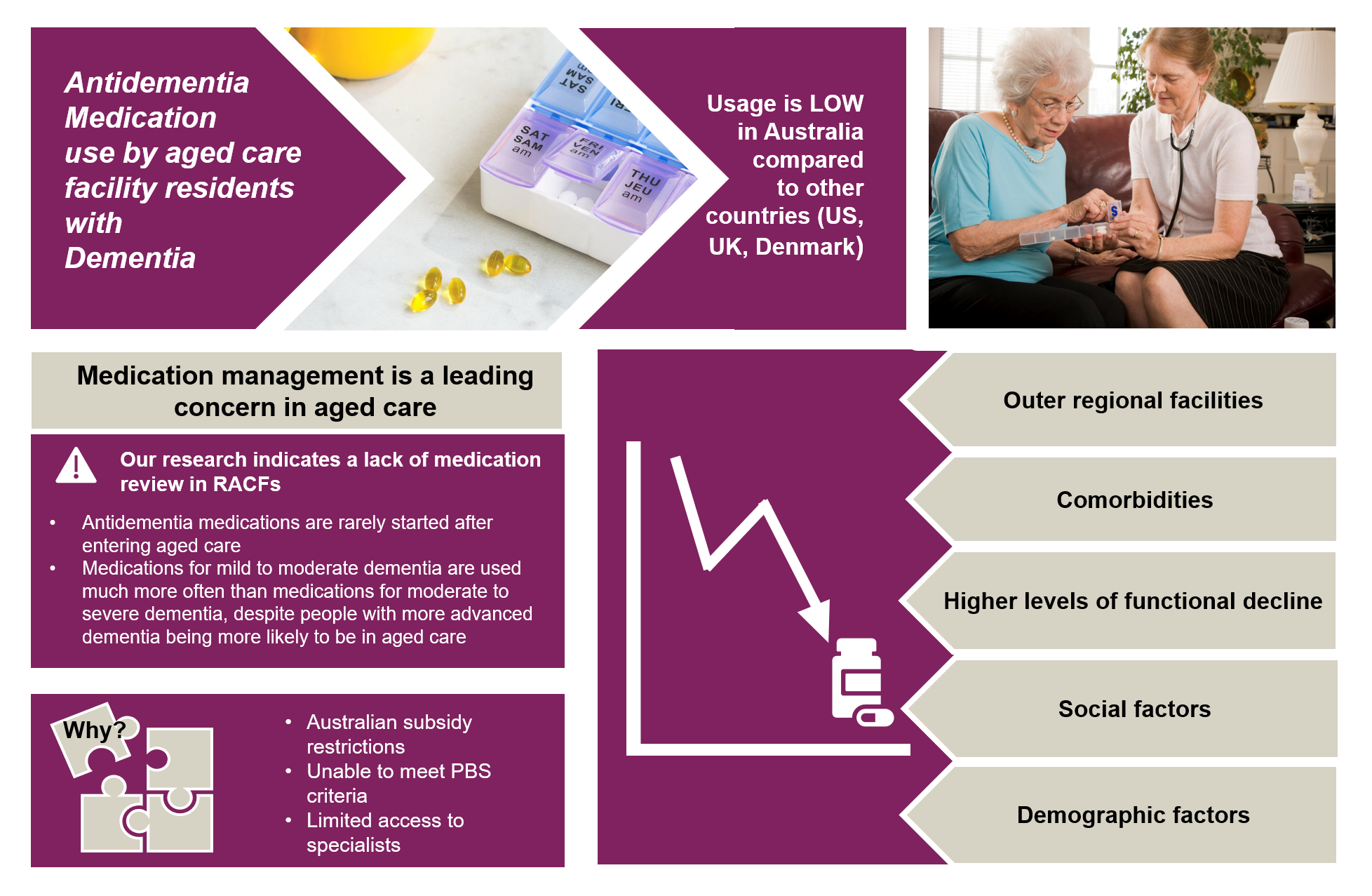 Dementia is the second leading cause of death in Australia. It causes cognitive, behavioural and psychological changes as well as a loss of physical functioning. Currently, there are no disease-modifying treatments for dementia, but there are medications (cholinesterase inhibitors and memantine) that can improve symptoms and quality of life, but little is known about the use of these medications in Australia, and specifically in the residential aged care setting.
Researchers at Macquarie University conducted the first study to examine antidementia medication use in residents with dementia in Australian aged care facilities.
The findings, published in the International Journal of Geriatric Psychiatry, indicate that antidementia medication use is strikingly low compared to other countries and use decreased over the 3 year period. Lower levels of antidementia medication use was found in residents living in rural or regional facilities, suffering from multiple chronic health conditions, with greater functional decline, and for foreign-born residents. Antidementia medications are rarely initiated after being admitted to a facility and majority of the sample were administered mild to moderate dementia medication rather than moderate to severe dementia medication, which is more common for people living in a high care setting.
Medication management is a priority for the Royal Commission in Aged Care Quality and Safety and the research by Dr Kim Lind and the ACER team demonstrates that medication monitoring in RACFs is possible with existing electronic health record data.
Researchers suspect that Australian subsidy restrictions may be a barrier to accessing these medications. Additionally, facilities in remote areas may have particularly limited access to specialist consultations to obtain or confirm a dementia diagnosis – a necessary step in order to qualify for PBS subsidisation. Macquarie University researchers call for an increased focus on antidementia medication assessment and review, and use of electronic health record data for improving the quality of aged care for people with dementia.
NSAID use in RACFs: Beware of the 'triple whammy'
People in residential aged care are at increased risk of adverse events from nonsteroidal anti‐inflammatory drugs (NSAIDs) due to their age and health status, but little is known about use of NSAIDs in this setting. We aimed to estimate the prevalence of NSAID use by route, differences by high‐risk conditions, prevalence of concurrent proton pump inhibitor (PPI) use, and prevalence of the "triple whammy" combination (oral NSAID, diuretic, and angiotensin‐converting‐enzyme inhibitor or angiotensin receptor antagonist).
Antipsychotic medication duration: Inconsistent with current recommendations
Guidelines recommend short-term targeted use of antipsychotic medications for behavioral and psychological symptoms of dementia only when other strategies have failed. Antipsychotic prescribing in dementia is common internationally, but data on duration of use are limited.
Our objectives were to determine duration, time to initiation, and prevalence of antipsychotic use among people with dementia. Antipsychotics are often used longer than recommended. Current guidelines and restrictions may be insufficient to limit antipsychotic medication use. Further efforts are needed to ensure that antipsychotic medications are used as recommended in dementia.
Monitoring and improving antibiotic use in residential aged care
High levels of inappropriate antibiotic use have been reported in RACFs. Monitoring trends of use and reducing inappropriate use are key to controlling antibiotic resistance and protecting residents from adverse effects. We are exploring how electronic records and medication management systems can be used to augment current antibiotic use monitoring efforts, and how data from these systems can be used to develop innovative interventions to improve antibiotic use.
Related publications