Dr Rae-Anne Hardie – finalist in the 2017 BUPA Health Foundation's national Emerging Health Researcher Awards
The BUPA Emerging Health Researcher of the Year Award was announced on Friday 16th March 2018 at a breakfast at The Mint in Sydney. The recipient of the award was Dr Amanda McCullough from Bond University.
Dr Rae-Anne Hardie from the Centre for Health Systems and Safety Research at AIHI, was a finalist for the prestigious award. Dr Hardie was recognised for her research Enhancing quality of pathology testing in general practice and received $5,000 towards further research.
A video of Dr Hardie talking about her research can be viewed here.
Further information on the Emerging Health Researcher Award can be found on the BUPA website. The complete Media Release about Dr Hardie's research is available here.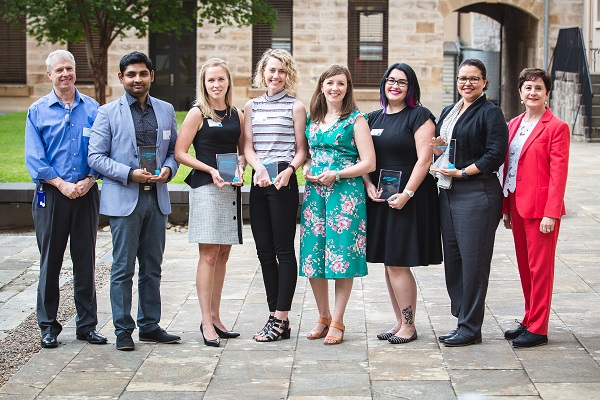 L-R: Dr Paul Bates, Chief Medical Officer BUPA (Aus and NZ), Dr Thushara Perera, Dr Rae-Anne Hardie, Dr Bridianne O'Dea, Dr Amanda McCullough, Dr Emma Beckett, Dr Jaquelyn Hughes, Annette Schmiede, Bupa Health Foundation Executive Leader.
Centres related to this news