Recent marine sediments: IODP and marine geoscience
International Ocean Discovery Programme (IODP)
Macquarie University is a major partner in the Australian and New Zealand International Ocean Discovery Program Consortium (ANZIC), which supports Australia's participation in IODP, one of the largest international geoscience collaborations. Expeditions recover cores of marine sediments and rocks that inform about past conditions of the oceans. Currently we are funded by an ARC Lief grant (2016-2020), which enables Macquarie University staff and students to participate in expeditions, access marine geoscience samples, obtain funding for analytical work (through the ANZIC consortium), and also funds some undergraduates to attend an annual ANZIC masterclass.
Simon George sailed on the Joides Resolution, IODP Expedition 317, to the offshore Canterbury Basin, New Zealand, from November 2010-January 2011. Outcomes of the extensive science undertaken on board can be accessed here:
https://iodp.tamu.edu/scienceops/expeditions/canterbury_basin.html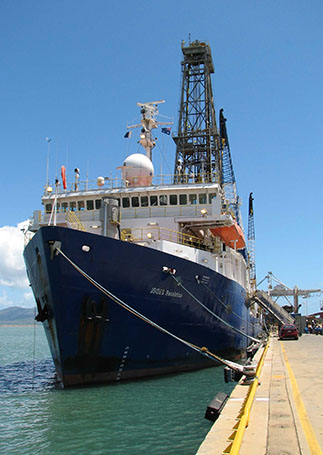 The Joides Resolution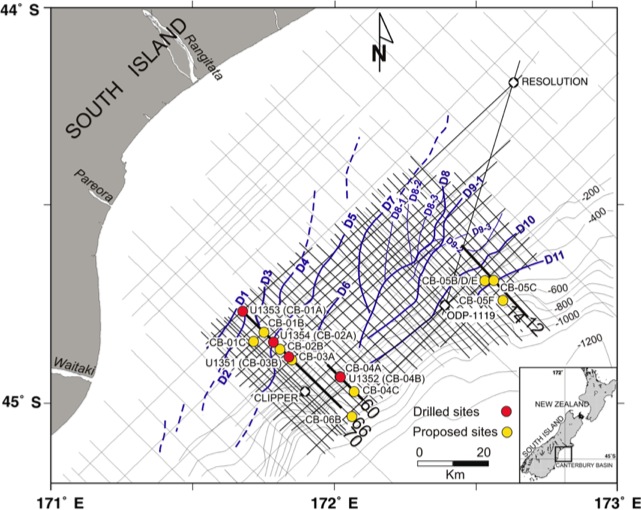 Expedition 317 Sites and Site Survey Data
The Neogene period (ca. 23.8 to 2.6 Ma) is divided into two main geological epochs – Miocene and Pliocene. During the Miocene epoch various geological changes on Earth including continuation of the continent drift and formation of the Antarctic Circumpolar Current. During Integrated Ocean Drilling Program (IODP) Expedition 317 four shelf-upper slope sites were drilled off the eastern side of the South Island of New Zealand in the Canterbury Basin, covering the sequence from the Eocene period to Recent.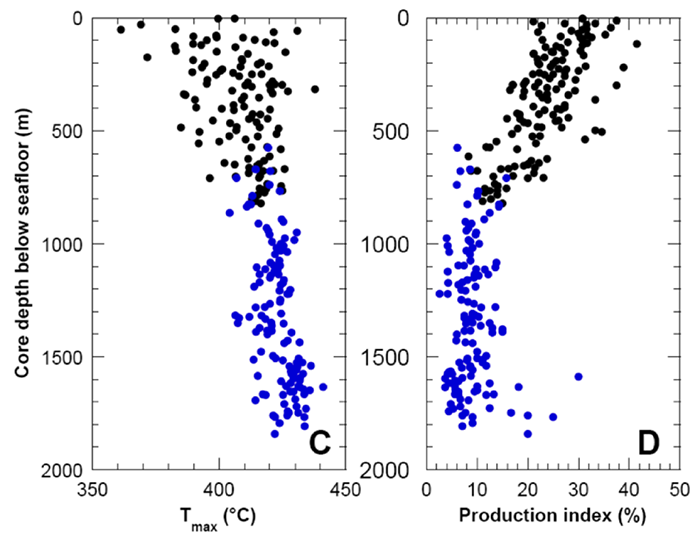 Source Rock Analysis: Tmax and PI, U1352 (slope)
Transition: fresh/unstructured organic matter to kerogen. Good thermal maturity trends.
A large number of samples from Expedition 317 are in Simon George's lab, and are available for further research. So far, we have worked on biomarkers for source inputs and thermal maturity and paleothermometers. There are many other types of analyses that could still be done, and many samples still to be analysed.
Sophia Aharonovich sailed on IODP Expedition 355 in 2015 to the Indus Fan as part of her PhD, and we have access to many samples from that expedition.
Simon George has been selected to sail on IODP Expedition 378: South Pacific Paleogene Climate, which was postponed from late 2018 until early 2020 due to a propeller malfunction on the Joides Resolution.
Expeditions on the Australian research vessel, the RV Investigator
The RV Investigator is our state-of-the-art marine research vessel, supporting Australia's atmospheric, oceanographic, biological and geosciences research from the tropical north to the Antarctic ice-edge.
Leanne Armand and Simon George are collaborating on a multi-disciplinary project, funded by ARC DP and an RV Investigator expedition in 2017, to assess diatom lipids as the key to past sea-ice history in remote Antarctic regions. This project involves collaboration with Simon Belt at Plymouth University, and involves a PhD student (Zhongxuan Li) at Macquarie University.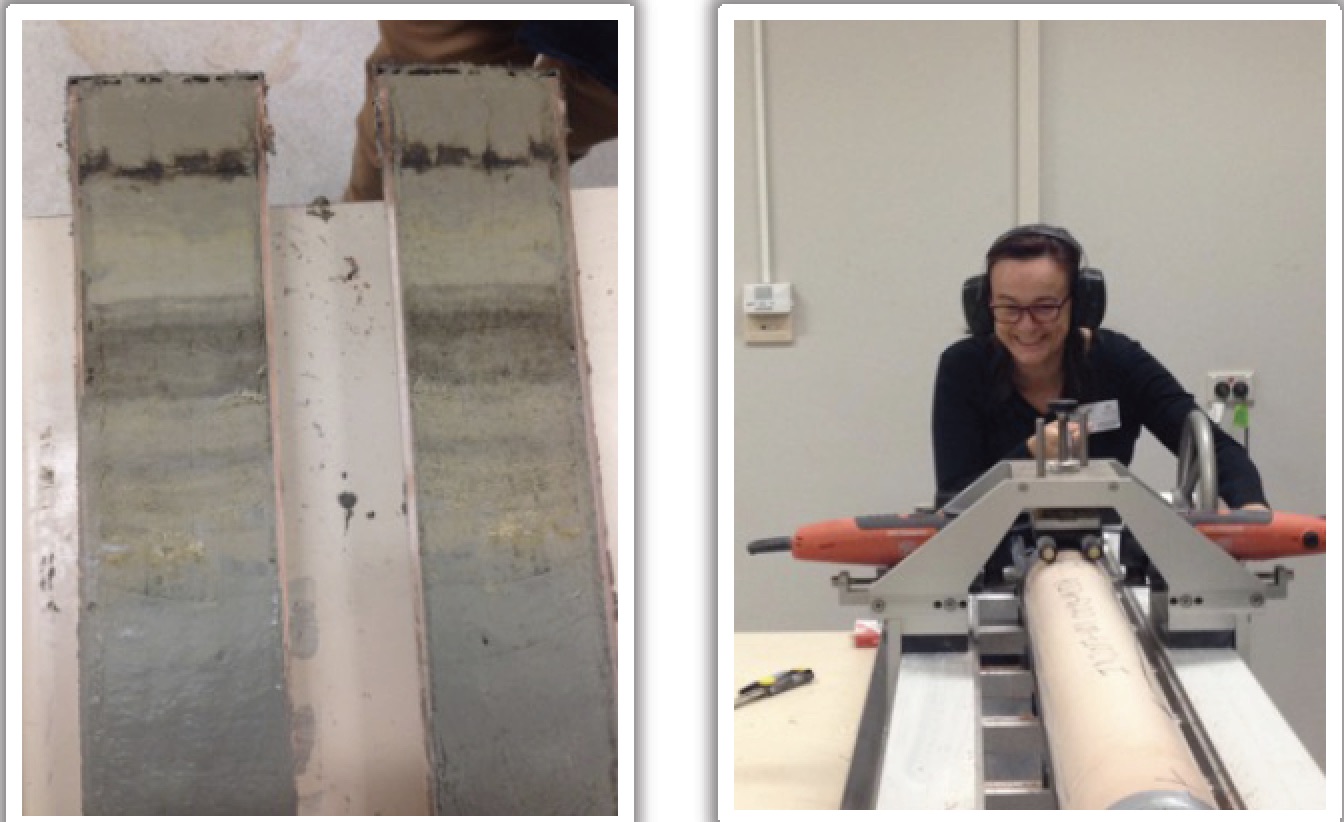 Photo of condensed Isotope Stage 5 layering in section 5H of PC08, and Leanne Armand getting a go on the core cutter.
Projects/students:
Sophia Aharonovich: finishing off 4 papers post PhD from IODP Expeditions 317 and 355 (IODP ANZIC funded)
Linda Armbrecht et al. paper: MQMarine workshop: Ancient DNA from marine sediments: Precautions and considerations from coring to data generation. Earth-Science Reviews.
Zhongxuan Li: Diatom lipids: the key to past sea-ice history in remote Antarctic regions. ARC DP funded (2017-2019/20): Armand, George, Belt, Heraud, Bowler, Beardall.
New project: Organic geochemistry of Eocene to Oligocene sediments in the Tasmania Gateway – a detailed analysis of depositional environment, organic matter inputs, and palaeo sea surface temperature, ODP Leg 189 (IODP ANZIC funded).