Events
Upcoming events
Watch this space for information about future events.
Past events
Children and Young People's Voices in Law and Social Policy: A Capacity Building Workshop
20 November 2019
This workshop explored how researchers can help to embed children and young people's voices in law and social policy. It aimed to build individual participants' capacity to identify and increase the social impact of their research and to facilitate discussion about potential collaborative projects.
The workshop included presentations from:
Dr Holly Doel-Mackaway (Law, MQ), 'Children's Right to Participate Turns 30: Law Making with Children and Young People'
Assoc. Prof. Toby Fattore (Sociology, MQ), 'The Politics of Child Participation in Child Protection'
James McDougall (Institute for Child Protection Studies, Australian Catholic University), 'Opportunities and Challenges in Current Policy for Children's Voices – Safety, Wellbeing and Justice'
In Conversation with Dylan Voller: (Re)imagining Justice for Aboriginal Young People
20 November 2018
At this event, a panel of speakers addressed the experiences of Aboriginal young people in the youth 'justice' systems. The speakers emphasised the importance of hearing from young people affected by these systems in order to add their perspectives to academic and social discourse.
The panel included:
Dylan Voller, advocate for Aboriginal and young people's rights
Assoc. Prof. Thalia Anthony, Faculty of Law, UTS
Aunty Elizabeth Jarret, Gumbaynggirr Dunghutti Bundjalung warrior woman, poet, artist, advocate and support person
Chaired by Dr Holly Doel-Mackaway from the Macquarie Law School.
Read more about the event here.
Listen to the full conversation here.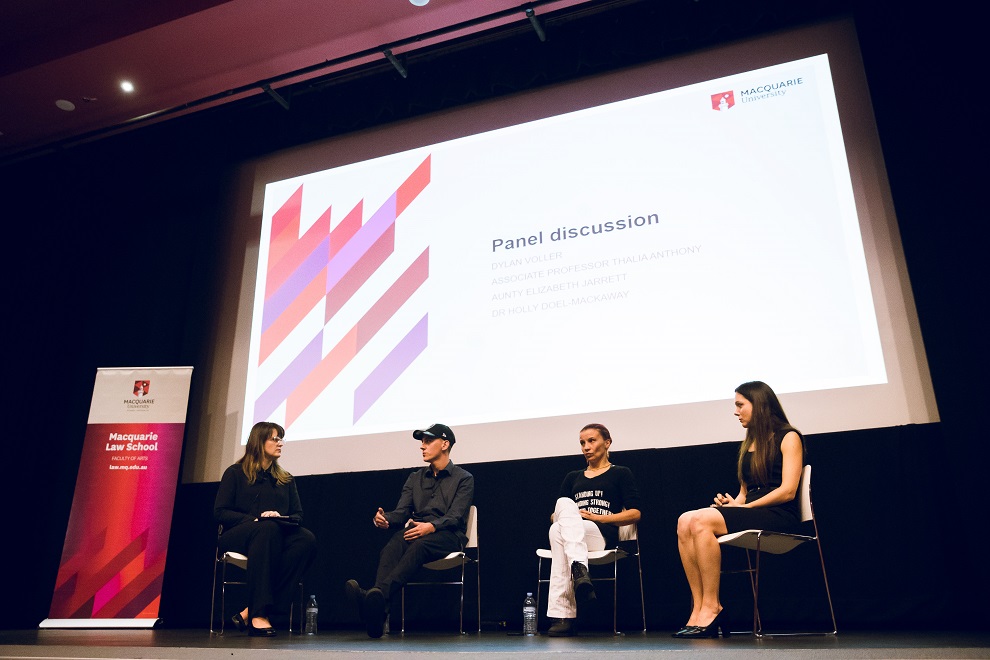 Universal Children's Day Research Networking Initiative
20 November 2017
This event brought together academics from across Macquarie University to celebrate the launch of the Children's Research Network, the precursor to the Children's Rights, Participation and Perspectives research stream.