Collections
Collections
In line with the centre's aim to promote the study of numismatics, ACANS acquires ancient coins for the purposes of research and teaching.
ACANS collection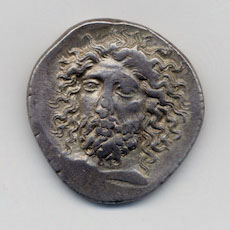 Individual acquisitions are often made for research purposes. These are contained in the general ACANS collection. Coins in this collection range from Sicily to Abdera to Persia.
Many of these coins have been published in the Journal of the Numismatic Association of Australia (JNAA).
Gale collection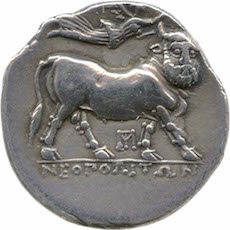 Dr Bill Gale, founder of ACANS, died in February 2007. He passed away peacefully in his sleep, after losing his battle with cancer.
Bill was a student of ancient history and an avid collector of ancient coins; he was so passionate about his interests that in 1999 he endowed a research centre for ancient numismatics at Macquarie University - the Australian Centre for Ancient Numismatic Studies (ACANS) - the first centre for the study of ancient coins to be established in Australia.
Further information
Bill began his working life as a lawyer and property developer in Sydney. After an extremely successful career he decided to retire and begin a degree in ancient history at Macquarie University. Bill and his wife Janet both had a great love for the ancient world, and they were irrepressible travellers. One of their favourite destinations was Italy. Bill developed a special interest in three fields of Italian history: the Greek cities in South Italy, Republican Rome, and the Roman emperor Hadrian. As a result he began collecting coins that would illuminate his studies on these three topics. Once he had obtained his BA (Hons), Bill decided to undertake a doctorate on the topic of the Roman Senate. Through sheer hard work and persistence he was able to successfully present his thesis in 2005.
Bill's commitment to the study of ancient coins in Australia was also remarkable. He was a founding member of the Australian Society for Ancient Numismatics, which has helped foster the interests of collectors in Sydney. His desire to see a reviv ed interest in the study of numismatics in academic circles was a result of his decision to undertake university studies. Coin studies have been neglected by historians for some time, and Bill was very aware that many academics were no longer in touch with this vast amount of evidence for the financial affairs of ancient societies. His response was to endow ACANS.
Bill Gale was an extremely modest man. He loved attending Macquarie University's 'Gale lectures in Numismatics' to hear all about new research. These lectures were established by ACANS to honour his contributions to the subject. But he dreaded the moment when he would be publicly thanked (and usually tried to 'keep his head down'). He was modest about this generosity, and about his impact on the study of ancient history at Macquarie. But even putting the creation of ACANS to one side, this impact has been significant. Both he and Janet were important donors to the collection of the Museum of Ancient Cultures and have significantly enriched the experience of visitors to the museum. Together they have also donated funds to strengthen the crucial library holdings. In addition, they have give funds to allow students and scholars at Macquarie University to travel to Italy in order to complete and publish their research.
The coin collection of Dr and Mrs W. L. Gale was donated to Macquarie University in 2007. It consists of over two and half thousand coins, and is the most important ancient coin collection in Australia. There are three main groups: coins from the Greek cities of South Italy, Roman Republic coinage, and Roman Imperial coinage from the time of Hadrian. There are also important holdings dealing with Corinth and with the portaiture of Roman emperors.
Publications on the Gale collection:
Sheedy, K. (ed.) (2008). Sylloge Nummorum Graecorum Australia I: The Gale Collection of South Italian Coins. Sydney: Numismatic Association of Australia. ISBN: 978-0-646-50210-6.
Gillett, M. (2010). A closer look at the Etruscan coins at ACANS, Macquarie University (SNG Australia 1, 4-13). JNAA, 21, 24-40.
Sheedy, K. (2010). Correction to: Sylloge Nummorum Graecorum, Australia I, the Gale collection of South Italian coins (Sydney, 2008) (Numismatic Association of Australia Special Publication). JNAA, 21, 41.
Hansen collection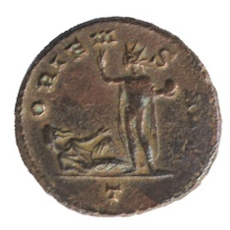 The collection was intended to document the apparently myriad number of types issued by over one hundred emperors and empresses from some twenty four imperial mints over five centuries.
Ron Hansen was born in Brisbane on 15th January 1948. He graduated with a B.Sc. degree in Geology at the University of Queensland in 1970 (later achieving Hons. in 1972), and subsequently pursued a highly successful career in the mining industry. In later life he lived mostly in Sydney, where he passed away in 2012.
Further information
He was a passionate collector of ancient and modern coins (among other interests). He collected milled British coins, for example, but his main concern eventually came to rest with ancient Greek and especially Roman coinage.
Over the last two decades of his life, Ron worked (alongside his good friend, Walter Holt) on an ambitious project to collect a representative sample of Roman bronze coinage that would illustrate the complex patterns of changing reverse types.
A very ambitious scheme indeed! Ron hoped that the information and images might one day be put into an online data base that would be available publicly. Ron once said: "It is now time to pay more than lip-service to my loosely sprouted belief that we pay our money not to 'own' such coins as these, but rather for the privilege of their temporary custodianship." When he realized that he would not be able to complete the project Ron very generously offered his collection to the Australian Centre for Ancient Numismatic Studies at Macquarie University.
It was his hope that the collection would find a new audience among students who were discovering Roman history, and that the coins might inspire them to take a closer look at some of the lesser known figures in the ancient world through the prism of numismatics.