Plant Growth Facility
About
Macquarie University has a modern and highly sophisticated plant growth facility. Built in 1999, the facility has the capacity for a wide range of research projects and is used for undergraduate and postgraduate teaching in biology while also supporting national and international collaborative research.
The proximity of laboratories, equipment and growth facilities enables convenient analysis of plants from controlled environments on site. Soil and growth media are also prepared on site, avoiding transport issues.
Glasshouses
Fourteen glasshouses are available for use and vary from 27-55 m2. The glasshouses are either fitted with reverse-cycle air conditioning or are evaporatively air-cooled and centrally heated to achieve tight temperature control that is monitored remotely. Temperature (all chambers), light and carbon dioxide concentrations (in research chambers) are logged continuously.
There is also a carbon dioxide enrichment facility. Ten reverse cycle, air-conditioned glasshouses are supplied remotely with carbon dioxide from bulk cylinders, enabling experiments on climate change.
The PC2 glasshouse facility consists of an air-conditioned, sealed glasshouse which can be used for containment purposes. This has certification for use with transformed plants.
Growth Cabinets
There are 14 growth cabinets (Thermoline), half are 1500 x 1800 x 900 mm, the other half are 1100 x 1200 x 600 mm. Each has temperature, humidity and carbon dioxide control. Growth cabinet conditions are also logged continuously. Cabinets are in a building adjacent to the glasshouses with water and working space.
Contact
For general glasshouse enquiries please email the technical manager, Muhammad Masood
Slideshow presentation
The following slideshow can be cycled through displays. Depending on screen reader and browser combination, they may present one at a time or all at once. Additionally, when the slideshow has keyboard focus, the left and right arrow keys can also be used to navigate the slides.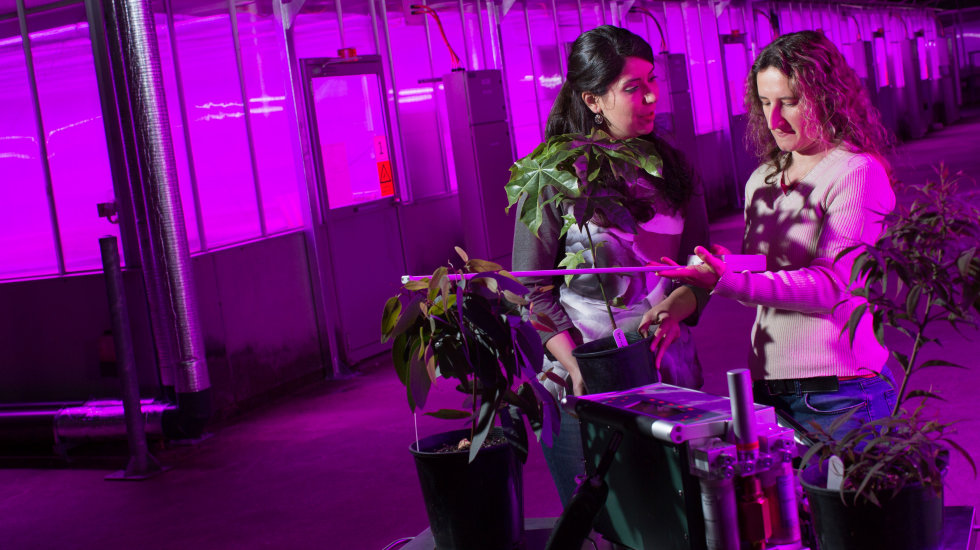 End of slideshow