Anatomy Lab

The anatomy and surgical skills facility at the Faculty of Medicine and Health Sciences uses the most modern technology to study the most basic of the medical disciplines: human anatomy.
The purpose-built centre was completed in 2010 and renovated in 2017 to add an additional lab and meeting spaces along with a full technology refresh. The facility features cutting-edge technology including the most advanced microscopy and surgical equipment.
Macquarie provides an ideal environment to teach fundamental and advanced surgical technical skills and procedures in a simulated surgical environment. Trainees and practising surgeons hone their skills before translating them into practice in the operating theatre.
Features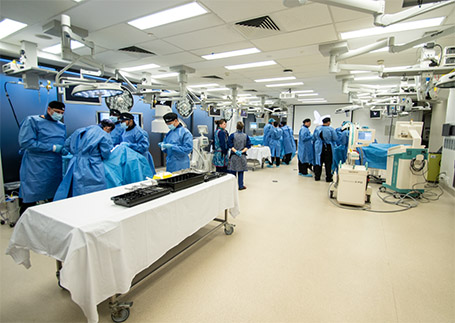 Each lab features:
ten fully equipped workstations with a theatre light, HD display and 4K input
AV routing across both labs and lecture areas

110" HD projection display
instructors station with in-light camera and additional connections for equipment
ability for HD recording of any chosen source with fast and secure online delivery
sawbones or simulation room
fully equipped arthroscopy/laparoscopy suites, general surgical instruments to support most procedures
power equipment including saw, shavers, drills
latest generation mobile C-arm and translucent tables.
General facilities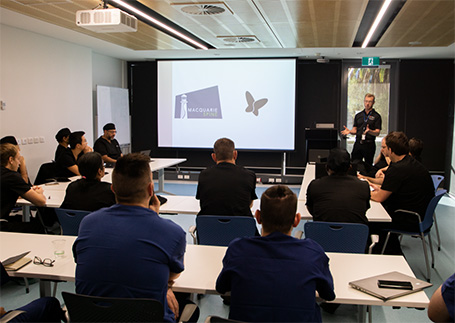 The anatomy and surgical skills facility also contains the following:
instrument wash and sterilisation facility
large and easily accessible loading dock
30 seat and 60 seat lecture theatres (combinable) with HD projectors, mics and wired/wireless device connections and ability to view HD simulcasts of surgical workshops
two small private group meeting rooms with soft-conferencing technology
digital signage for way-finding and branding
Cisco codec for encrypted links to other sites
high-speed wireless internet access across the entire facility
breakout area with ample seating with catering and barista facilities
surgical skills staff for support, planning, set-up and pack down
in-house video production services for workshops and conferences including live-streaming, simultaneous presentation capture, editing and post-event production work. Material can be delivered online, via USB or DVD by request.