Participants
Studies currently recruiting
Online studies for a range of different ages are coming soon! Please check back here soon (and/or keep in touch via our Facebook or Twitter pages). You can also email us if you would like to be included on the Child Language Lab participant register to be contacted about future studies.
Some reasons to participate
Participation can be a fun activity for school holidays! (Or for science activities if your children are now doing school at home)
Have fun! Kids have a great time and often want to come back for other studies
Help advance research in the critical area of child language development
Assist with research that will provide better outcomes for children's communication skills (e.g., for children with hearing loss)
Be reimbursed for your time (usually a gift card and small gift for your child)
---
Hear from a parent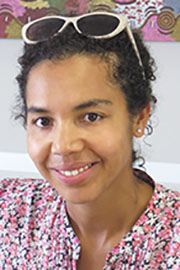 "I'm glad that I am able to help researchers advance their studies. I've learnt about different aspects of child language development and now notice little things about the language development of my children."
"Most of all, they enjoy all the activities every time they are here. They have fun watching interesting videos and playing with toys. I plan it like a day out. We'll go somewhere after the session and I will buy them a special gift with the gift card."
- Rhonda P from Sydney