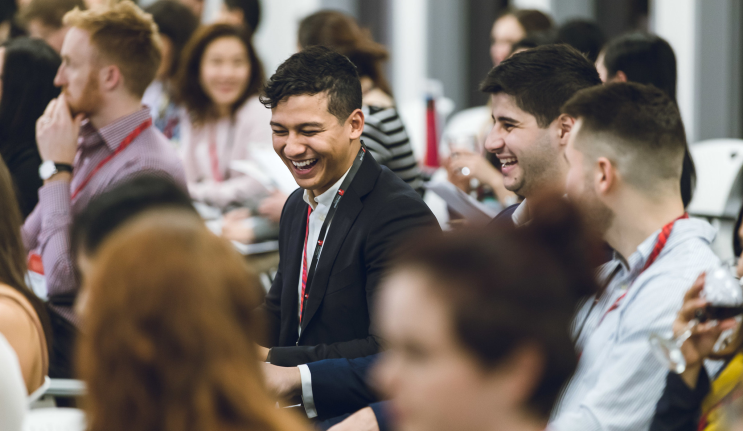 MQ Alumni Perks
BENEFITS
June 3, 2019
Many alumni have moved away from campus and live all over Australia and overseas. In fact, we now have over 192,000 alumni in over 140 countries. Whether you are still living near our beautiful campus, or are far away, there are many aspects of being a Macquarie grad that make you unique …
1. You can have a few more $ in your pocket
Several discounts and offers are available to Macquarie alumni who are trying to reduce their cost of living:
Special rates at the Sport and Aquatic Centre (memberships for alumni start at around $35.30 a fortnight).
A 10% discount on fees for domestic students with a completed undergraduate degree if you proceed to a postgrad coursework degree through the Postgraduate Loyalty Scheme.
2. You share a degree with some amazing grads
As a Macquarie graduate you can boast your association with best-selling author Liane Moriarty, comedians Chris Lilley and Adam Hills and kid's group the Wiggles, to name a few – all graduates of Macquarie.
3. Macquarie loves our alumni start-ups, entrepreneurs and innovators
Have a great idea for a business venture but need a support network or a sounding board?  Being a part of the Macquarie community means you're not alone.  You have access to the incredible Macquarie Park Innovation District (MPID). (Think of it as Australia's Silicon Valley). Check out the Macquarie University Incubator and Venture Café Sydney – just two Macquarie University programs in the MPID which can help you to connect, build relationships, innovate and take your idea to the next level.
4. You are a Library member for life!
As a graduate of Macquarie, you are entitled to free lifetime membership of Macquarie University Library, including borrowing privileges and special access to online databases and ebooks – so it doesn't matter if you live near campus or not, you can access a huge range of material remotely.  Alumni library members may borrow an unlimited number of items for 16 weeks.
5.  Macquarie is here to support you in your career
We offer a career and employment service for new grads, as well as a huge discount to the Career Advantage MQ Program, and access to the Career Development Association of Australia.
6. As one big family Macquarie welcomes your family
The Macquarie University Family Scholarship was established to encourage the legacy of family members attending Macquarie across generations. It is awarded to an incoming student in any discipline.
It is open to outstanding new students in any discipline who have an immediate family member (parent, sibling or grandparent) who attended Macquarie University. The scholarship may be renewed for up to four years contingent on meeting ongoing eligibility criteria.
More more information, check the scholarship website.
7.  We support you to grow, learn and expand your networks
Macquarie is all about learning and discovery, but that isn't limited to just our students or our researchers. After you've graduated, you're encouraged to stay connected and keep learning and growing your networks.  Macquarie alumni are invited to attend our many alumni events, put on especially for alumni both in Australia and overseas.  Check out our upcoming events, join an existing network or start your own.
8.    Services at your fingertips
For our Sydney-based alumni, and especially those living or working near the MPID (Macquarie Park Innovation District), there are incredible services available just on your doorstep.  Where else can you get a world-class hospital and medical clinics, speech, hearing and psychology clinics, and amazing galleries and museums, just outside your office door?
9.   Be amongst friends, be a part of a community
You may just simply want to be connected and stay informed. As an alumni you can do so by joining our social networks, where you can be kept up to date via Facebook, LinkedIn and our newsletter Macquarie Matters. Keep your details up to date to ensure you don't miss an invitation to an event near you.  Let us know about what you've been up to.  Many alumni who attend events after years of being disconnected say its one of the best things they've done in years, as they've made friends, and built networks for current and future job opportunities and career development.
Want more?
Check out all the benefits on our webpage, or download our brochure on staying connected.