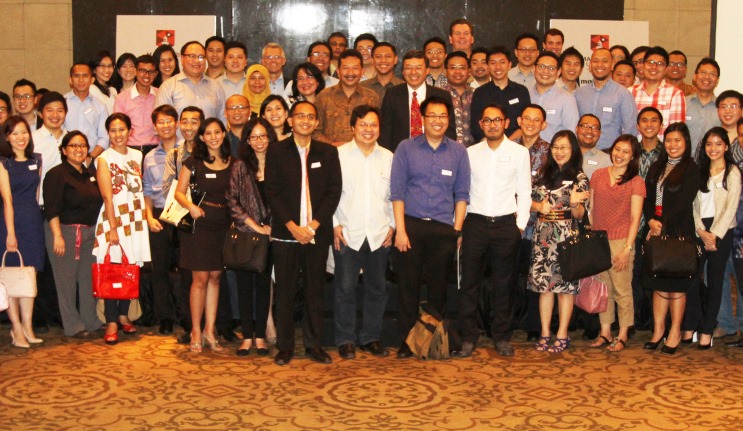 Alumni events
FEATURES
As part of a new suite of initiatives to reconnect with interstate and overseas alumni, in 2015 Macquarie is hosting a series of events around both in Australia and overseas that give alumni the opportunity to catch up with old friends and enjoy informal learning.
Jakata alumni networking event
The year kicked off on 4 February with an event at Jakarta's Intercontinental Hotel, giving local alumni and expat residents the chance to get to know each other and discover more about the changing face of Macquarie. More than 80 alumni from Indonesia joined Macquarie's Deputy Vice-Chancellor (International) Professor Jim Lee, to learn about new developments at Macquarie and to meet visiting staff from Arts, Business and Economics and Science and Engineering.
The Joan and John Lincoln Society Big History Lecture
On 19 February the Joan and John Lincoln Society hosted a Big History luncheon for more than 180 alumni and friends on campus. Professor David Christian's discussion of Big History, which looks at history as a series of interconnected events rather than discrete eras, fascinated the audience and led to a vigorous Q and A session after the talk.
"Professor Christian's lecture was mind-blowing in content and delivery," John and Joan Lincoln Society patron Jennifer Horne said after the event.
"I was totally engrossed from the beginning and wished he could have continued for many more hours. As soon as I went home I went on-line and began the online Big History course. It is so fascinating [and] things finally make sense like the existence of the periodic table."
Global Alumni Impact Series: Melbourne
On 4 March an event was held at the State Library of Victoria for Melbourne alumni. Guest speaker and Macquarie alumnus Steve Barnes reminisced about his time at Macquarie studying for an MBA in 1998. Today Barnes is Chief Operating Officer of Iress and he also shared his professional development experiences with the 65 or so alumni present. Vice-Chancellor Professor S Bruce Dowton introduced Macquarie's reinvigorated brand and plans for the future to the audience.
Global Alumni Impact Series: Canberra
A week later, on 11 March Parliament House in Canberra played host to around 70 local alumni. The event was part of Macquarie's Global Impact Alumni Series, which is a suite of stimulating and informative lectures, panel discussions and seminars for alumni and friends of Macquarie University. The series features a diverse array of Macquarie academics and alumni speaking on topical issues that impact our community and shape our world, and the Canberra event saw Professor David Christianson presenting Big History to the engrossed audience.