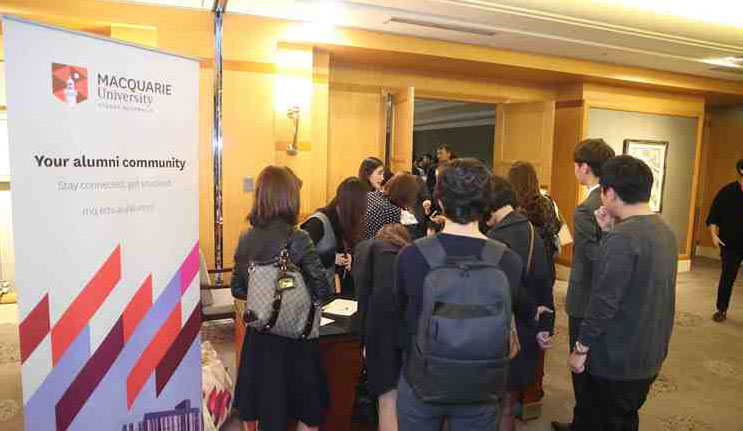 2018 Events, Benefits and Volunteerism
ALUMNI FOCUS
2018 promises to be another year full of alumni events, benefits, news and opportunities for Macquarie alumni to connect and enjoy.
Events
Macquarie alumni will have the opportunity to attend over 20 diverse events in 2018 including thought leadership and academic lectures, professional and personal development presentations, industry-specific and networking options and informal get-togethers.
The year started in Perth with Pop Up Networking Drinks on Monday 5th February and continues with a range of events in:
 - Sydney

Thought Leadership (12 March, July, September)
Backpack to Briefcase (20 April, June, October)

- Brisbane (15 March)
- Canberra (28 June)
- Melbourne (30 May)
- Hong Kong (November)
- Beijing (November)
- Shanghai (November)
- Singapore (August)
- Seoul (19 May)
- New York (July)
- London (September)
- Jakarta (March)
- Kuala Lumpur (April)
- Bangladesh (July)
and more are in development.
For more details and to register for upcoming Macquarie alumni events
News
The Macquarie Matters alumni e-newsletter will be expanded to eleven monthly editions in 2018 starting in February 2018 (this edition!). In each edition, Macquarie alumni will receive news and updates from your University, profiles featuring interesting and successful alumni, and articles showcasing the research from Macquarie academics and alumni impacting our local and global communities.
For Macquarie Matters and other alumni news
Benefits
Macquarie continues to offer a range of benefits for alumni including free access for life to the Macquarie Library, discounts to MQ Sports membership, free MOOCs and iLearn classes and more.
New and refreshed benefits are planned for 2018 so stay connected.
For alumni benefits
Volunteering
The Macquarie alumni community is an amazing group of people – many who generously give their time and expertise to support other MQ alumni and students in a range of activities.
Macquarie alumni support their fellow alumni as Alumni Chapter and Network leaders, Galleries and Museum staff and Friends of MQ Health.
Macquarie alumni also support future alumni (current students) to develop their skills and networks for successful careers. Through MQ mentoring programs, the award-winning PACE program and even as MQ Graduations volunteers, alumni help and expertise is extraordinary and often transformative.
For more information on volunteering and to volunteer your time and skills at Macquarie, please contact the Alumni Relations Office