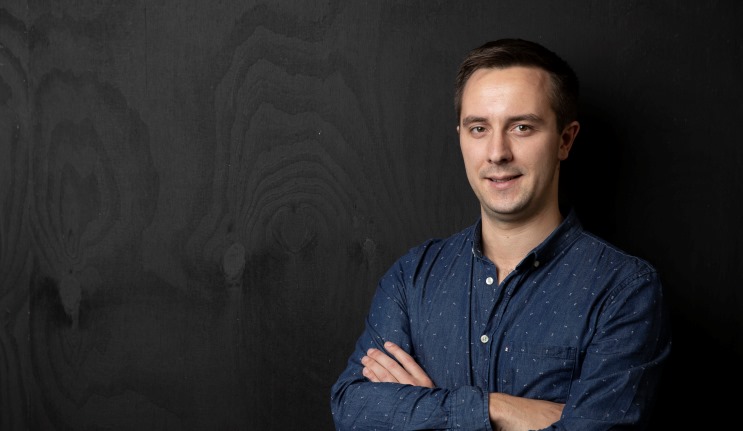 Founding members of the MQ Young Alumni Advisory Board (YAAB) – Shane Allison
ALUMNI FOCUS
November 16, 2021
Meet Shane Allison, young alum. Self-confessed swimming fanatic and award-winning communicator, he's incredibly passionate about ensuring young people can meet up with their peers to form strong networks that will help them progress and get ahead. YAAB is doing just that, and Shane encourages others to join the young alumni community. You just never know where it might lead …
Words: Megan English
'My advice to alumni,' says Shane straight off the bat, 'would be to dive into the young alumni network. Not just to achieve something, but to give back and create new connections – you never know where these relationships will take you until you do.'
He speaks from experience. 'I've been able to achieve so much in my career thanks to the help I've received from the MQ alumni network, and also by providing it,' he says, and it's something he not only encourages other young alumni to seek out, but also counsels them not be intimidated by.
As he explains, 'Too often, young people are locked out of professional networking opportunities and the networks they create until they're in management and leadership positions. It's unfortunate because the reality is, it's these networks that are going get you ahead in your career.'
Getting ahead is something Shane also knows well. 'I graduated with a Bachelor of Business Administration then a Masters of Management from the Macquarie Graduate School of Management (MGSM) in 2018,' he remembers. 'As part of this, I was honoured to be recognised as one of Australia's Top 100 Future Leaders in the Australian Financial Review.'
But it doesn't end there. He's also been recognised as part of PRovoke Media's Innovator 25 Asia–Pacific class of 2020, the PR Professional of the Year at the Mumbrella CommsConn Awards, and was the winner of the inaugural Mumbrella neXt Award for PR Talent, lauding him as the most exciting talent to enter the PR industry in the last ten years.
Shane also maintains an active role in the Public Relations Institute of Australia as a director and honorary treasurer, and enjoys helping to shape the future of his industry while occasionally 'shaking up the established way of doing things.'
He's a man with a lot on his plate (and a lot of energy). It's no surprise, then, that the physical exertion of swimming is an important outlet. 'My team makes fun of me because I love swimming,' he says. 'So much so that my first trip out of the house after Sydney's extended lockdown wasn't for non-essential shopping or a picnic – I went straight to my local pool.
'It's an incredibly meditative sport,' he explains, and you can tell it keeps this young man, founder and CEO of Public Address – the media management platform for communications professionals – well-grounded amidst a full agenda.
As he explains, 'My focus at the moment is scaling the business, acquiring customers and managing the development of our product' – and that's where it really helps to have good people around you and a strong network like the MQ community.
'YAAB is a group of young alumni who are putting on events for other young alumni, so you're going to be meeting people who are facing similar challenges, seeing similar opportunities and can help with the problems that you face. It's not that relationships with older alumni aren't relevant; it's that you need peers who are facing similar problems to you to help solve yours.'
Connect with Shane on LinkedIn
'Just dive into the young alumni network – you never know where these relationships will take you until you do.'
About the MQ Young Alumni Advisory Board (YAAB)
Our Young Alumni Advisory Board has been set up to increase opportunities and support for graduates 35 years and younger as they embark on their professional careers.
This team of passionate Macquarie graduates will represent the interests of the young alumni community, bringing innovative ideas and a fresh approach to Macquarie's young alumni program.
Throughout the year, the YAAB will offer a mix of both social and professional events and dedicated programming to build your career.