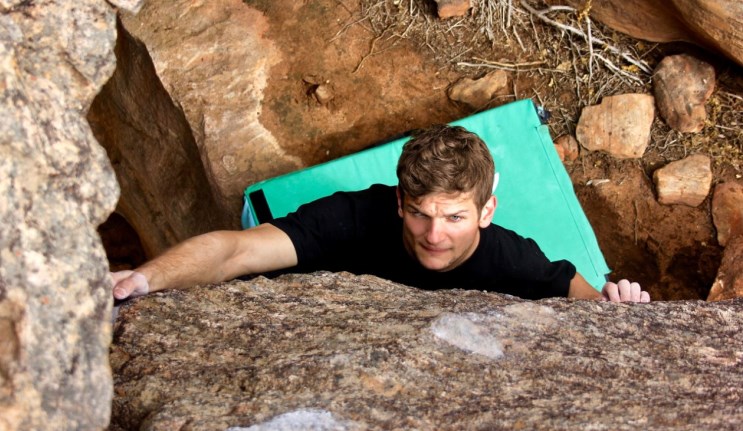 Founding members of the MQ Young Alumni Advisory Board (YAAB) – Mattia Braach-Maksyvtis
ALUMNI FOCUS
November 18, 2021
Meet Mattias Braach-Maksyvtis, young alum. He's an elite rock climber, certified yoga teacher and physiotherapist, who once did an ad for protein yoghurt but is now vegan. How life changes. Speaking of which, Mattias is ready for the disruption of the health space with the introduction of virtual reality and brings this openness and enthusiasm to YAAB, encouraging everyone to get on board.
Words: Megan English
Mattias reckons if you're not already part of the young alumni community, you should be. 'It's free, it can help your career, and you might even win a prize at an event!' he laughs, so really, there are no excuses not to join!
But seriously, he says, 'being involved can teach you a lot as you move throughout your early career, such as how to present yourself online and navigate this stage of your life more generally. Plus, the team is always there to field any questions you might have.'
Mattias decided to get involved with YAAB to help other alumni connect with each other as well as with the uni. He says, 'Each member of YAAB has an entirely different professional background and skillset. I've enjoyed seeing how these backgrounds intersect when brainstorming and creating events for the MQ Young Alumni.
'Moreover, this diversity allows us to deliver events that are useful, fun and interesting for all those involved,' he says, which sounds like much of Mattias's experience so far beyond the university's grounds.
Rock climbing for nearly 20 years, Mattias has been bouldering internationally for almost a decade throughout Europe, America and Africa. More than that, he has completed the largest number of hard boulders by any current Australian rock climber.
It's a field he knows inside out and one that inspired him to undertake a Doctor of Physiotherapy at MQ. As he explains, 'I chose to become a physiotherapist due to the many injuries I had from rock climbing and bouldering that health professionals weren't able to understand or manage without direct experience of the sport.'
Graduating in 2020, Mattias now combines his climbing expertise with evidence-based physiotherapy in his business Climber Care, the first climbing-specialised physiotherapy and coaching practice of its kind in Australia, which he established in late 2020.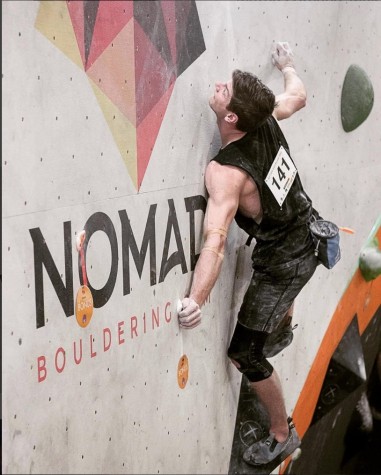 'Through Climber Care, I've been able to give climbers a level of care that was missing from my own experience, empowering them to take control of their recovery as well as build resilience and level up.'
It's incredibly satisfying for Mattias, who says, 'Founding Climber Care wouldn't have been possible without the help of my professors, lecturers and course coordinators at MQ who showed me how to transform an assignment into a fully-fledged business. There's no way I'd be where I am without their support and feedback, and that's something I will always be grateful for,' says Mattias.
Now, however, it's time to look to the future. 'A big goal of mine is to be able to help people overcome injuries without them always needing to come in and see me in person. We've seen this already with the increased uptake of telehealth due to COVID.
'Still, I'd like to prepare my practice for the disruption the health industry will face in the future with the arrival of virtual reality (VR) and augmented reality (AR) as a primary method of communication.'
There's no doubt the world is changing at a pace for those establishing careers at the moment, and the young alumni community will continue to be there to support them.
Connect with Mattias on LinkedIn
'I've received so much support from being involved in the young alumni community. I really want to show others what they're missing out on!'
About the MQ Young Alumni Advisory Board (YAAB)
Our Young Alumni Advisory Board has been set up to increase opportunities and support for graduates 35 years and younger as they embark on their professional careers.
This team of passionate Macquarie graduates will represent the interests of the young alumni community, bringing innovative ideas and a fresh approach to Macquarie's young alumni program.
Throughout the year, the YAAB will offer a mix of both social and professional events and dedicated programming to build your career.