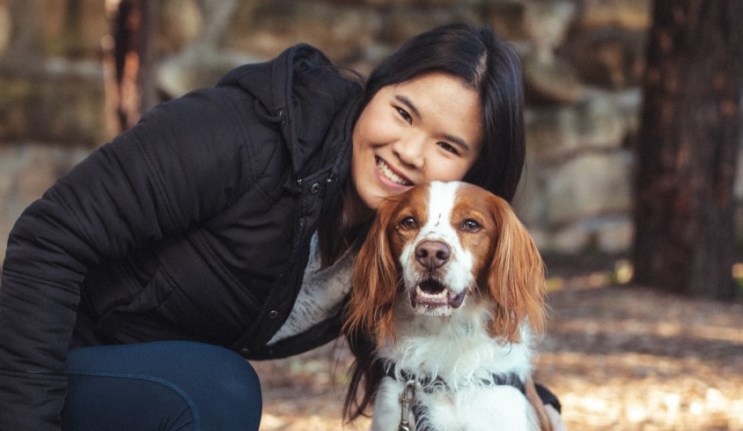 Founding member and Executive Chair of the MQ Young Alumni Advisory Board (YAAB) – Ki Yan Baldwin
ALUMNI FOCUS
November 16, 2021
Meet Ki Yan Baldwin, young alum. She's a girl going places, and she's determined to help others get where they want to go, too, by unlocking their highest potential through coaching and high-level strategy. A hustler with heart – she also trains therapy dogs – Ki Yan is bringing all her energy and experience to the Young Alumni Advisory Board (YAAB), providing strategic leadership and inspiring young alumni to network effectively.
Words: Megan English
With a Bachelor of Laws with First Class Honours and a Bachelor of Arts (Politics) from MQ specialising in counter-terrorism and global security, there's no doubt Ki Yan has many interests. Due to a combination of factors, however, she decided against pursuing law and international security and went entrepreneurial instead.
Still, her degree provided a strong base for her career, and the profiling component in her studies in counter-terrorism has informed her ability to quantify human behaviour and data into actionable intelligence strategies. Now, one of Australia's foremost strategy experts, Ki Yan specialises in unlocking the potential of individuals and organisations.
It all started while she was tutoring in law at Macquarie when she recognised a group of students who'd achieved exceptionally high ATARs but weren't thriving at university. Determined to solve this problem, Ki Yan went on to set up her first company, A-Plus Solutions, which delivered not just HSC management but also specialised in supporting elite athletes, performers and those with mental health or medical conditions.
Ever evolving and improving, Ki Yan was drawn to the corporate sphere next and founded the Kalibrate Consulting Group, which she describes as 'the ultimate weapon for nailing academic and professional goals.'
Did we mention, in her spare time, Ki Yan is a long-range rifle shooter? For her, it's the ultimate form of mindfulness, but we digress. Still, it illustrates Ki Yan's single focus, dedication and, yes, ambition – whether it's the corporate division or the education division of Kalibrate Consulting, Ki Yan is driven to 'unlock the client's highest potential by providing strategy, skills and support to achieve any goal in any scenario.'
It's all about ensuring people can get from where they are to where they want to be. So where does her drive come from? As Ki Yan explains, 'Students and executive clients alike can feel like they're locked into a certain kind of life; they don't know what to do or where to turn. I've been there, too, but found my way forward and want to help them do the same.'
But she hasn't done it alone. 'I've had an incredible group of people backing me,' she says, 'some amazing coaches and mentors, and I've learned a lot from my clients and students. Now I want to take all that experience and pay it forward.
'Providing guidance and strategic leadership to maximise the benefits for Macquarie's young alumni community is the reason I'm involved with YAAB,' she says, and it's clear her vision is strong.
Still, it comes back to community. 'One of the beautiful things about YAAB,' she says, 'is that everyone is so different; there's an incredible diversity of thought that we've already seen multiply in value very quickly.
'It's a safe space to come together and support each other, introduce each other and open up our networks in a mutually beneficial, respectful way. By helping each other, we can all go further,' she says, and you can hear the enthusiasm and desire to help in her voice.
Connect with Ki Yan on LinkedIn
'YAAB is here to support you as you progress through your career by providing events, education and a network dedicated to helping you achieve your highest potential.

No matter what you're looking for, where your career takes you, or your appetite for success, the Macquarie Young Alumni community is here to help you connect and grow.'
About the MQ Young Alumni Advisory Board (YAAB)
Our Young Alumni Advisory Board has been set up to increase opportunities and support for graduates 35 years and younger as they embark on their professional careers.
This team of passionate Macquarie graduates will represent the interests of the young alumni community, bringing innovative ideas and a fresh approach to Macquarie's young alumni program.
Throughout the year, the YAAB will offer a mix of both social and professional events and dedicated programming to build your career.