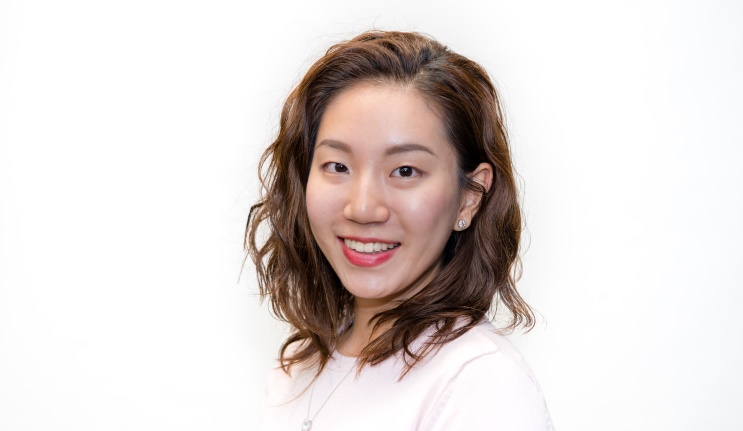 Founding members of the MQ Young Alumni Advisory Board (YAAB) – Evelyn Hwang
ALUMNI FOCUS
November 15, 2021
Meet Evelyn Hwang, young alum. Bright and enthusiastic, she's driven to raise awareness of the environment and sustainability. To keep her energy and motivation high, she turns to physical activity, and can be found on the dance floor or at her local gym. Evelyn is always looking for new opportunities and ways to improve, and she'd love to hear from young alumni with their fresh and fun ideas for growing this diverse network.
Words: Megan English
A graduate of the Master of Environment course, Evelyn was initially drawn to MQ's sustainable initiatives and campus design, including the library with the Green Roof that provides a healthier environment for students to study and socialise.
Well-known for its natural landscape, Macquarie University's environment was one in which she thrived. As she explains, 'I particularly enjoyed the nature-friendly campus that allowed all different kinds of fieldwork such as soil erosion surveys.
'The fieldwork also helped me appreciate the university's efforts to provide a great campus experience for students, and gave me a firsthand understanding of what the university is doing to help the environment.'
Through internship opportunities in sustainability and waste management both on and off campus, Evelyn discovered her passion for the waste industry, and landed her current position as a Resource Recovery Specialist at Cleanaway, an organisation that specialises in sustainable waste management.
Her role is to assist one of Australia's major shopping centres find solutions in waste diversion and resource recovery, which dovetails into her long-term career goal of helping a range of stakeholders with sustainable waste management.
But raising awareness of the environment and being involved in sustainability is not just for major organisations. 'It's something we can all be part of,' says Evelyn, who cites recycling soft plastics as an easy but impactful change we can all make in our homes. 'Collecting soft plastics, whether that's a bread bag or a chip packet, adds up quickly.
'There are specific bins at your local supermarket where they are collected before being processed into furniture and toys,' she explains, and you can hear just how satisfying it is for Evelyn to be involved in making sustainable choices part of our everyday life.
Joining YAAB was another easy choice for Evelyn, who explains, 'I wanted to share the great experience I had while at MQ, and am excited about the opportunity to connect with other alumni members within and outside my field,' she says, and her involvement hasn't disappointed.
So far, she's enjoyed attending the unique alumni events such as Beer with the Boss and the Backpack to Briefcase seminars. As she explains, 'Events like these have been great opportunities to learn useful information that isn't taught in class, such as how to manage your finances or how to stand out on social media professionally.
'I highly encourage other alumni to attend these events as I not only believe what you learn will become a great asset in your life, it's also about connecting with other people of a similar background and harnessing that in your personal and professional life.'
Being able to network with other alumni community members has been a valuable experience for Evelyn. 'The MQ young alumni community is a great opportunity to connect with like-minded people and grow your networks,' she enthuses.
'Through these types of events, I've felt a strong connection with the alumni community and am grateful for the care MQ shows us as alumni.'
Connect with Evelyn on LinkedIn
'I've been on YAAB for almost a year now and have made some great friends, who I can always reach out to. I've also gained a lot of knowledge and skills from other team members from different industries and study backgrounds.'
About the MQ Young Alumni Advisory Board (YAAB)
Our Young Alumni Advisory Board has been set up to increase opportunities and support for graduates 35 years and younger as they embark on their professional careers.
This team of passionate Macquarie graduates will represent the interests of the young alumni community, bringing innovative ideas and a fresh approach to Macquarie's young alumni program.
Throughout the year, the YAAB will offer a mix of both social and professional events and dedicated programming to build your career.