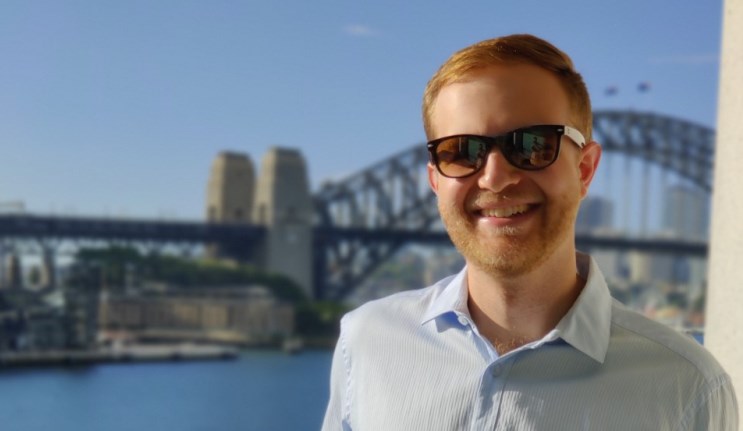 Founding member and Deputy Chair of the MQ Young Alumni Advisory Board (YAAB) – Blake Entwisle
ALUMNI FOCUS
November 15, 2021
Meet Blake Entwisle, young alum. He describes himself as 'a music-playing, greyhound-owning scientist who can talk under wet cement,' but there's more to Blake than meets the eye. He loves interacting with people and getting them excited about the world around them – whether that's their day job or just everyday life – and now, he's harnessing that enthusiasm to bring together like-minded graduates to the Young Alumni Advisory Board (YAAB).
Words: Megan English
With a Bachelor of Advanced Science (Physics) and a Master of Research (Physics), Blake says the flexible degree program offered by Macquarie University helped him explore various options and interests during his undergraduate degree.
'I had the chance to study everything from physics to music and from maths to psychology – even my research degree crossed multiple disciplines as I applied my knowledge of physics and photonics (lasers) to biological systems.
'That level of flexibility allowed me to develop a deep, rich knowledge – and kept things interesting and engaging while I was at MQ,' says Blake, who has not only fond memories of his studies, but it seems they have also had an impact on his approach to the world in general.
He remembers, 'One of my very first lecturers said the most exciting phrase you'll ever hear in a lab is, "Huh? That's not what I was expecting …" And I like taking that child-like curiosity with me wherever I go. I love learning new things and being able to spark a passion for learning and science – or even just gaining a deeper understanding of what you thought you already knew.'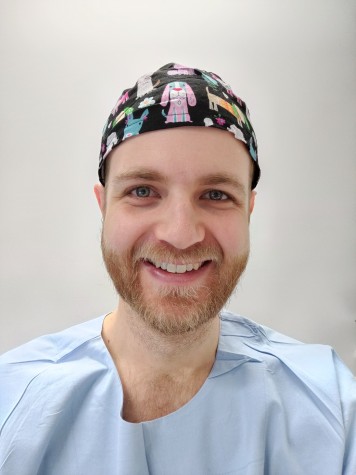 Now, working as a Data Manager at the Royal North Shore Hospital, Blake takes that same level of inquisitiveness and combines it with the knowledge and skills he gained in science and data to support the health of the community. As he explains, 'Using a combination of analysis, business intelligence, design and data science tools, I translate raw numbers into actionable insights and highlight the stories that data reveals.
Drawn to the YAAB in a callout for members, Blake has found connecting with others in the wider MQ Young Alumni community a valuable experience both personally and professionally, especially now he is a few years into his career, and hopes others will find a similar connection and encouragement.'I thrive on giving people the power to make informed, data-driven decisions, especially when those decisions directly impact people and their health. It's very rewarding assisting those who work every day to help, heal and support others.'
'Quite simply, we are a community driven by the community itself. We're not fresh graduates, but we're not late career, either. As a cohort, we've all had at least a couple of years in industry. Many of us are finding ourselves at a pivotal point where we are making life and career decisions, while still actively seeking to develop ourselves professionally.
'Having like-minded people around for support and to compare different experiences is exciting; it's a very diverse network, which makes it interesting. I've met several amazingly driven and entrepreneurial people at a similar life stage to myself, which has been really beneficial from a career-building perspective – and it helped keep us all sane during lockdown!'
Blake encourages anyone thinking about joining the YAAB to reach out via LinkedIn. 'We have a group called Macquarie Young Alumni Network (linkedin.com/groups/13574547), and we'd love to see you there or at one of our upcoming events soon.
Connect with Blake on LinkedIn
'Getting involved with the YAAB has meant being able to maintain a professional and social connection with MQ while contributing to and connecting with the wider young alumni community.'
About the MQ Young Alumni Advisory Board (YAAB)
Our Young Alumni Advisory Board has been set up to increase opportunities and support for graduates 35 years and younger as they embark on their professional careers.
This team of passionate Macquarie graduates and emerging leaders represent the interests of the young alumni community, bringing innovative ideas and a fresh approach to Macquarie's young alumni program.
Throughout the year, the YAAB will offer a mix of both social and professional events and dedicated programming to build your career.