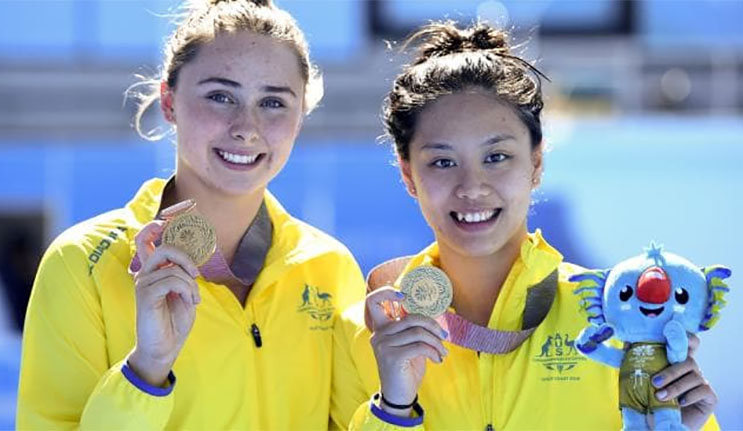 MQ Sports Scholar, Esther Qin (right) with Georgia Sheehan – Commonwealth Games gold medallists
FEATURES
Arts & culture
,
Economics/finance/investment
,
Education & teaching
,
Global
,
Health/Medicine/Wellbeing
,
Humanities & Social Sciences
,
Law/Security/Intelligence
,
Management/Leadership/Entrepreneurship
,
Media/Communications/Marketing
,
Science/Technology/Environment
,
Sport & recreation
,
Supporting
/ May 10, 2018
Macquarie University Sport Scholars have bagged two gold medals, one silver and one bronze at the 2018 Gold Coast Commonwealth Games.
Sport Scholar Esther Qin (pictured above right ) won a gold medal at the women's three-metre board synchronised diving event (with Georgia Sheehan, pictured above left) and a bronze medal in the women's one-metre springboard final.
Esther and Georgia stepped up and nailed an inward two-and-a-half somersault to score 71.10 for a total of 284.10, which proved enough to win gold in the synchronized event.
The gold was Esther's second at a Commonwealth Games, as she won the three-metre springboard event in Glasgow four years ago.
Tom Craig and the Kookaburras (our men's hockey team) continued their extraordinary 20-year Commonwealth Games gold medal streak with a punishing 2-0 win over New Zealand in the final.
MQ Sports Scholar, Dominique Du Toit, and the Women's Rugby 7's team won silver against New Zealand who got their revenge claiming gold at the Commonwealth Games in an epic contest that had to go to extra time.
The trans-Tasman rivals couldn't be separated at full time with both teams locked at 12-12 in front of a packed house at Robina Stadium on the Gold Coast. It took until the end of the first passage of extra time for New Zealand to claim a 17-12 victory, with Kelly Brazier producing a length-of-the-field effort to score.
Fellow Sport Scholar Lachlan Anderson and the Men's Rugby 7's team finished fifth following a 26-0 win over Scotland.
Congratulations also to Sport Scholar James Boyer who represented Australia at the games as a basketball referee.
Read more about Macquarie University's elite sport scholarship program.