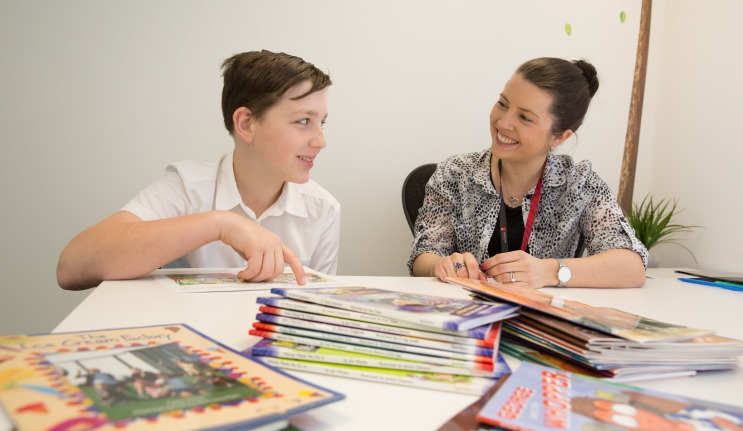 The gift of reading
FEATURES
Most of us take the ability to read for granted, but it's something too many school children have difficulty with – and something their parents cannot always afford to change. It's heartbreaking to see children struggling with something so fundamental to achieving in all areas of life.
At the Macquarie University Reading Clinic, experts know what these children need and what works – evidence-based assessment and treatment, and support for parents and carers in partnership with schools.
"The Reading Clinic provides assessments and treatment for children, adolescents and adults with reading and spelling difficulties to help improve educational, emotional and vocational outcomes," says Dr Saskia Kohnen, Deputy Director, Macquarie University Reading Clinic.
"About 15 per cent of the child population have severe difficulties in literacy. Unfortunately, compared to their peers, children with dyslexia are four times more likely to drop out of school, show lower academic achievements and have poorer long-term vocational outcomes," adds Kohnen.
Experts at the clinic assess each child individually and, with the child's family and teachers, develop a tailored program that delivers life-changing improvements for children like William.
Two years ago, William came to the clinic unable to read. "He went from not reading at all – not willing to even try – to giving it a go and actually reading," says his mother, Carolyn.
While it's been a long road, Carolyn adds, "It has definitely been worth it. In fact, it's been the only thing that has ever worked to get him to read. He doesn't feel as excluded at school and can join in more in class. It's given him hope that he can achieve something."
In William's own words, he went from "lonly and mishroboll" to "happy and confident" with help from the clinic.
The Macquarie University Reading Clinic is not restricted to face-to-face assessments. Children with poor literacy who live far away from literacy specialists and are unable to access high-quality interventions are not only disadvantaged but also more likely to remain poor readers.
The clinic's team of experts recognise these difficulties and deliver internet-based interventions via programs such as Skype. The clinic is in the early stages of delivering these assessments and services, and is conducting detailed research to optimise the effectiveness of live-stream versus standard face-to-face intervention for children with poor literacy skills.
Reading seems so simple and is a gateway to so much. Yet, it is out of reach for some children. The clinic and its committed team want to change that – even for just one child.
The Reading Clinic Scholarship Fund supports children whose parents or carers cannot afford treatment. To make a donation, visit mq.edu.au/connect/reading-clinic
For more information about the clinic, visit mq.edu.au/about/campus-services-and-facilities/hospital-and-clinics/reading-clinic