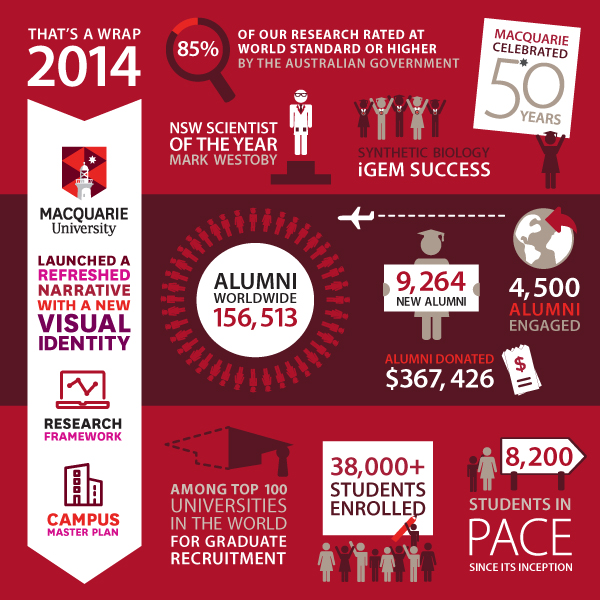 That's a wrap: 2014
FEATURES
Macquarie launched a refreshed and cohesive narrative - The Shared Identity project is a strategic re-imagining of who we are, bringing the story of Macquarie to life, with a new outlook for our brand that reflects our unique heritage and the road maps for change being implemented in research and learning and teaching.
Research framework - The Macquarie community has united to define the University's long-term goals and the elements that will make it distinctive within Australia and around the world. This process led to the development of the Strategic Research Framework 2015 – 2024: World-Leading Research; World-Changing Impact, which is designed to guide Macquarie University's research trajectory over the decade 2015 – 2024.
Campus Master Plan - Over the last 6 years, the Property Office has been working on the Macquarie University Master Plan to facilitate and guide the future development of the Campus. Completed in 2014, strategically aligned with the Vision and Strategy of the University "Our University – A Framing of Futures" that provides a reference framework which will permit flexibility to accommodate future infrastructure and space needs while enhancing the existing qualities of the University's campus.
Professor Mark Westoby named NSW scientist of the year - One of the world's most influential ecologists, Professor Mark Westoby, has been named Scientist of the Year at the 2014 NSW Science and Engineering Awards.
Synthetic biology iGem success - Our intrepid team of undergraduate synthetic biology students have returned from the United States, flush with the success of receiving a prestigious gold medal from the International Genetically Engineered Machine (iGEM) jamboree.
Macquarie celebrated 50 years of being different - Fifty years after the proclamation of the Macquarie University Act in the NSW State Parliament on 12 June 1964, more than 500 staff celebrated the launch of our Golden Jubilee, reflecting on highlights of our first 50 years and sharing ideas for the 50 to come.
8,200 students in PACE since its inception – The Participation and Community Engagement (PACE) staff work with partner organisations to match students to activities best suited to their skills and area of study. PACE currently partners with over 900 organisations locally, regionally and internationally so the scope for activities is far-reaching.