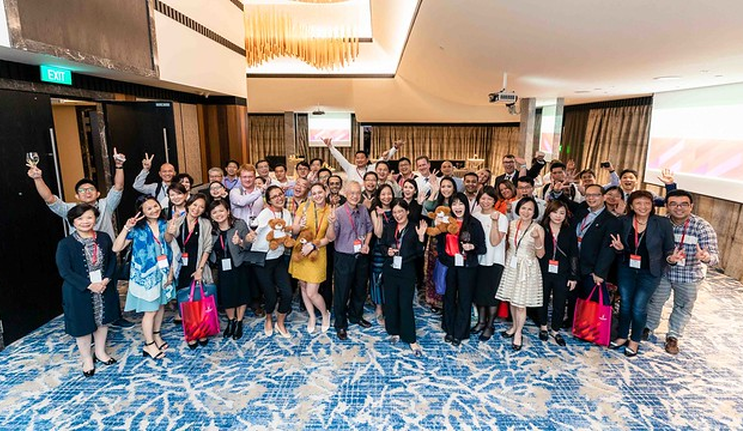 Singapore alumni at global impact event
ALUMNI FOCUS
August 30, 2019
The Singapore Alumni Chapter is one of the University's longest-standing chapters, and is now in its 22nd year.  There are currently over 2,000 alumni living in Singapore, the majority of whom are from the Macquarie Business School. Many of them are graduates of the Macquarie Graduate School of Management and Macquarie Applied Finance Centre which delivered the MBA, MA and MAF programmes in Singapore with faculty's members flying into Singapore to deliver the programmes.
The Singapore Alumni Chapter continues to grow its members and events program, and has kept strong ties with the University.
Long-standing member and champion of the chapter, Mr Richard Soh (MA 1997) was part of the founding group since his graduation and has served in a number of different roles, including Vice President and Treasurer.
"The benefits of university life and higher education do not have to stop once you graduate", he says.  "There are a number of tangible and intangible benefits of being part of an alumni network. Joining a community of thousands of graduates, often from all over the world, can open up all sorts of opportunities. The alumni network can widen your professional network either through socialising or professional development events. The network also serves as a platform for the University to provide updates on University happenings, and also a venue for giving back."
"I have been active from day one, serving in different roles on the committee as well as advising and mentoring the new committee members to keep the spirit of the alumni going" says Richard.  "I strongly encourage all Macquarie graduates to join and be active in promoting our University to gain greater and higher recognition in both the academic and commercial space."
The committee is currently led by President Mr Paul Ho (MBA 2011) and Vice President Mrs Linda Lee (BBusAdmin 2007). Together with their committee, they have dedicated much time and talent over the years to supporting alumni engagement, organising business seminars and social events for Singapore alumni and using their networks to stay connected with each other and with the University.
This year's global alumni impact series (GAIS) event was attended by 78 alumni on 30 July at the Hilton Singapore.  It was an informative and fun occasion with a panel discussion of industry leaders on the topic The Future of Work. The audience was inspired by the panel of industry leaders from Facebook, SAS and AECC Global who explored what we can, or should be doing to future-proof our careers and stay relevant in a world of work that is constantly evolving. The discussion focused on the data, human resources and ways to ensure university students are equipped with the transferable skills as they head into the workforce.
Members of the Singapore Alumni Chapter also attended a dinner with visiting Macquarie staff and were able to give feedback on ways the chapter and University could work together in future.
Join the Singapore Chapter LinkedIn group.
How can I be a part of a network or chapter?
As a Macquarie alumni you are a member of a vibrant community living and working around the globe.  Take advantage of an existing network to stay connected or be re-connected with each other and the University. Through our Global Alumni Network, you can join chapters and networks run by our wonderful alumni volunteers and participate in thought-leadership and networking events across Australia, the Asia–Pacific, Europe and North America.
If you are interested in forming your own network in your region and would like some guidance, please be in touch at alumni@mq.edu.au.
Networks vs chapters – what's the difference?
Alumni Networks are informal groups in locations where there are smaller numbers of alumni. Network volunteers periodically organise alumni events to facilitate connections and assist efforts to build affinity with Macquarie.
Alumni Chapters have a formal operating structure and are often incorporated bodies. They elect officers, hold official meetings and are governed by the Chapter charter. They host Chapter events and support University events in country.