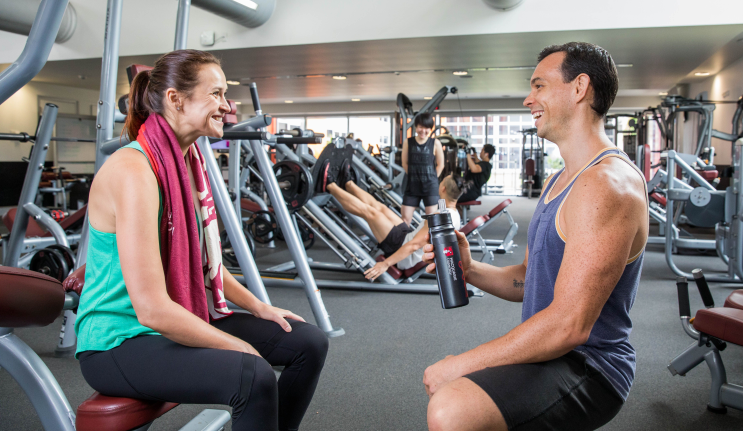 The gym at MQ Sport
BENEFITS
June 4, 2019
In our five Q&As, Macquarie Alumna Danaluxmi (Dana) Pillay shares her thoughts on being an alumni member of the University's Sport & Aquatic Centre.  
Dana graduated with a Bachelor of Psychology in 2006 and went on to attain her Bachelor of Business Administration in 2010.  She became a member of the Macquarie University Sport & Aquatic Centre in January 2016 and is a frequent visitor to the gym, attending six days a week and participating in at least two group fitness classes each visit.
Q. What is your favourite activity to do in the centre? 
A. Any of the many group fitness classes! I do Zumba, BodyBalance, BodyPump, BodyCombat and Barre. I love all the classes I attend but if I had to pick a favourite it would be Zumba, which I do five times a week. I LOVE Zumba!
Q. What have you gotten out of your time as a member at MQ Sport?
A. So many things including:
Making new friends and connections
A place to catch up with old friends and MQ colleagues
A safe space to destress in
Significant health improvements especially with my hypothyroidism and knee tracking disorder
Being part of a community that encourages and supports not only physical wellbeing but also social and emotional wellbeing which is so important.
Additionally, connection is also really important to me and one of the biggest things that keeps me coming back to MQ Sport and the group fitness classes is the interaction, encouragement and the genuine connection that the group fitness instructors build with the members. You don't find this connection in all gyms so a BIG THANK YOU to all the group fitness instructors I see on a regular basis for their amazing work.
Q. What has been your greatest achievement here?
A.  Getting out of my comfort zone and trying new things. I had a really bad experience with BodyPump at another gym so was very adamant not to do it at Macquarie Sport. However, with the consistent encouragement of two group fitness instructors over six months they convinced me to try a BodyPump class. Two years on and I now do three BodyPump classes a week and love it. A special thanks to Anna B and Katie B for that encouragement!
Q. How does this membership benefit you as an alumni? 
A. Value for money and access to new social networks. The alumni membership discount is well worth its value for what you get access to. Its also a great place to connect with other alumni and people I met and studied with during my time at university.
Q. Do you recommend other alumni joining? Why? 
A. Absolutely. With top notch facilities, staff and programs there is something for everyone at MQ Sport. Not only is it a great way to keep connected to the University, it's also a way to connect with other alumni and to network with other community members you would not normally interact with. You will be amazed at the variety of people you meet from all walks of life. You never know where those connections may lead. Also, given the stresses of everyday life it's a fantastic place to come to for re-energising, to destress and take some time out for some self-care.
About MQ Sport and Aquatic Centre
Macquarie University Sport and Aquatic Centre is open 7 days and offers a 29% discount on membership to Macquarie graduates. With a fully equipped Health Club, Group Fitness classes, indoor and outdoor heated swimming pools, and a variety of social sport and programs, Macquarie University Sport and Aquatic Centre is the ideal venue for you to achieve the balance in your life.
Enquire about alumni membership.