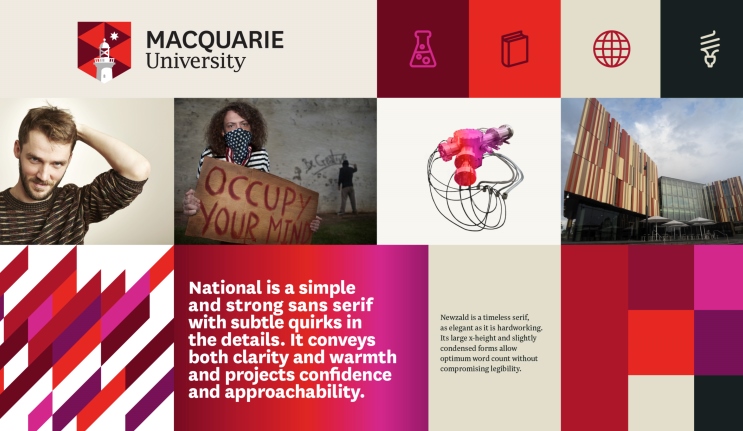 Macquarie launches a reinvigorated image
FEATURES
By reclaiming the past, Macquarie is heading in a new direction in its look and feel, while continuing to do what we do best: nurturing our students, staff and stakeholders to break free of tradition and embrace new directions.
The Shared Identity project is a strategic re-imagining of who we are, bringing the story of Macquarie to life, with a new outlook for our brand that reflects our unique heritage and the roadmaps for change being implemented in research and learning and teaching.
Because of their historical connections with the University's namesake Governor Lachlan Macquarie and the powerful symbolism they evoke, the Macquarie Lighthouse and Sirius Star have been reinstated in University branding.
At the heart of all communications will be the theme identified by groups from across the university as uniquely Macquarie, namely that our university nurtures students, alumni and staff so that they are encouraged to break free to explore their driving passions.
The reinvigorated brand will clearly differentiate Macquarie in a cluttered and homogeneous marketplace: Together with a new colour palette, contemporary typography and striking design elements this new, unified positioning will better reflect the University's values and strategic priorities.
It will also underscore a proactive approach to changes in our sector that require a bolder, more disruptive presence in our increasingly competitive external environment.
"This University has had an incredibly strong identity from the start, as a different university when it was created over 50 years ago, but over recent years we have in some ways lost our capacity and capability to see ourselves as a complex dynamic whole in addition to being a set of innovative parts," Vice-Chancellor Professor S Bruce Dowton said at a launch for university staff on 16 September.
"This project sits over all the University's myriad other projects, and will provide the sense of what we aspire to and how that defines who we are, both now and in the long term."
The work has been started in Macquarie's Jubilee year to ensure that the University is well positioned to face the challenges, and seize the opportunities that arise in the next 50 years and beyond.
The project has grown out of the 2013 'Our University – a Framing of Futures' whitepaper, which outlined the broad strategic direction for Macquarie over the coming 10 years.
'Our Shared Identity' is one of the 21 projects identified in that strategic framework, and has the objective of reinvigorating the Macquarie University brand to ensure that it aligns with the strategic direction, vision, values and mission of the University – both in its visual form, and in the way we talk about ourselves to our many target audiences worldwide.
While the new identity will be officially launched to the public in January, 2015 you can expect to see it progressively introduced in alumni publications and at events in the coming months.