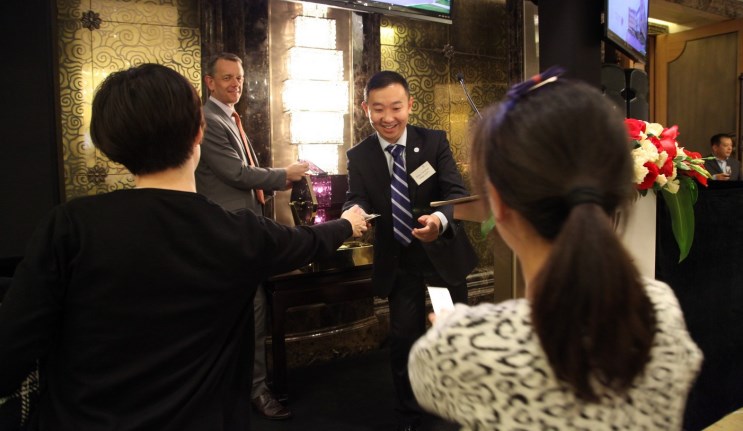 From left: Professor David Wilkinson, Deputy Vice-Chancellor, Macquarie University, and alumnus Jerry Zhou
ALUMNI FOCUS
Alumnus Jerry Zhou studied for a Master of Management in Human Resources Management in MGSM in 2006 and 2007. Today, with 16 years experience in HR, he is running JSmart Management Consulting in Beijing.
"It is a management consulting firm, where we help clients to select and develop talented employees," he says.
Jerry is also the key member of Macquarie's Beijing Alumni Network and sees a lot of crossover between his professional and alumni roles. "We organise different events to help alumni in Beijing to find a job, build up their network, and share their experiences and resources.
He says he became a volunteer because he enjoyed his Macquarie experience enormously and wants to give back to the University.
"I would like all Macquarie alumni who return to Beijing to feel they still have a connection with the University, to be proud of being a Macquarie graduate and to help to increase the reputation of the university once they have graduated," he says.
Secondly, I enjoy helping others and participating the volunteering activities, and have developed valuable friendships through my work with the alumni organization.
He says that by organising these activities he has expanded his network and has even recruited two alumni into his team, as well as exchanging resources with other entrepreneurial alumni.
Contact with your fellow alumni by joining the Macquarie University Alumni Asia-Pacific LinkedIn group.
Read Florence's story