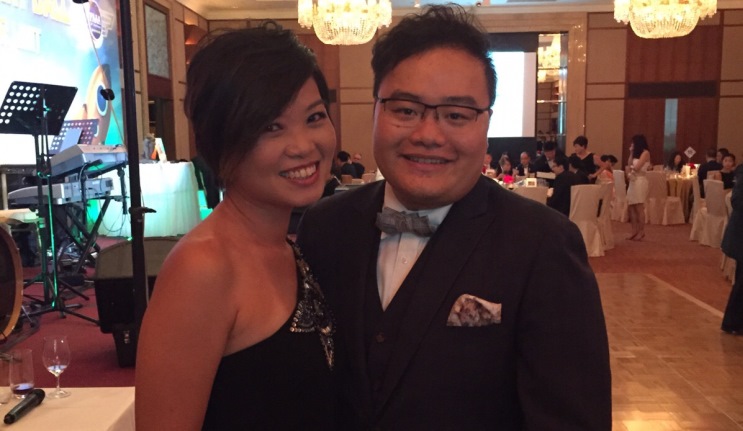 From left: Florence Huen (MBA, 2011) and Eric Lee (BAF/BComm, 2009)
ALUMNI FOCUS
Hong Kong alumnus Eric Lee studied for a Bachelor of Accounting and Bachelor of Applied Finance at Macquarie and is currently a client manager for Westpac, based in Hong Hong.
He is also the president of the Macquarie Alumni Association's Hong Kong Chapter.
"It's great for old classmates to be able to catch up with each other and look back on their uni days," he says. "They are also a great source of professional knowledge and connections.
Eric is also involved in the Changing Young Lives Foundation, an organisation that works with grassroots communities.
"Each week the foundation organises meetings at a community centre that has fun activities for kids and introduces people in need to those who can help and support them," he explains.
"Each year we also travel to a remote village school in China and deliver study materials, teach English and share the joy of learning with children."
His work with the alumni association has more of a professional development focus, but is just as much fun, he says.
"The alumni association organises activities such as movie nights, careers seminars and leadership training that help our alumni get to know each other and develop meaningful post-university relationships with their former classmates.
"You have this amazing university experience, but it's more fun if you can share it with others who know the places and people you are talking about," he laughs.
Not only does this keep graduates' university experience alive it can help in their career.
"The alumni community in Hong Kong is quite loose, with graduates returning to their own lives once they complete their studies. But by joining the alumni association they can build a community and network with people who shared a similar experience.
They may also develop business contacts, and make friends that may be able to offer advice and help with their career at some point. And in return, they can do the same for others.
"It feels great to be an ambassador for Macquarie and I am very proud to show it off," Eric says, adding that anyone who would like to get involved with the alumni association should contact him by email at alumni.hk@mq.edu.au
Contact with your fellow alumni by joining the Macquarie University Alumni Asia-Pacific LinkedIn group.
Read Florence's story