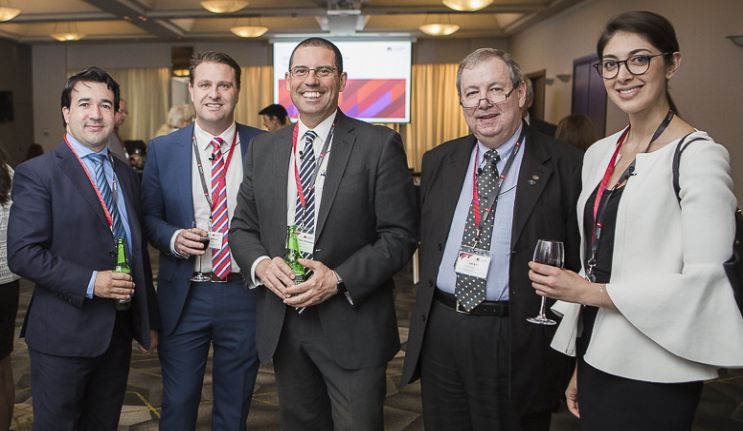 ALUMNI FOCUS
August 18, 2020
Alumnus Jason Duarte (BComm 2005) leads the alumni network in Canberra.  A keen networker and advocate for his alma mater, he has been attending alumni events since he graduated. He has learnt firsthand the power of networking and the benefits of staying connected with Macquarie.
Jason leads Westpac's Corporate & Institutional Banking business in the ACT, which includes Public Sector, Defence and Infrastructure clients. He's been in banking and finance for over 20 years, two of those years at Westpac, 12 years at Commonwealth Bank, which moved him to Canberra six years ago from Sydney in a similar role where he also ultimately led the Commercial Bank for the region. Jason spent three years at Citi in the Corporate & Institutional Bank, four years at NSW Treasury and a year in Financial Planning.
Jason completed a Bachelor of Commerce in Economics at Macquarie University, graduating in 2005, and went on to complete a Masters of Law at Sydney University, a Master of Applied Finance with Kaplan and is part-way through an MBA, after coming runner up in the AFR Emerging Leader of the Year in 2015.  He is a Fellow of Finsia, Member of the AICD, member of the IPAA, is on the Board of Community Services #1 and until recently the Canberra Business Chamber Board.
We caught up with him to ask about his Macquarie journey since graduation and his transition from mentee to mentor.
You've attended many alumni events since you graduated. Do you recall the first one and what made you keep up with the connection to Macquarie?
Yes. My first one was in 2006, a year after I graduated. It was at Cruise Bar at Darling Harbour. It was a small group and I recognise it was hard getting the word out. I invited some Macquarie graduate friends who were keen to join. It was a wine tasting event with canapes, and I found the experience worthwhile. "Great way to start networking", I thought.  "What a great way to continue a strong connection with the University, understand what was happening around campus and continue to have an established network with other graduates while considering further study." 
As the leader of the Alumni Network in Canberra, what do you see as the benefits of joining a network?
It's a big thing to leave your comfort zone and move to another city and/or state. When I first came across Macquarie Alumni Canberra Network, I had just moved to Canberra and didn't know many people.  I was keen to grow my network. I remember Professor Bruce Dowton at an event talking about space research and he highlighted some great work and research which has come out of Macquarie. I was given a Macquarie University hoodie by Alumni Relations, which has served me well in winter.* I have made some great connections and friends through the network and have attended some inspirational and worthwhile events and met people with very interesting careers who moved to Canberra for all kinds of reasons. It's still early days and we're extremely keen to grow this group and support each other. **
You have made the transition from "young alumni" to "boss", recently taking on a mentoring role in our Beer with the Boss series. What advice would you give to a young alum on progressing their career?
I started as a "young alumni" and it has been a journey. I wish that I had more opportunities to attend these types of events and even have a mentor myself back when I was an undergraduate. When I reflect on my career, the best job opportunities are ones that have found me through networking. We're all responsible for our own network and it is in meeting people that we learn about others in various industries and start the foundation of a relationship. Further studies help, when employers are looking at your CV you need to be able to differentiate yourself and postgraduate study helps.  So too the additional professional network created in undertaking further studies which is an investment in your own career. 
Can you name some highlights from your Macquarie University student days?
The Campus experience was worthwhile and fun.  I enjoyed trivia nights at the MQ Bar and joined a couple of societies. The quality of lecturers was of a high standard. I studied part-time and always found it amusing when I would bump into colleagues, clients and competitors on campus attending the same classes as me and the study groups were a great way to build friendships and learn about team collaboration and project work. The Archaeological Museum is impressive. Finally, not sure if they still have it but the "Mac Special Burger" at the Bar was always a highlight for me especially after a long day!
As an engaged alumnus, what do you see as the benefit of staying connected with your University?
It is my way of giving back to an institution which has given me a great deal. I do not think I'd be in the job I am in without the studies I had undertaken. When I chose to study Economics, I asked my boss at the time what the best university was for this degree and he said Macquarie without hesitation. It just happened to be the furthest university in Sydney from my home and the commute (pre-train line) was exhausting but worth it. I enjoy reading about other engaged alumni and what they've been able to achieve in their careers. When I attend an alumni networking event in Canberra, it is an easy conversation starter because I know we have at least one thing in common.
How have you found the recent change from in-person to online alumni events? The pros and cons?
I was excited to take part in the online "Beer with Boss" event on zoom.  I was interested in understanding how that would work in practice, as I am more used to standing in a bar speaking with people.  It is a strange new etiquette online and for the first couple of sessions I'm sure I failed on all accounts. For the recent first session, by the time each member of our group finished introducing themselves the session was over. In the second, I spent far too long answering the first question that I rushed through the rest and by the third, technology failed and I was stuck in a room with Macquarie Staff and a fellow "boss". After that I got the hang of it and hung around when it was over. Some people tend to dominate video calls, but then that isn't always very different to any other forum. No one had to worry about getting a taxi home.
From the "bosses" viewpoint, do you have some top tips to share with young alumni on how to secure your first dream job?
I think the hardest part is knowing what your dream job is and accepting the reality that it's unlikely to be your first job or indeed your last.  There's a journey to get there, once you know where you want to be. Sometimes your imagined "dream job" isn't quite as exciting once you're there, so my advice is to know what you love, understand your purpose and values, and if you end up doing something that is both purposeful, consistent with your values and a joy to wake up to each morning, for many that achievement is indeed a dream achievement!
What do you think are the top qualities in a true leader?
Be authentic. Be purposeful. Have integrity. Don't be afraid to embrace accountability.
What are the top qualities you look for in a candidate when recruiting?
I want to recruit leaders. People with a good work ethic, honest, who encourage diversity and enjoy being challenged. Candidates who are adaptable and whose values are aligned with the organisation and who would fit in well within the team. A candidate who is the right "fit" to me is more important than the most intelligent or most capable. I want to know that the candidate will be a positive addition to culture.
*Find out how to win your own MQ hoodie. Visit our Giveaways and Discounts page.
**Join the Canberra Alumni Network LinkedIn group.
Find out more about our Global Alumni Networks.