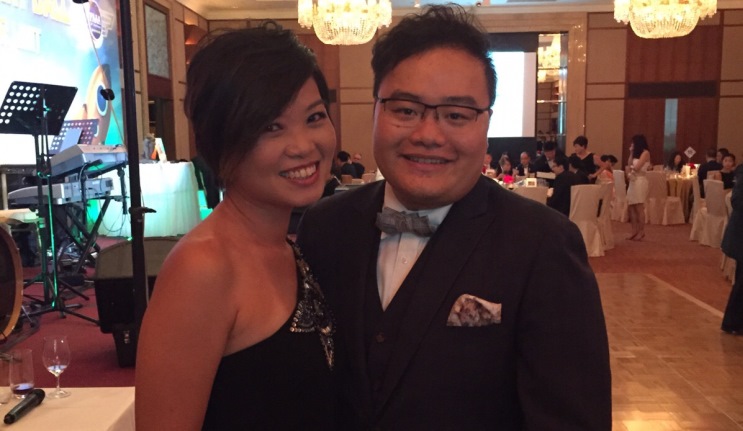 From left: Florence Huen (MBA, 2011) and Eric Lee (BAF/BComm, 2009)
ALUMNI FOCUS
MGSM alumna Florence Huen, who earned her MBA in 2011, has built a career in the hospitality industry and. She is currently working in the Hong Kong Convention and Exhibition Centre as F&B Deputy Manager in Event Management.
One of Macquarie's many alumni who generously give their free time to help others, Florence works with the local office of international NGO Aide et Action to assist them with fund-raising activities and strategic planning to help raise more money to support their projects in South East Asia and China.
She also helps the MGSM alumni association's Hong Kong chapter to organise events for networking and to promote MGSM to prospective students.
"I also work with the MGSM alumni because I believe it helps expand my network," she explains, adding that she believes she is very lucky to have had a high quality education and be able to develop my career.
"But there are many people who don't have chance to receive quality education due to many reasons, including a lack of resources, cultural issues and gender.
"By chance I got to know Aide et Action, an organisation that believes everyone deserves to have a quality education and with better education, they can have a better life.
"Their vision matches my beliefs, which is why I have been helping them since 2010."
Florence says that while the professional benefits of volunteering are great, they were completely unexpected.
"I didn't think my voluntary work would help with my professional life, however, via working with other volunteers and participating in events, I was able to develop my network by undertaking voluntary projects for the NGO as well as through organising events for MGSM alumni."
"I would recommend becoming part of a volunteer group to everyone – you don't know where it might take you in life."
Contact with your fellow alumni by joining the Macquarie University Alumni Asia-Pacific LinkedIn group.