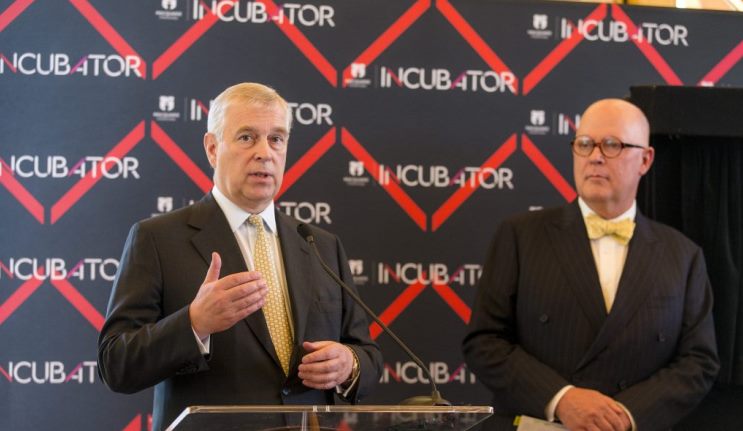 Duke of York officially opens Macquarie University Incubator for entrepreneurs and start-ups
UNIVERSITY NEWS
HRH Prince Andrew The Duke of York has officially launched Macquarie University's Incubator, a space designed to nurture, equip and accommodate budding entrepreneurs as they grow a business idea or social venture into a successful start-up. The Duke was on site for a dual purpose, also hosting the inaugural Pitch@Palace Australia event.
Deputy Premier and Minister for Skills and Small Business, John Barilaro, said the NSW Government funded the Incubator's construction under its Boosting Business Innovation Program.
"Through the 'Boost' program we are providing $18 million to the State's 11 universities and the CSIRO so they can link up with their local business communities to develop new ideas and help grow jobs and our economy," said Mr Barilaro.
"$1.5 million of that funding went to Macquarie University, and has resulted in the creation of this incredible space.
"Today's launch of the Macquarie University Incubator will provide a fantastic base for students, researchers and staff to work with local small to medium sized enterprises (SMEs).
"Prior to entering parliament I ran a family business for 20 years so can fully appreciate the positive difference that the university's considerable knowledge and resources will make for small business owners."
Macquarie University Deputy Vice-Chancellor (Corporate Engagement and Advancement) Professor David Wilkinson says the space will facilitate a range of offerings to anyone interested in investigating, upskilling and networking in the innovation space.
"Our principle offering will be a three-step series of entrepreneurial training programs that are currently in development, which will cater to beginners, up-scalers, and sophisticated business persons looking to sharpen their existing operations or approach," said Professor Wilkinson.
"But we also want to be an ideas space where people can meet, mentor, and network with a cross-section of fellow innovative thinkers, so we also host regular events featuring speakers on a variety of topics, and get involved in pitch competitions, hackathons and industry networking events."
In a more practical sense, the Incubator, designed by Architectus, offers hot desks, meeting rooms, and conferencing facilities to offer as temporary work spaces to its occupants and visitors.
Prior to the official opening of the Incubator, the cogs have already begun turning in a temporary 'pop-up' Incubator, which since early 2017 was also located on campus but is now disassembled. The pop-up Incubator has already assisted with the progression of several small businesses ranging from a digital platform for customised sporting equipment, to a wearable technology developer, and a product developer using diamond and ruby nano-particles for biotechnology applications.
The Macquarie University Incubator is located on the west side of campus at 8 Hadenfield Avenue. The building itself features innovative design elements including adaptive ventilation and solar panels, to minimise energy usage while maintaining a comfortable work environment regardless of the season.
Find more information about the Incubator here.