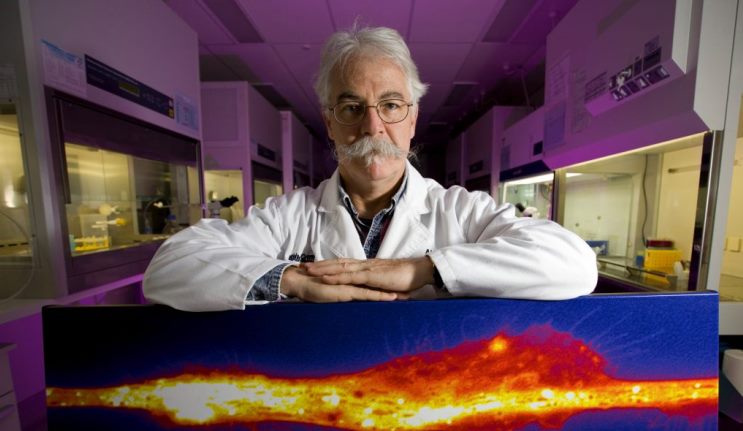 2018 Macquarie University Alumni Awards – Professor Alan Mackay-Sim
ALUMNI FOCUS
CATEGORY: MEDICINE AND HEALTH
"My life has been dominated by following my own dreams completely," says Professor Mackay-Sim, who remains mentally connected to his alma mater – Macquarie. "I have followed its success from a pioneering institution in the early 1970s when I attended to the powerhouse it is today."
At school, Mackay-Sim was interested in how the brain works, so he chose to study at Macquarie because it allowed him to choose his subjects, rather than being limited to a defined set of subjects at other universities.
"I was interested in physiology, biology and psychology – what is known as neuroscience now – but back then, it wasn't a subject as such. So I deliberately chose Macquarie, which was tiny – just 3000 students.
"It was a great decision because, although I moved away from psychology, it gave me really good training in experimental design and statistics. My first research projects were in behaviour and subsequently cell biology, which I have continued to pursue."
Although he believes his time at Macquarie was formative and provided a strong foundation for his later work, he is careful to balance this belief. "University is just the beginning of a lifelong education. Life and careers do not follow a straight line. The same has been true of my research."
So how has Mackay-Sim navigated a nonlinear yet extraordinary path? "Be aware of opportunities, know they are there and don't be afraid to educate or re-educate yourself."
Most of all, "learn to take risks if you want an interesting life," he says.
And that's something we can all aspire to.
The 2017 Australian of the Year, Emeritus Professor Alan Mackay-Sim is a biomolecular scientist who has dedicated his life to stem cell research. His groundbreaking work in the treatment of spinal cord injuries has miraculously changed the lives of many, and it has been described as the scientific equivalent of the Moon landing. A major proponent of the importance of funding for the sciences, Mackay-Sim is known for his inquiry, persistence and empathy.
Mackay-Sim graduated from Macquarie with a Bachelor of Arts (1973), Bachelor of Arts (Honours) (1974) and Doctor of Philosophy (1980).
View other 2018 Macquarie University Alumni Awards winners here
Alumni Awards
Macquarie University is extremely proud of every one of its 184,000 graduates – their achievements and their contributions in our local and global communities. Our alumni are a source of pride and motivation, and they embody the University's association with excellence.
The Macquarie University Alumni Awards recognise and celebrate the achievements of alumni. The awards provide a platform for sharing their inspirational stories with other alumni, staff, students and the wider community. We are now accepting nominations in the following award categories:
Arts and Culture
Education
Environment
Innovation and Enterprise
International Achievement
Medicine and Health
Public and Community Service
Rising Star (aged 30 years under)
Science and Technology
Sport
Nominations close 31 October 2018. Nomination forms and details are available at mq.edu.au/alumni/awards