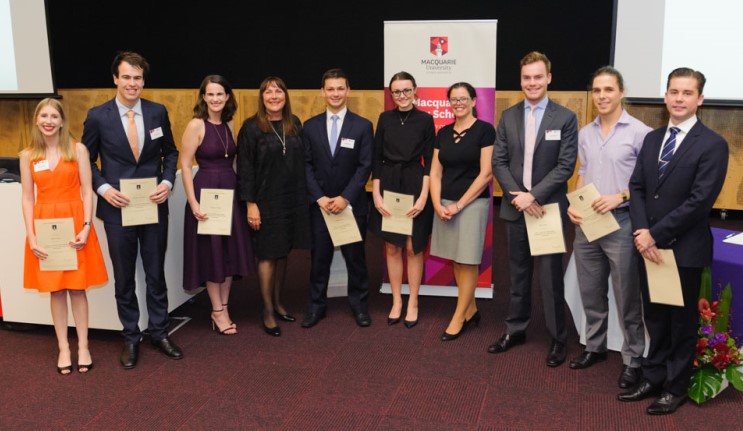 Alumni shine at 2016 prize night
UNIVERSITY NEWS
More than 150 brand new (and more seasoned) alumni, current students, staff, former staff and supporters celebrated the achievements of this year's highest achievers at the 2016 Law School Prize Night.
Held in the Macquarie Theatre, the event was hosted by Professor Natalie Klein, Dean of Macquarie Law School, with the Vice-Chancellor Professor S Bruce Dowton and Executive Dean of the Faculty of Arts, Professor Martina Möllering joining sponsors, donors, and the winners' friends and family.
Twenty-nine students won Dean's Awards for Academic Achievement, with several also recognised with Dean's Awards for Outstanding Contributions to Macquarie Law School. They included the team who wrested back the John Peden Contract Law moot trophy from Sydney University, and members of the team who represented Australia against 19 other countries at the 2016 International Client Consultation Competition in Canada, where they reached the semi-finals.
Joint 2016 University Medallists Samuel Voller (BA/LLB (Hons) '16) and Dylan Heffernan (LLB (Hons) '16)  were among the many multiple prize winners as were a number of Macquarie University Law Society (MULS) council members.
Louise Mason (BA/LLB '89), COO of AMP Capital, was the evening's keynote speaker, saying that while she didn't pursue a traditional legal path her law degree gave her a point of difference when she was applying for jobs.
"I ended up in Property and have had a very enjoyable career in property development and later executive roles at Lend Lease and AMP Capital," she said.
"I don't think I'd have the confidence to do the role I do today as COO at AMP Capital Property, sit on industry boards and attend workshops with [Macquarie University Vice Chancellor] Bruce Dowton, if not for both a law degree and the way I was taught at Macquarie."
Following the prize giving ceremony, Valiant Warzecha (BComm LLB (Hons) '16) responded with a vote of thanks on behalf of all of the prize winners, but the biggest surprise of the night came from the 2015 University Medallist Jack Oakley (BAF/LLB (Hons) '15).
Now an Associate at Clifford Chance LLP, he took the stage to announce the establishment of the Dr MRLL Kelly Prize for Administrative Law in honour of Dr Margaret Kelly (PhD '99).
Dr Kelly, who was present on the night but unaware of the prize, is a veteran academic of the Macquarie Law School. She is much appreciated and beloved by generations of students for her teaching, her extra-curricular support of the Macquarie University Law Society of which she is an inaugural life member, and for her tireless advocacy on behalf of the Law student cohort.
A second, alumni-driven prize, the Penelope Watson Prize in Torts was awarded for the first time on the night. For more information about the prizes and the inspirational teaching that motivated their creation read the story.