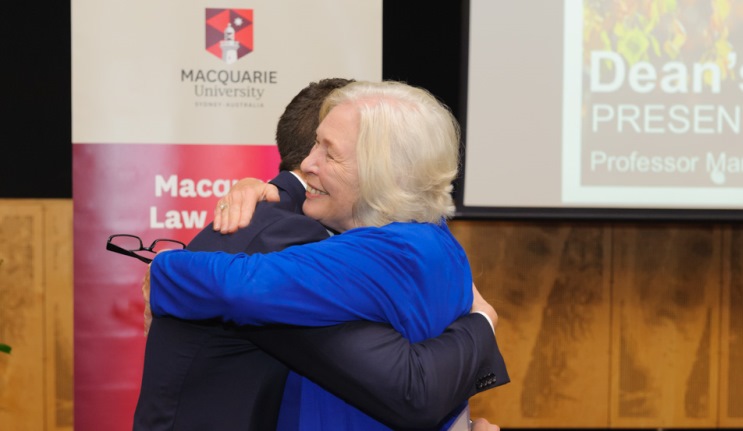 Law alumni fund new prizes to honour influential professors
FEATURES
Two new prizes were highlights at the 2016 Law School Prize Night, both funded by alumni in recognition of the role played by teachers in their journey from undergraduates to practicing lawyers.
Dr MRLL Kelly Prize for Administrative Law
Jack Oakley (BAF/LLB (Hons) '15) announced the Dr MRLL Kelly Prize for Administrative Law in appreciation of the work and dedication of Dr Margaret Kelly (PhD '99). The announcement came as a surprise to Dr Kelly, who was present but unaware of the honour.
Jack used the money he won a previous prize recipient as seed funding, and enlisted the support of his fellow alumni and students to endow it in perpetuity.
"Dr Kelly has long been a bastion for Macquarie Law students, both in and out of the classroom, often to the detriment of her own health," he said. "She is always the first to volunteer to assist with the judging of MULS' internal competitions regardless of her workload and numerous additional commitments. And, most importantly for someone who trains future generations in both the letter and spirit of the law, she can always be relied upon to provide a firm but fair assessment of one's performance—academic or otherwise.
He said that when he started thinking about putting the award together, he suggested the idea to a few close friends, and before long dozens of people were interested in contributing to the fund he had established to set up the prize.
"People from all walks of Dr Kelly's academic life have expressed, and continue to express, their interest in ensuring the success of this award, including former university medallists, former Jessup Mooters, former students of Dr Kelly's Advanced Administrative Law and Politics and the Constitution courses, the list goes on. Such is the appeal of this tireless advocate for students."
The Penelope Watson Prize in Torts
The Penelope Watson Prize in Torts was established by five former students to honour Penelope Watson's inspirational teaching. It was awarded for the first time at the 2016 prize night to Lucy Williams.
A Senior Lecturer at Macquarie Law School, and formerly Director of Learning and Teaching, Ms Watson has devoted considerable time to student engagement over the course of her career at Macquarie, notably as a judge with the Macquarie University Law Society student competitions. During 2009 and 2010 she was also instrumental in establishing the Law School's Peer Assisted Learning program.
A leading academic in the field of torts, Dr Watson has published in some of Australia's most prestigious journals on the subject. She has won multiple prizes for her teaching, and created and convened the subject of Advanced Torts, for those who haven't had enough of their 'torts fix'.
In the tribute establishing the prize, Nicholas Lennings (BA(Psych)/LLB '11) wrote on behalf of the donors: "We could not have asked for a better teacher and mentor, and for that we will always be grateful.". Nicholas established the prize with Tom (BA(Hons)/LLB '11) and Tarryn Gaffney (BA/LLB '11), Rob Pickup (BBusAdmin/LLB '12) and Theodore Souris (BA/LLB '12).
"More important than her tortious acumen is Penelope's dedication to teaching. Her style is very much grounded in the case method, a Socratic style of posing questions to students about cases past and to be answered based on the materials presented and read," the tribute continued. "It makes an otherwise complex and confusing set of common law and statutory principles clear by their systematic presentation.
"Penelope not only guides her students through the substantive law but also reminds them, as potential practitioners, of lawyers' professional responsibilities, with her lectures and tutorials encouraging students to consider and discuss the ethical dimension to a case or problem.
They all believed Ms Watson's teaching style played a major role in their legal development and the way they approached the law and legal studies.
"It is a testament to her dedication to students, to the teaching of law, and to the law of torts, that the Macquarie Law School Prize for Torts should bear her name."
Additional contributions to these two prizes are welcome from other alumni.