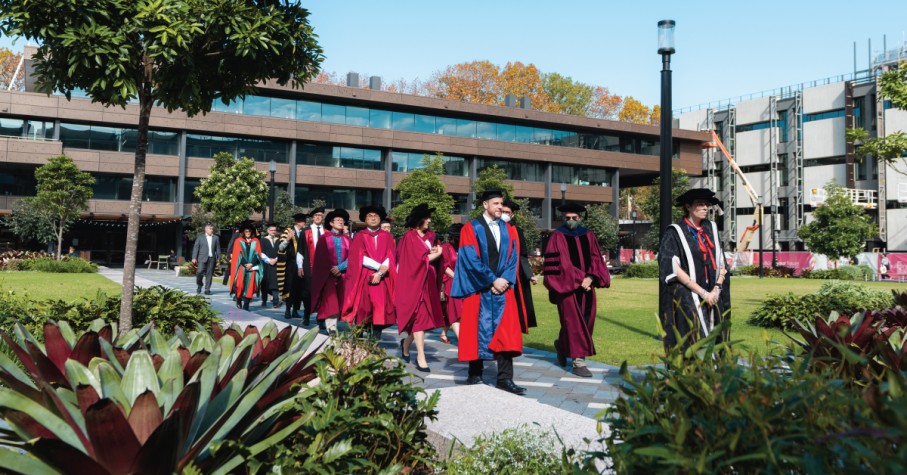 281574483_10158556287951990_704593354247844754_n
UNIVERSITY NEWS
A Season of Beginnings and Endings
May Graduation season marked a new tradition for Macquarie, with the introduction of the Pro-Chancellor role to preside over many of the graduation ceremonies. A purely ceremonial role, the robes have been dutifully filled by Emeritus Professor Nick Mansfield.
The University has a very packed Graduation schedule for 2022 after it made a commitment to offer all graduates who missed out on a public celebration of their achievements due to the pandemic shutdown, the opportunity to participate in an in-person ceremony. As well as the added bonus of creating a wonderful atmosphere on campus, it also means this new role has been necessary to make this large number of ceremonies possible.
Emeritus Professor Mansfield, who retired from his role of Pro Vice-Chancellor (Research Training and Partnerships) in 2019, was thrilled when he was approached by the Vice-Chancellor to take on this new role. And he is already loving it. Having had a lifelong association at Macquarie (first as the son of a staff member, then a student and then as a member of academic staff himself) Emeritus Professor Mansfield is a natural fit for the robes.
"I like the way we do Graduation ceremonies at Macquarie; a perfect blend of pomp and informality," he says. "I especially love the positive, happy atmosphere brought by the graduates themselves and their friends and families."
This is a season of farewells, with it being Professor Martina Möllering's final graduation season in her role as Executive Dean for the Faculty of Arts. In her long career at Macquarie, Professor Möllering has many fond memories of graduations. One that stands out though, is the ceremony she attended that included the conferring of a PhD candidate who was well into their eighties.
"I thought that was marvelous because it spoke to lifelong learning and the value of 'learning just to learn'. This wasn't a person who was going to have a career afterwards, it was somebody who did the PhD out of interest and had the stamina to complete it. I was very touched by that," she recalls.
Like many of our graduates, Professor Möllering will be farewelling her role at Macquarie this month but is excited about the future.
"It's a farewell to the roles I've held, and it will be a different kind of relationship with the University, but it won't end with retiring because there are so many connections that are ongoing outside of a particular role," she says.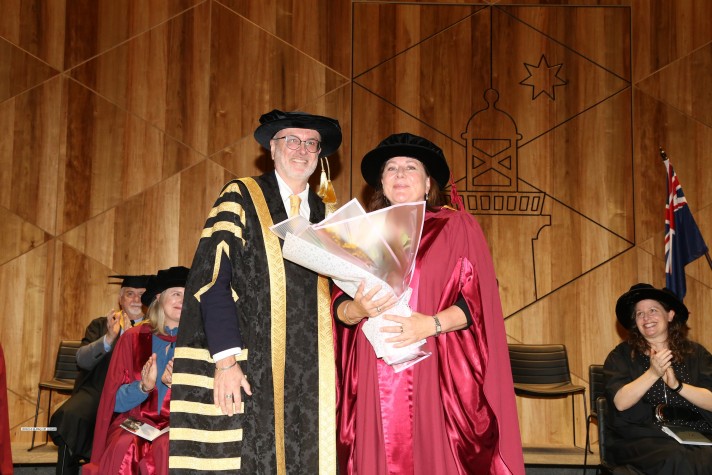 Pro-Chancellor Emeritus Professor Mansfield making a surprise presentation to Professor Möllering at her final graduation ceremony on Friday 13 May.
Three exceptional women awarded Honorary Doctorates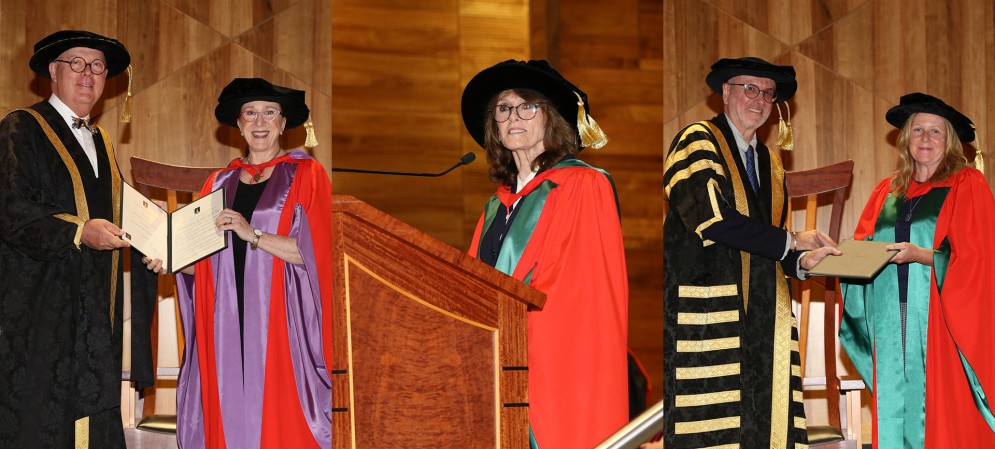 The President of the Australian Human Rights Commission, Australia's Chief Scientist and a leading figure in the growth of the Australian research infrastructure landscape were among five outstanding individuals awarded honorary degrees by Macquarie University this May Graduation season.
A former Commissioner of the New South Wales Rural Fire Service and a retired District Court Judge rounded out the list of esteemed recipients.
Emeritus Professor Rosalind Croucher AM was recognised for her leadership in law, receiving the degree of Doctor of Laws (honoris causa), recognising her work advancing legal reform and human rights in Australia. Emeritus Professor Croucher began her academic career at Macquarie University in the early 1980s, and in 1999 returned as Dean of Macquarie Law School, a role she held for seven and a half years. She has since been Commissioner, then President of the Australian Law Reform Commission, before being appointed President of the Australian Human Rights Commission.
Dr Cathy Foley AO PSM, Australia's ninth Chief Scientist, received a Doctor of Science (honoris causa). Dr Foley is a strong advocate for increasing Australia's scientific capabilities, for emerging technologies such as quantum and for building diversity and inclusion in STEM fields. Dr Foley graduated from Macquarie University in 1981 with a Bachelor of Science with Honours and a Diploma of Education, followed by a PhD on the properties of the semiconductor indium nitride in 1985.
Dr Rosie Hicks was awarded the degree of Doctor of Science (honoris causa) recognising the profound impact her work supporting the growth of Australia's world-class research infrastructure has had on university researchers and industry innovators. A physicist by training, she served 12 years as the inaugural CEO of the Australian National Fabrication Facility (ANFF), which counts among its national network of facilities the nanoscale laser processing facilities at Macquarie University.
In recognition of his long and distinguished career in the law and service to the community as a judge, His Honour Judge Martin Blackmore SC received the award of the degree of Doctor of Letters. Commissioner Shane Fitzsimmons AO AFSM was awarded a Doctor of Letters (honoris causa) for his leadership in fire management and contributions to building community resilience.
Vice-Chancellor Professor S Bruce Dowton congratulated the five recipients on receiving the University's highest honour in recognition of their exceptional contributions to their fields.
"Macquarie University is proud to award honorary degrees to five pre-eminent people whose extraordinary achievements in their fields have had positive impacts on the wider community."
Composite image caption:
Emeritus Professor Rosalind Croucher AM with Vice-Chancellor Professor S Bruce Dowton, Dr Cathy Foley AO PSM, Rosie Hicks with Pro-Chancellor Emeritus Professor Nick Mansfield.
Surprise guest at May Graduations
While this most recent season of Graduations has been filled with special moments for the 2400 graduates attending 21 ceremonies in May, one of the highlights occurred at Faculty of Arts ceremony on Tuesday 3 May. The young niece of one of the graduates had come dressed in academic regalia to support her aunt and inspired the Vice-Chancellor to go 'off script' at the end of the ceremony and invite them both on stage for everyone in attendance to see.
"This little one has been itching to come walking down the red carpet," said Vice-Chancellor Professor S Bruce Dowton to a captivated audience. "There is a very bright future ahead of this child." Earlier in the ceremony the Vice-Chancellor had remarked that in Graduation ceremonies over which he presides, babies and children are always welcome. "I believe that all celebrations are enhanced by the presence of children," said the Vice-Chancellor in his opening remarks. "Everyone is meant to enjoy graduation."