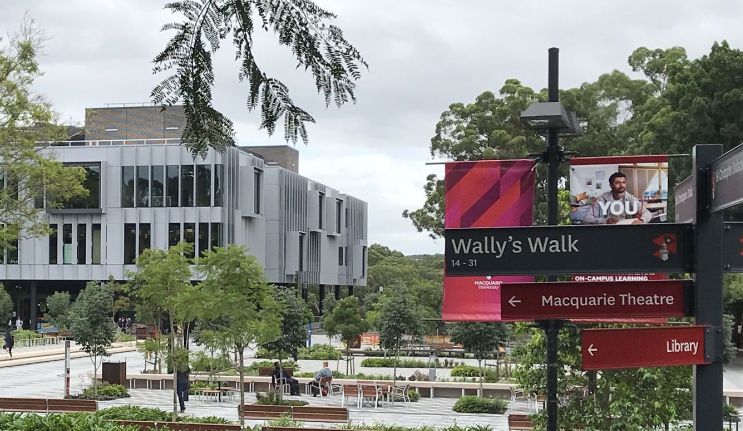 9 Things to do when you visit campus
FEATURES
May 25, 2021
Thinking of coming back to Macquarie for a look around the stunning new campus grounds? Here's our definitive guide to all there is to see and do. Whether you are nearby or far away, we hope you'll enjoy our insider's guide to the new campus.
1.      Central Courtyard
Our newest building – 1 Central Courtyard stands atop grassed and paved courtyards.  This central hub is home to the iconic Ubar as well as 16 food outlets. There's also a huge terrace that overlooks the lake and the contemporary new graduation hall. It's also home to our new on-campus student residential accommodation, which features studio, twin and apartment options; communal social areas; and 24/7 on-campus security.
2.      The new arts precinct
Our new arts precinct features flexible classroom spaces, a language centre, museums, a café, atrium and rooftop garden. Our linguistics department offers one of the best-equipped research and clinical environments in the world. And we're home to the Macquarie Social Justice Clinic.
Check out the video showcasing the arts precinct
3. History Museum
The Macquarie University History Museum traces the journey of man over more than 5000 years on five continents.
Opening in 2020, the Macquarie University History Museum is the newest addition to Sydney's vibrant museum landscape.
By merging Australian history and ancient culture collections under one roof, we have created a cultural hub that is exciting and unique. With more than 18,000 objects, we trace world history from early settlement in Australia around 65,000 BCE through ancient Egypt, Greece and Rome to the 20th and 21st Centuries.
Located within Macquarie University's new purpose-built Arts Precinct, we are deeply embedded in the academic research and teaching of our leading historians.
4. The library
No visit to campus is complete without a visit to the stunning library. Located centrally on campus, the Library is a learning and research environment purpose-built to facilitate interactions between people and knowledge. Completed in 2011 the Library's building design was inspired by the native parklands of the campus with an emphasis on environmental sustainability, light and connection.
The Library has:
a footprint of 6,770sqm
a gross floor area of 17,997sqm across 5 levels
Number of seats 2,200
a cafe at the entrance
the first automated book storage and retrieval system in Australia
dedicated postgraduate research areas
an exhibition space
5.  Living nature trail
Located at Macquarie University campus, this Stress Regulator Trail has been designed to help target mental restoration and repair. It takes students and staff through six rejuvenation stations designed to increase positive mood, emotional regulation, attention restoration and support greater resilience to anxiety and stress.
6. Art gallery
The Macquarie University Art Gallery (MUAG) offers regular, changing exhibition programs to engage audiences from all walks of life. We want to inspire you, stir you, induce you to the wonders of art and encourage your own critical thinking in articulating those ideas that bring us to a closer understanding of our identity, our society, our culture and our world view.
Our team of curators utilise an interdisciplinary framework to explore the intersections between art, science, history, philosophy, media, music and culture. MUAG produces exhibitions that contribute to our broader understanding of Australian art in relation to our contemporary society and our sociopolitical and cultural histories on an international scale.
7. Walanga Muru Pavilion
Well worth a visit, the Walanga Muru Pavilion is a gathering place for Aboriginal and Torres Strait Islander students, staff and visitors.  Macquarie recognises the custodianship of the land on which our campus is situated – the Wallumattagal clan of the Dharug Nation. Large enough to host formal gatherings and small enough to ensure a sense of togetherness, the pavilion is a welcoming space for locals and those who are far from home.
 8.  Food and drink
Hungry? The new central courtyard campus hub features 18 food outlets that will stimulate your senses with inspired menus from around the globe.
They include an Asian-fusion Eat Street under the Lincoln Building and Middle Eastern, Mexican and French options. Check out the burgers and Ubar's famous pizzas. And enjoy the coffee!
And there are another nine great places to eat and drink around the rest of the campus.
9.    Sport and Aquatic Centre
Our Sport and Aquatic Centre features a 50m outdoor pool, 25m indoor pool, gym/health club, weights areas, cardio equipment, group fitness and cycling studios, squash, basketball and badminton courts, martial arts classes, swim schools and sports shop.
If you live nearby and are looking for a way to increase your fitness this is a great option for alumni as they offer an alumni discount.
Let's not forget that whenever you lose your bearings on campus, there's good old Wally's Walk – the central pathway that runs the entire length of the university and links all of our amazing facilities. It was named after Macquarie architect planner, Dr Walter Abraham. And whenever students or staff get a bit lost they just think "Where's Wally".
To book a campus tour, visit mq.edu.au/campus-tours