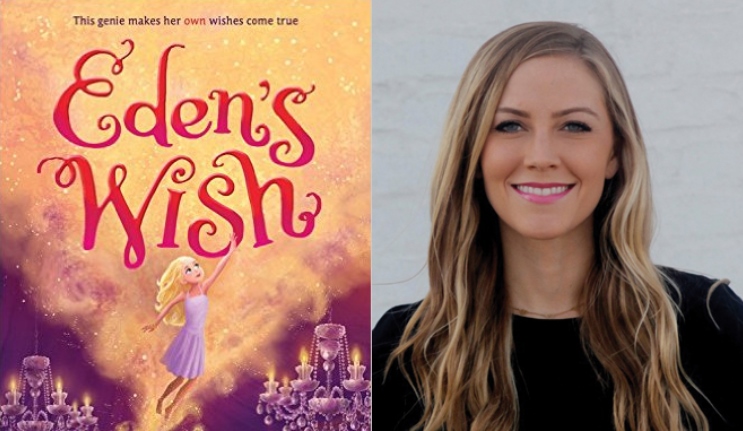 Edens Wish by Tara Crowl
ALUMNI FOCUS
Macquarie alumni have been hard at work on books that range from a children's book about a genie who is fed up with her life in an old lamp to an overview of the differences in legal practice between Australia and India.
Creative writing graduate published by Disney
Macquarie's Master of Creative Writing graduate, Tara Crowl always dreamed of writing books. Though her initial manuscripts generated some interest from publishers, it was her decision in 2010 to leave her home in the USA to enrol in Macquarie's Master of Creative Writing that eventually led to her first published novel.
"Life changes are best when they come in the form of adventures, so I decided to go on a big one. I moved to Sydney for a Master's program in writing at Macquarie University. While I was in Australia, my world grew in beautiful, bright, and unexpected ways. It's good advice, what they say about listening to your heart," says Tara.
"I'm so grateful for the time I spent studying creative writing at Macquarie. When I began the program I started writing a novel about a girl living in an antique oil lamp. My peers workshopped sections of it in classes and my adviser provided invaluable instruction during our one-on-one meetings. I can't imagine a better foundation for someone pursuing a career in writing."
After completing her degree Tara moved to New York and finished her novel Eden's Wish, which was released by Disney.
Find out more about Eden's Wish.
MBA graduate offers advice on confronting assumptions
MGSM graduate, MBA holder, mentor and leadership coach Oscar Trimboli's new book Breakthroughs shares his insights about how our thinking creates our reality.
With a focus on assumptions, perspective and gaining clarity, this book motivates the reader to find alignment – personally, for their team, their organisation and the world around them.
Learn more about Breakthroughs.
Getting on top of miscommunication in multilingual classrooms
Josh Kidd completed his PhD in Applied Linguistics at Macquarie in 2014, under the guidance of Dr Jill Murray and the late Professor Christopher Candlin.
His first book, Face and Enactment of Identities in the L2 Classroom, is based on his research combined with more than 20 years teaching, curriculum development and education research in Japan. It will be released by Multilingual Matters in March 2016.
The book highlights miscommunication issues in classrooms that stem from emerging identities, with advice on helping teachers to become more aware of cross-cultural pragmatics and evaluate existing practices.
"Professor Candlin strongly encouraged me to publish and I am delighted to be able to honour his memory and Macquarie with this small contribution to the field of Applied Linguistics," Josh says.
Australia and India: A Comparative Overview of the Law and Legal Practice
Passionate about promoting the Australia-India relationship, Macquarie law alumnus Shaun Star has been working in India since 2010, where he has developed a deep understanding of the Indian business and regulatory environment
As a foreign qualified legal consultant for India's premier corporate law firm, Amarchand Mangaldas, Shaun has advised domestic and international clients from a variety of industries in the firm's corporate advisory, mergers and acquisitions and private equity practice.
Shaun has shared some of his insights in his new book Australia and India: A Comparative Overview of the Law and Legal Practice, which was launched in India by the Australian and Indian Attorneys-General.
Australia and India: A Comparative Overview of the Law and Legal Practice is published by Universal Law Publishing.