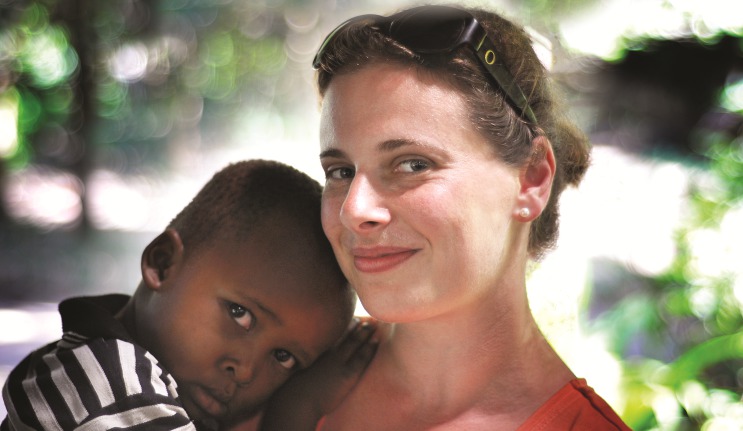 Good for Girls founder Susan Matters BA/DipEd (2013)
ALUMNI FOCUS
Chance encounters have helped inspire our graduates and students to help make the world a better place.
For Susanna Matters (BA/DipEd 2013), who studied teaching, her 'moment' was realising it wasn't her teaching, but rather monthly periods that made her female students at a Kenyan village miss school.
"It's not a glamorous issue, but it's also one that isn't going away. I couldn't turn my back on my students and I thought, If I don't do something about it, who will?". And so in January 2012 Goods for Girls was born. The charity not only teaches local women to make rewashable sanitary pads, it also undertakes hygiene training around women's health and distributes the sanitary pads.
Since the project started, 86 per cent of village girls choose to use the rewashable pads and school attendance has soared, with a 44 per cent increase in the number of girls attending every day.
The work has also had a lasting impact for the community as a whole. The village's women who make the pads earn a modest income – many for the first time – which has allowed them to buy mobile phones to communicate with family far away.
Like Matters, Dave Everett OAM (BA Development Studies 2010), studying Master of Development Studies) found his calling on a 2007 volunteer exchange to Kenya.
"The trip was meant to be for three months and it turned into a year," he recalls. "I really loved the work and after that year I came back to Australia and changed my degree to development studies."
While completing his degree, Everett and Annabelle Chauncy, a Sydney student he met in Africa, worked to launch the School for Life Foundation. Both then aged just 21 years, they raised more than $1.6 million, developed a partnership with Rotary, gathered a Board of Directors and negotiated with the Ugandan Government to make their vision a reality.
Everett says they were driven by a deep belief in the power of education to change communities – and the results to date have borne that out. Based in the village of Katuuso, about 1.5 hours' drive from the Ugandan capital of Kampala, the foundation has built a primary school and is slowly growing its intake – currently around 320 students – while it completes a secondary school nearby.
And while infrastructure is important, Everett says their approach emphasises quality education rather than simply churning students through.
"In Uganda only 10 per cent of kids in year 4 can read at year 3 level," he says. "In our school that number is 92 per cent."
Current student Sarah Garnett (studying a BA majoring in Anthropology) found a niche closer to home. After the death of a family friend, she channelled her grief into working with a food van for homeless people in Sydney.
One night she encountered a man sitting under a streetlight reading while waiting his turn at the van. She began bringing him books and from this The Footpath Library was born. Today, The Footpath Library has branches in Sydney, Brisbane, Melbourne and Perth and gives away 3000 books a month via libraries installed in shelters and refuges, and mobile services that take food for the mind and soul directly to the streets.
One of its clients is Grahame, a woman who spent 10 years without a home, who reflects: "I'm not going to die if I don't have a book, but it's amazing to have the choice to take one home, to get something that I don't necessarily need, but in an odd kind of way everyone needs."
The simple act of receiving a book reignited her passion for learning and prompted her to go back to school to complete her HSC. Grahame is now contemplating university and a career as an academic. "I feel like I have a future now," she says.
This is an excerpt from an article published in Sirius. Read the full story.
Supporting Macquarie's young guns
For many of us, university was our first taste of independence – and as students, that freedom came without the high financial barriers that many face today.
Everything is different for current students, but what hasn't changed is Macquarie's commitment to giving students who face hardship the education they deserve. There are many gifted and hardworking students across the country who, through no fault of their own, simply cannot afford the costs of university study.
Without help, these young Australians will never get the education they need, and their incredible potential could go to waste. For many students, a scholarship alleviates the need to make difficult choices, such as whether to work extra hours during a scheduled lecture in order to pay for living expenses.
For some students, it is the single factor that ensures they are able to attend university in the first place. Through the support of Macquarie's alumni community, your generosity today will give these promising young people opportunities they have no other hope of achieving.
For more information and to support current Macquarie students, visit mq.edu.au/supporting. Your generosity today will give these promising young people opportunities they have no other hope of achieving.