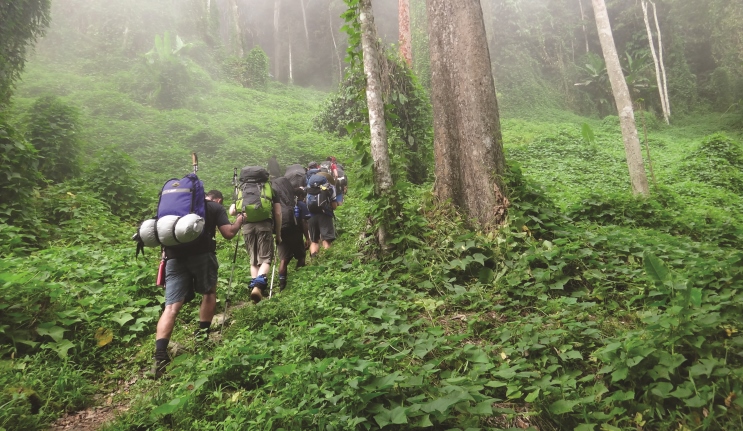 No walk in the park: The Kokoda Track will test even seasoned trekkers – all in the name of a cure
FEATURES
With the incidence of Motor Neurone Disease (MND) increasing by more than 250 per cent in the past 25 years in Australia, the race is on to find a cure. Researchers are thinking outside the lab to help them raise funds to fight the insidious disease.
The Ice Bucket Challenge was a hugely successful fundraising initiative for MND research during 2014, raising $103,000 for Macquarie University's MND Research Centre during the year.
In 2016 Macquarie MND supporters will walk the Kokoda Track to raise funds for much-needed equipment, and alumni are invited to join the trek.
"Motor Neurone Disease is one of the most difficult diseases people can face, with no two people's experiences the same," says Professor Dominic Rowe, Professor of Neurology at Macquarie's Faculty of Medicine and Health Sciences.
"Each year more than 800 people – loved mothers, fathers, brothers, sisters, sons and daughters, die from this disease. While 10 per cent of MND is caused by genetic factors, 90 per cent of MND cases are known as sporadic, that is, there is no known cause for the disease."
However, new research into sporadic MND clusters occurring near fresh water bodies indicates that an environmental toxin may be to blame for a significant percentage of cases. The toxin, known as BMAA (or beta-Methylamino-L-alanine), is produced by blue-green algae.
"We are working in collaboration with researchers both in Australia and internationally to understand the mechanism of how BMAA accumulates in the nervous system and inappropriately incorporates proteins, causing cellular disruption", Rowe says.
The trek will be led by Rowe and Professor Gilles Guillemin and supported by travel company Inspired Adventures. Funds raised will purchase and operate equipment that can detect tiny changes in proteins, which could help pinpoint  MND's cause.
"The hard road of Kokoda is similar to the hard road of research into this insidious disease," he says, likening it to the trials of Greek god Sisyphus who was condemned for all eternity to push a huge, enchanted boulder up a steep hill. The story was immortalised in a philosophical essay by Albert Camus and prompted much learned discussion around the issue of interminable toil for no gain.
"Similarly, the Kokoda Track is fraught with difficulty and danger, and to those who were forced to march its length, it must at times have seemed a pointless journey – although it ultimately allowed thousands of Australians to escape from invading Japanese during WWII.
"If, despite the inevitable challenges of the journey, we are able to raise awareness of MND and to purchase equipment that will allow us to identify either the trigger or potential therapies, then the effort of walking the track will be miniscule in comparison to the relief felt by the families of the afflicted."
To join the walk, phone Megan Pope, Development Manager, Medicine on 02 9850 1389 or email megan.pope@mq.edu.au.