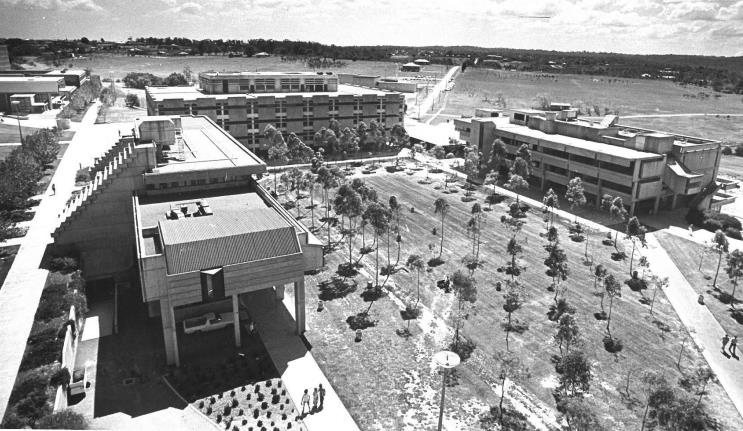 Walking down memory lane
UNIVERSITY NEWS
The Jubilee celebrations have given staff and former students a chance to explore the history and discover new things about the University they thought they knew so well.
Take the University's main walkway through campus. At almost one kilometre long, it is affectionately known as 'Wally's Walk', and was named as a tribute to Dr Walter V Abraham, Macquarie University's Architect Planner from 1965 to 1983.
But what many people don't know that underneath Wally's Walk is a network of tunnels that were built to carry services such as electricity, water, gas, data cables and cooling water between buildings.
While some services such as the boiler that carried water for heating the University's buildings via the tunnel network were decommissioned, the tunnels – which are large enough to cycle through – are still accessible today beneath Wally's Walk, and even featured in the 1989 film The Punisher.
Above ground Wally's Walk was lined with London Plane Trees to provide welcome shade in summer, but let light and warmth through in winter.
Elsewhere trees were planted with a different view in mind: in July 1968, 120 lemon-scented gums were planted in a grid pattern in the central courtyard of the University. The formation is said to represent a Roman military unit, standing side-by-side preparing for battle. Today the gums dominate in a different way: they are taller than the rooftops of the surrounding buildings.
"Buildings themselves were to be the response to a particular time and place," commented Wally Abraham in Liberality of Opportunity, "while the relationship between them allowed for flexibility in the face of change and need for development. The built form acted as a grid, rather than a set of discrete buildings".
To discover more about Macquarie's history visit the Jubilee Hub.