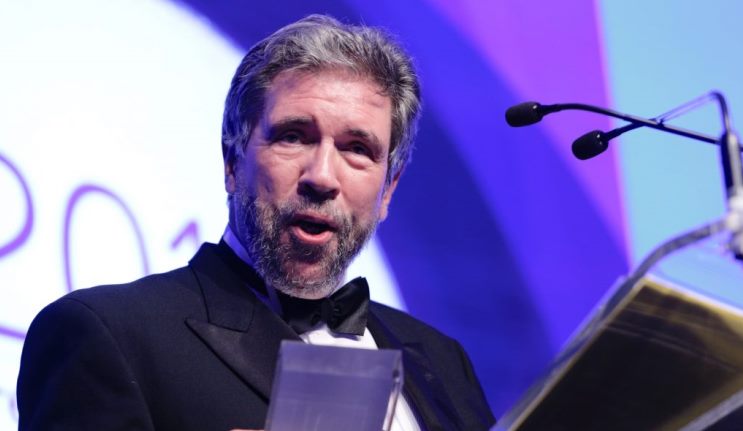 Two Macquarie professors recognised at NSW Premier's Awards for Outstanding Cancer Research
RESEARCH NEWS
Macquarie University has scored a double win at last week's NSW Premier's Awards for Outstanding Cancer Research.
Professor Richard Kefford took home the Outstanding Cancer Researcher of the Year Award for his sustained contributions to the field of cancer research in NSW including publications and mentorship of other cancer researchers. Professor Helen Rizos was also recognised, winning the Wildfire Highly Cited Publication Award for her highly impactful research as part the Melanoma Translational Research Team.
This annual event, hosted by the Cancer Institute NSW, is the leading NSW awards program that celebrates excellence and innovation in cancer research. The Awards honour the achievements of the individuals and teams who work across the cancer research sector to lessen the impact of cancer for the people of NSW.
Professor Kefford is a world-leading researcher and clinician in the causes and treatment of melanoma. Since 2014 Professor Kefford has been Head of Clinical Medicine at Macquarie University and has played a leading role in the design of the new global MD program.
His achievements have revolutionised the understanding of cancer biology and drastically improved therapies for people living with melanomas over the course of 30 years. Professor Kefford has been a Principal Investigator on over 40 clinical trials exploring new immunotherapies that are transforming the treatment of melanoma. His award also comes with a monetary prize of $50,000 to assist with future research endeavours.
Said Professor Kefford: "I am deeply honoured to be recognised by the cancer research community in this way for a lifetime of commitment towards better cancer care through constant research and enquiry in the lab and in the clinic.
Professor Rizos is a cancer cell biologist with an international reputation in the field of melanoma senescence, tumor suppressor proteins and oncoproteins. Professor Rizos' winning study is the first and largest to document the mechanisms of resistance in a large cohort of melanoma patients treated with the BRAF inhibitor, dabrafenib. The paper has had 124 citations since first being published in April 2014.
"This paper brought together clinical researchers, basic scientists, higher degree students and clinical trial staff from Macquarie University, Westmead Hospital, the University of Sydney, Royal Prince Alfred Hospital and Melanoma Institute Australia, explains Professor Rizos. "It involved the analysis of 30 Australian melanoma patients, and explored why these patients failed therapy after initially responding. It means a great deal to see all these individuals, their hard work and the patients and their families receive recognition for their individual and team contribution."