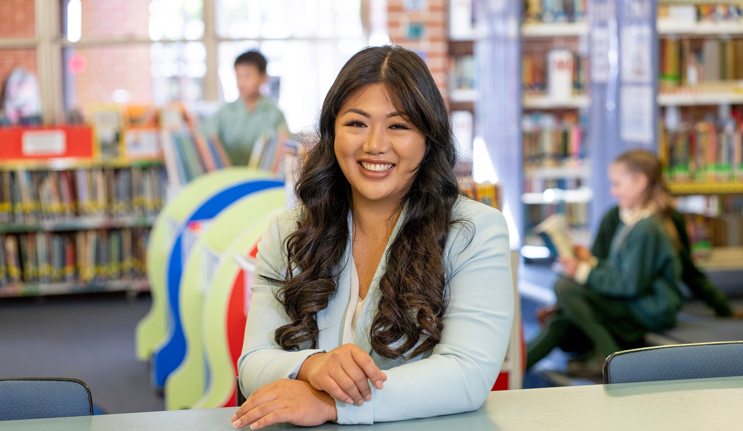 Steph-S-743-x-431
ALUMNI FOCUS
There's always more to a story than first meets the eye. Assistant Principal and MQ Bachelor of Education alum Stephanie Salazar recently came to the public's attention for winning a Commonwealth Bank Teaching Award, with a feature in the Sydney Morning Herald and airtime on ABC Sydney to boot. Few people work in isolation, however, especially in teaching, and Stephanie is keen to acknowledge the collaborative effort across the school community that contributed to her success. Still, rather than diminishing her efforts, it brings into even sharper focus Stephanie's drive to continually lift up those around her …  
Sometimes, to understand someone, you need to start at the beginning. Most people, after all, don't start out doing great things – they work on their strengths, improve over time, and have people who believe in them. Still, there's usually a glimmer of who they will become, if you look closely.
For Stephanie Salazar, Assistant Principal and Instructional Coach at John Purchase Public School on Ku-ring-gai Country in north-western Sydney, that glimmer can be found in her drive to bring people together as an undergraduate student at MQ, where she first started groups and led initiatives on campus, culminating in the establishment of the Macquarie University Education Society.
But, Stephanie wasn't originally enrolled in education. Studying and working in the field of accounting, she soon realised she was drawn more to people than numbers, so transferred courses. 'It was hard to move on from what I thought – at the time – was a failure,' she says with characteristic insight and the strength to be vulnerable, something that has struck a chord with those she teaches, collaborates with, and coaches.
As she explains, 'I keep it real, I keep it calm, and I keep it kind – that's what I do and I think people appreciate that,' she offers. 'I think it is my Filipino values,' she says thoughtfully, enjoying the opportunity to reflect. 'Being hospitable, being in service of others, thinking beyond yourself; my Dad always instilled that in me.'
And so, it's no surprise that Stephanie founded Sweets by Sweets at MQ, which organised baking events on campus to raise money for various charities. 'It brought together people from all different faculties, from law and science to education,' she says, and you can still hear the enthusiasm in her voice.
Stephanie was in her element. Still, a gentle reminder to focus on her studies served her well. 'My lecturer Dr Penny van Bergen gently pulled me up and said I needed to work on my grades; that it would help me get the most out of my degree. Rather than focusing on just passing, it was good to have someone like Penny encourage me to focus on doing well.'
Giving credit where credit is due is trademark Stephanie but, listening to her speak, there's more to her story. Open in her communication and friendly, laughing often, she readily admits to being an extrovert. Moreover, she explains when she needs help, connecting with others is what gets her through – and what inspired the Education Society. 'As a pre-service teacher, I had so many questions,' she remembers.
'I thought, I can't be the only one, so brought my friends together and we organised a lunch where we could have informal conversations with our lecturers. That's how the Education Society started; it was all about supporting each other socially and academically.'
The friends are lifelong and the society is still going, and was just the start of great things for Stephanie, who is now in her ninth year of teaching. Always full of ideas – and, lesson learned, willing to try them even if they failed – Stephanie has continued to bring people together in her professional sphere, now with the support of her principal, Leonie Black.
'Since my first year of teaching, she has believed in me as an educator and a leader, giving me opportunities to lead professional learning such as a quality induction program at John Purchase Public School and the New Teacher Tribe initiative on Twitter,' for which Stephanie won the Australian College of Educators' award for best young teacher in NSW in 2018.
Describing the New Teacher Tribe as a space to connect experienced teachers with beginning teachers, Stephanie says, 'It helps new teachers realise they're not alone. It's normal to feel a range of feelings when you're starting out, and I wanted teachers to feel encouraged, supported and empowered – that was my mission,' she says, crediting her experiences at Macquarie with giving her the opportunities and support to go on to create groups such as this.
'MQ allowed me to thrive and gave me the confidence to bring people together to connect,' she says, the pieces falling into place in her mind as she speaks. 'I just love bringing together good people who want to make a difference in the world. We lift each other up because we genuinely want the other to succeed – and that means more great work is going to happen in our schools and for our kids.'
Because ultimately, that's what it all comes down to for Stephanie – whether it's the teaching, the groups, the awards, of which there have been a few, even the parent masterclasses, they are all driven by her desire to support her students' success and growth. And it's why she's so passionate about coaching in education through her work as an Instructional Coach at her school and leading the Instructional Coaching Group on Twitter.
'Coaching in education is quite common in the private school system, but I haven't really seen it in public schools,' she says, explaining, 'I'm going in at the teacher level, working with them on what they want to work on. I'm not judging them; I'm helping them realise they have the tools already within them to make an impact on students' learning.'
It's also very effective, and why she decided to apply for the Commonwealth Bank Teaching Award. 'It's going to help accelerate what we want to do with our students,' she says, referring to the prestigious Teaching Fellowship she received.
'We're a public school, so can't afford this level of professional learning otherwise,' she says, noting she has already planned out development opportunities for staff and has her eye on courses and books that will help her become an even better coach and leader.
But there's a bigger conversation at play as well, which is why she's so grateful to Australian Schools Plus for giving her this platform. 'I'm hoping to be part of a more positive narrative about teaching and education in Australia, highlighting the amazing work that's happening across the country, especially in the public system – I am just one of many who are doing great things.
'Every child deserves a quality education and exemplary teachers and that's what I'm trying to create,' she says warmly. 'I like to show my students and teachers and leaders that I really believe in them, because when you believe in people, they rise to that – and it helps them see more within others, too. That's the magic for me.'
Stephanie Salazar is an award-winning Assistant Principal and Instructional Coach at John Purchase Public School in Ku-ring-gai Country in north-western Sydney, where her expertise in creating a network of teachers focused on professional development has transformed her school's teaching and student learning.
She is the founder of the New Teacher Tribe initiative and #PSTchat, a chat dedicated to supporting pre-service teachers around the world. Stephanie's vision is empowering educators to see more in themselves and their students in order to co-create sanctuaries of learning. She was awarded the Australian College of Educators Young Professional Award 2018. In 2017, Stephanie also won the Executive Director's Recognition Award for Innovation and Creativity in Leading Learning Towards Improved Student Outcomes. More recently, she was awarded the 2022 Commonwealth Bank Teaching Award, becoming an Australian Schools Plus teaching fellow, winning $45,000 for her school. 
With an abundant level of enthusiasm, passion and plans to produce a podcast titled The Heart of Coaching, Stephanie is poised to grow her impact even further and help shape the future of education practice across Australia.