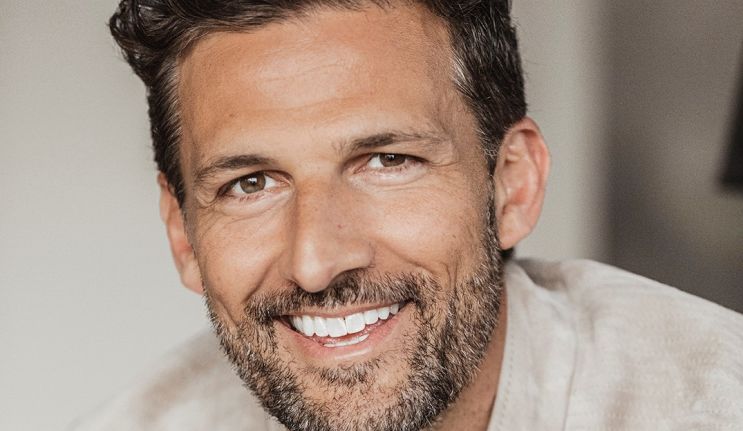 Tim Robards
ALUMNI FOCUS
February 18, 2021
You could be forgiven for making some assumptions about Dr Tim Robards (MChiro 2010). The star of The Bachelor and more recently Neighbours, he has the chiselled physique and Insta-worthy lifestyle that makes you think you know what to expect. But a Masters in Chiropractic from Macquarie University is just the start of the surprises in store from this boy from Newcastle.
Little in life is truly one-dimensional, especially when it comes to people. There is often more depth and variety than we can imagine, and the old truism that everyone has a story is, well, true. And so it is with Tim Robards, whose overarching desire to help others informs his holistic approach to health and wellness.
In fact, it was this motivation that led Tim to Macquarie University and a Master of Chiropractic (M. Chiro). He says, 'I had studied exercise science but was looking for something more practical. Chiropractic gives you a skill with your hands, but you're also listening, giving advice and doing training, rather than just telling someone how to do something.
'I'd also had some profound experiences getting treated by chiropractors over the years, and remembered them saying how much they loved what they did. I'd already done six years of uni, so thought carefully about further study, but every part of me wanted to be a chiropractor.'
True to his expectations, the degree at Macquarie University was very hands-on. Because of his prior studies, he was able to do a qualifying masters where all the specific chiro subjects were compressed into one year. 'It was pretty intense,' he recalls. 'But after that, I was able to go into the two-year masters.'
It's a decision he's never regretted, and says despite his career moving into new directions, he still feels like a chiropractor at heart. 'It was my career for many years, and while it's not my primary source of employment any more, I do it now because I love it. It's who I am.'
Keeping his professional accreditation current is important too, but talking to Tim, you realise there's more to it than that. 'I like to be able to help people,' he says candidly. 'My mum was a nurse, always caring for people, and my grandma practised Chinese massage. I saw for myself just how special a skill with your hands is – human touch is so important.'
Combining art and science
So what is chiropractic, exactly? 'Essentially, you're putting movement back into the body that the body has been lacking,' explains Tim. 'As humans, we're not getting the essential movement we need. By using specific movements at a specific joint, the intention is to affect the nervous system, blood flow, the muscles and the brain, to improve movement and decrease pain.
'I've found chiropractic to be a balance between science, art and philosophy. It's not one-size-fits-all – the reason for your inflamed ankle may be different to someone else's; that's where the interpretation and the art come in.'
There's a humility to Tim when he talks, and it seems he found his people studying at Macquarie. 'I loved the community within the chiropractic faculty and the group of people I went through with – there was no ego; everyone was there to learn so they could go out and help people. We had to work on each other a lot, so we developed great teamwork and a deep level of trust too.'
Lifelong friendships were forged, and a successful career ensued, so what would Tim's advice be to prospective students? 'A few people who went into chiro had never had chiropractic before, so my main advice would be to explore; go and see as many different chiropractors as you can to understand what kind you want to be.
'There are many different methods in chiropractic, so I would also say, have an open mind and keep learning. After all, the more tools you have in your tool belt, the more you can potentially help someone. That's what I like about chiro: by educating people on how to improve their lifestyle, they can become healthier and more resilient, so they don't need to come back.'
Multi-talented
Tim has had a diverse career path since graduating. As well as practising as a chiro, he has established a fitness program (The Robards Method) and published a book (The 7:2:1 plan), both of which aim to help people fix the cause of their health issues, not just treat the symptoms.
A model from a young age, Tim now works on major ad campaigns for companies like Nespresso and Piper Heidsieck. He is also a brand ambassador with Medibank and has created free food and exercise programs for people in lockdown.
He also finds time to raise money for Lifeline through the City to Surf and, of course, the acting work continues. It's slowed down a bit due to COVID, but Tim has still been able to work on some short films and a pilot for a feature called Sherbrooke Down, plus lots of auditioning.
So how does he manage to have so many irons in so many fires? Tim explains, 'I've never identified as just one thing; I believe people can be many things. I've also learned to take on new challenges and do what I love.
'And there's a lot I've been able to take from my work as a chiro into other areas. It's given me the ability to listen to people, empathise with them, find solutions with them and, ultimately, inspire them.
'I try and help people get the right mindset and keep motivated – I want to be the guy that my younger self could have looked up to and learned something from; that's what I try and be to younger people.'
It would seem helping people just comes naturally to Tim Robards.
Tim's tips for the new year
A new year, a new you. So many people start the year well but gradually drop off in enthusiasm and results. So what would Tim Robards recommend?
'A lot of people want to be healthy and fit in 2021, but that's an empty goal and one that is hard to achieve. Instead, try the following:
Have good, measurable goals that are time-specific. Without that, it's just a dream.
Define your yearly then monthly goals, and back them up with what you need to do each day so it's not so overwhelming. It's about daily actions toward your goals.
Finally, tie your big goals in with your top values. Make sure you have a strong emotional reason for achieving your goal.
As Epictetus says, "Progress is not achieved by luck or by accident, but by working on yourself daily." Now go for it.'
Words: Megan English