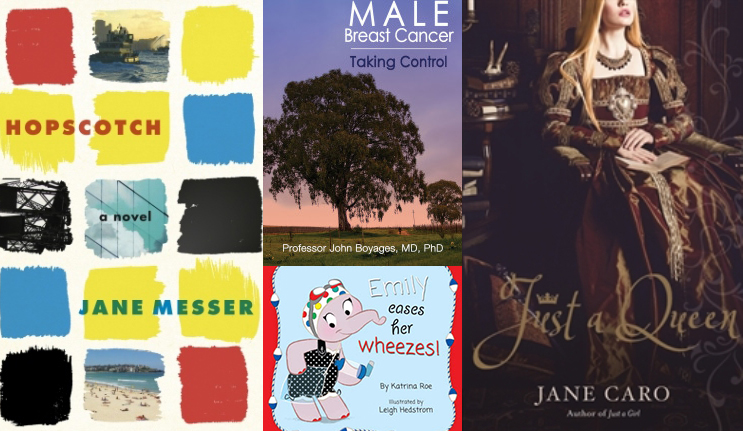 The latest books to hit the shelves
FEATURES
Macquarie University alumni and staff have been putting pen to paper – or fingers to keyboards –  with a number of new books recently published.
Emily eases her wheezes
With one in ten Australian children affected by asthma, and many suffering more during the winter months, a new children's book by Macquarie alumna Katrina Roe is helping families manage their asthma more effectively.
Emily Eases Her Wheezes is a children's picture book that helps children recognise the symptoms, triggers and treatments for asthma. It aims to reduce any stigma that asthmatic children may feel when using their puffer around their peers while underlining the importance of kids with asthma remaining active, living a healthy lifestyle, and even excelling at sport.
With notes for parents and carers by Professor Peter van Asperen from The Children's Hospital at Westmead, the book was recently listed as a 'Notable Book' in the 2015 Children's Book Council Book of the Year Awards.
Emily eases her Wheezes is published by Wombat Books.
Male breast cancer, taking control

Macquarie University Hospital's renowned breast cancer specialist Professor John Boyages has published his much-needed book to help men cope with a diagnosis of male breast cancer.
While breast cancer receives considerable publicity, it tends to be associated with women, and resources for men have been had to find.
Published by BC Publishing, Male breast cancer, taking control provides all the information affected men and their friends and families need to know following diagnosis, and helps to maximize survival though finding the right path to recovery.
In plain English, supported by useful illustrations, the book walks the reader through the stress and confusion of diagnosis, treatment, and life after male breast cancer, and includes inspiring and motivating patient stories to help achieve a more positive mindset.
It includes advice on:
the difference between 'man boobs' and male breast cancer
the right tests for an earlier diagnosis
avoiding under- or overtreatment
the right questions to ask your treatment team
treatment choices for breast and lymph nodes
dealing with stress, anxiety, fatigue, and sexuality during and after treatment
understanding when chemotherapy is really required
where to find specific up-to-date information for male breast cancer
Learn more or order the book.
Hopscotch
Fast and funny, Hopscotch, by Macquarie University lecturer Jane Messer charts a year in the lives of the endearingly flawed Rosen family from Sydney's north.
It holds up a mirror to contemporary urban life in Australia, interrogating our endless capacity for self-destruction, longing and love, and asks why we think we could ever find happiness in a city that's roaring with dysfunction.
Forced into an early retirement due to illness, Sam Rosen has lost any semblance of control over his life. His wife, Rhonda, confined to the carer role, is feeling her identity ebb slowly away as her former life retreats further and further into the past. Eldest son, Mark is lurching toward financial disaster but can't bring himself to tell his wife, while middle child Liza's biological clock goes off in a city where men are thin on the ground and grown up ones even scarcer. Meanwhile baby of the family, Jemma thinks that being mild-mannered will let her pass through life unharmed, until one night, everything changes.
Hopscotch is published by PanMacmillan.
Just a Queen
Macquarie alumna and media personality Jane Caro has penned a page-turner novel for young adults about one of history's greatest women.
While just a girl to those around her, Elizabeth I is now the Queen of England, having outsmarted her enemies and risen above a lifetime of hurt and betrayal.
Caro's extensive research includes extracts from primary source documents such as poetry written by Elizabeth I resulting in a novel that entwines the young queen's thoughts and emotions with historically accurate events of her reign, and is bound to provide a launch pad for many classroom discussions.
"The driving force behind these two books (the first being Just a Girl ) has been my own curiosity about how it must have felt to be Elizabeth Tudor," Caro explains.
"This second volume is really an exploration of what it must have been like for a woman – an unmarried woman – to wield power in such a patriarchal society."
Just a Queen is published by UQ Press.