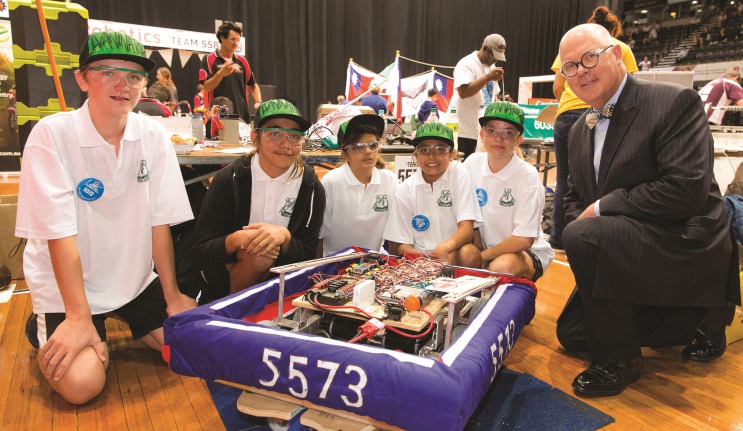 The Vice-Chancellor Professor S Bruce Dowton with students from Ivanhoe Central School at the recent FIRST Robotics event in Sydney
UNIVERSITY NEWS
The Vice-Chancellor explains how funds donated by alumni brought country kids to Sydney – and changed their lives in the process.
I recently had the privilege of welcoming more than 1000 high school students from around the world to Australia's largest robotics competition – the annual FIRST® Robotics regional championships.
This year's theme, 'Stronghold', challenged teams to design and build robots capable of avoiding obstacles, overpowering their opponents' defences and eventually capturing their 'castles'.
Among the teams, and close to my heart, were students representing Ivanhoe Central School from my home town in rural New South Wales. Volunteers from the Faculty of Science and Engineering visited the school as part of the Robots in the Outback outreach program, driving donated vehicles to Ivanhoe and 11 other schools to support, encourage and enable students to take part in FIRST®.
Thanks to our newly established Vice-Chancellor's Fund, we were able to help these outstanding young people travel to Sydney and compete in the championship. For some, this was their first trip to Sydney. Others had never seen the ocean before, or travelled in a lift between building floors. The experiences of the weekend were more than just educational: they were transformational.
FIRST® Robotics aims to inspire a love of science, technology, engineering and mathematics (STEM) in children, and to develop and reinforce these skills in students. Macquarie University introduced FIRST® to Australia in 2006, not only to inspire students' interest in STEM, but to help create a pathway for them to pursue these fields into further study, careers, and entrepreneurship in a variety of areas.
The team from Ivanhoe are now competing against peers from six different countries.
They are being exposed to STEM in an engaging and thought-provoking way and in running their team as a small business, they are also learning about entrepreneurship, finance, marketing, accounting and, of course, competitive advantage. I am excited at the transformative role we are playing in these students' education and their future.
Without the flexibility of an unrestricted fund to support young people like these, we would miss the opportunity to change their lives in this way. The Vice-Chancellor's Fund allows us to be nimble and progressive in seizing these opportunities and encouraging education, research and innovation wherever we can. The support from our alumni and friends strengthens our purpose and brings our goals within reach. I am very grateful for your continued support and I greatly look forward to seeing everything we will achieve together.