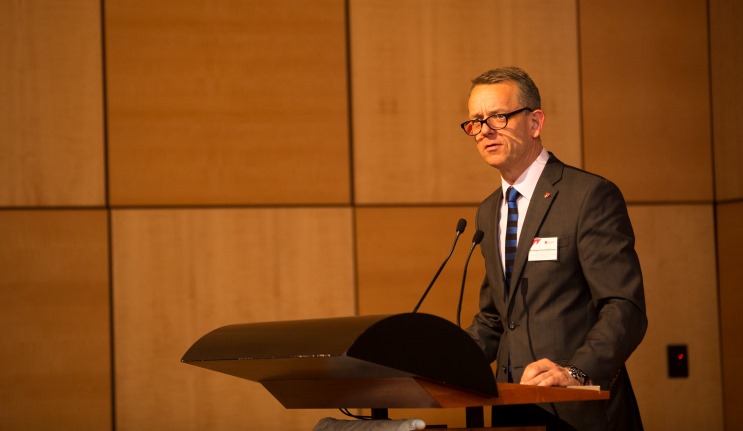 Thank you
FEATURES
Philanthropy gives us the power to achieve our full potential, and in 2015 an incredible 5084 donors committed more than $15 million – more than double the previous record. We felt that such an incredible display of support deserved a new report to illustrate all that you have made possible.
We would like to thank all of our donors, alumni, volunteers and the wider community for their support and enthusiasm of the great impact Macquarie University is making across the globe.
Your gifts have created opportunities which simply wouldn't have happened without you, for example:
500 students received financial support – encouraging and rewarding excellence – that helped ensure they could complete their studies;
our ground-breaking research discovering the link between Motor Neurone Disease and Dementia, which is bringing us closer to finding the cause of these degenerative diseases;
innovative technology, including the life-changing non-invasive Gamma Knife treatment offering patients an alternative to highly invasive brain surgery;
much needed help for families, and enhancing the potential for children to thrive across their lifespan, through community programs such as the early intervention program 'Circle of Security';
and our ventures across the globe including our archaeological dig in Tel Azekah where 20 students each year have the opportunity to participate in an educational program in Israel.
The report captures something of the inspiring priorities we are pursuing as well as the amazing people who are leading the world in their fields of expertise. The richness and diversity of Macquarie University continues to amaze me and it is a pleasure to celebrate so many achievements.
Thank you for choosing to be part of our remarkable University – you are part of a pioneering community. 2015 was an extraordinary year and we thank all of you for your important contributions and appreciate every gift, large and small.
THANK YOU!
Professor David Wilkinson
Deputy Vice-Chancellor (Corporate Engagement and Advancement)