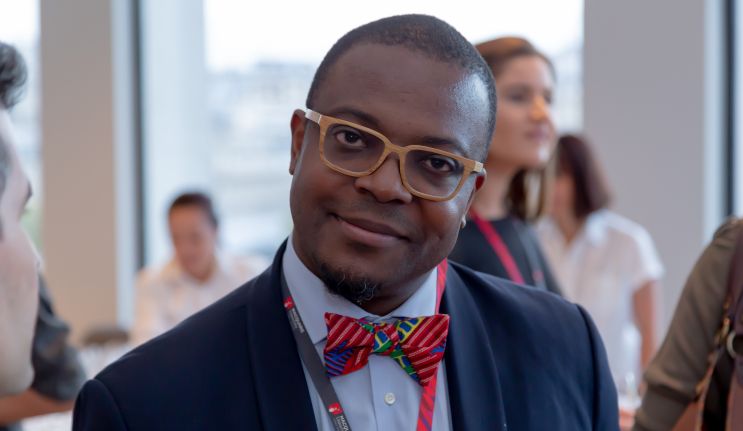 Sylvestre Mang – Global vision
ALUMNI FOCUS
May 11, 2021
Cameroon, France and Australia. There's not an obvious link between the three countries, but in an increasingly global world, these connections are becoming all the more common. Still, it's how people make sense of these seemingly disparate experiences that informs who they become – and makes life so interesting. And for someone like Sylvestre Mang (MComm 2008), who has a real sense of vision, it's what creates purpose in life.
With such a varied background, career and interests, it's hard to know where to start Sylvestre's story. Is it with his mother, a successful entrepreneur in the Cameroon capital Yaoundé when women needed permission from their husbands to start a business?
Or perhaps it is how, instilled with a sense of social justice by his father, it's his knowing that he could play to his strengths and fulfil his dream of improving the infrastructure in Africa by studying finance and funding development projects.
Maybe still, it's how way leads on to way, and how in his early career in aircraft and rail financing, he came to understand the world is changing and a sustainable future for the planet is imperative. It's hard to know. Perhaps the truth lies in a combination of all of these influences.
There's also the no-small matter of chance and a childhood dream to visit Australia. For Sylvestre, who left Cameroon at 19 to study in France and reconnect with his older sister, a fascination with the movie Crocodile Dundee meant selecting a business school in Normandy with connections to Macquarie University.
It was there he met his future wife, with whom he shares a vision for global social sustainability. They both completed their studies at Macquarie in 2007, she a Masters of Commerce in Human Resources Management and Sylvestre a Masters of Commerce in Business, majoring in Finance, and a Masters in Value Chain Management.
Aside from his desire to visit Australia, Sylvestre explains, 'I wanted to study Project Finance so I could finance infrastructure in Africa. Macquarie equipped me with the theoretical background to achieve my professional goal and, after my studies, I was recruited into investment banking in Paris.'
Some might have stopped there and led a comfortable life in the corporate world. Instead, Sylvestre has pursued his commitment to what he calls a global conscience, financing sober projects that do no harm to the planet. 'We live in a global world,' says Sylvestre. 'We cannot continue the way we always have; we must take action and make changes for the better.'
A transformative experience in Western Africa leading the structured finance department for Orabank, a commercial bank pioneer in green finance, cemented Sylvestre's commitment. Now with the French Development Agency (AFD), he finances projects such as solar power plants that align with the Paris Agreement and positively affect developing countries. Over half of AFD's activities are located in Africa, the homeland he has dedicated his professional life to and, before the pandemic, returned to often.
'The most important aspect of my work is to have an impact, working on projects that enhance quality of life for many people – improving water and sanitation infrastructure, financing broadband so low-income populations can access the internet, and funding a renewable energy infrastructure all have a significant and immediate impact.'
It's this working across continents and cultures that has meant Sylvestre can make connections where few others have the insight, persistence or knowledge. And, as Sylvestre explains, 'I'm a Macquarie guy, so I think outside the box. I'm very unconventional,' he laughs.
'I can see a synergy between Africa and Australia. Obviously, Australia is more developed, but the vastness of the country, the geography is similar, and the potential for solar power is the same.
'Australia has some great initiatives like the Australian Sustainable Financing Initiative and the role of the Clean Energy Finance Corporation. For me, projects like that are the future. My vision is to harness those similarities and create a bridge between Africa and Australia and it's why I launched AfrAustralia, a platform to create a dialogue between the two countries.'
It's also why he's decided to return to his alma mater and take on the Global MBA program. He explains, 'I realised I needed to develop my management skills and it's already equipping me to become an adaptable leader in an ever-changing work environment.'
With a ready aptitude for bringing people together, there's no doubt Sylvestre is well placed to lead the charge for Macquarie University in Paris. He's a Global Ambassador for MQ and head of the France Alumni Network, uniting people who have traditionally remained tied to their exclusive business schools.
'We have more than 150 members and are still growing,' says Sylvestre, who has put tremendous effort into galvanising the network. The launch event in 2019 was held at the Australian Ambassador to France's residence, Brendan Berne (also an MQ alumnus), and he recently hosted a Women in Leadership online event with the support of the current Australian Ambassador to France, Gillian Bird.
It's no surprise that advancing women's rights is an issue close to Sylvestre's heart. An ambassador for the initiative #ManStopMan to halt violence against women, no story would be complete without mentioning Sylvestre's mother, a pivotal influence on both him and his sister, Lady Ngo Mang Epesse, a well-known women's rights activist in Paris and President of the Jury for the highly regarded Simone Veil Prize of the French Republic.
'I am the son of a strong woman!' says Sylvestre proudly of the woman who raised 12 of her and her husband's siblings and became so successful she was able to send them and her own two children to universities overseas.
'Care is the burden of women in Africa, as it is everywhere in the world, but her private and public lives made her a ninja and inspired her children to fight for women's rights,' remembers Sylvestre.
Starting her career as a mecanographer for IBM, most recognisable now by the punching cards they used on the earliest computers, she used her experience over time in different fields to begin her entrepreneurship journey.
'She never hesitated to be disruptive,' says Sylvestre, who explains in the late 1990s, his mother was among the first to open a cybercafe in Yaoundé. 'At the same time, she undertook a masters degree in micro-finance and, in 2002, was elected deputy mayor of the city of Eseka, Cameroon.
'She was a role model to many and, with the support of my father, always fought for gender equality. We are all born from a woman and may have a sister, a cousin or a wife – we cannot deny their equal rights.'
For Sylvestre, it's all about how we treat each other, and how we treat the planet.
 Words: Megan English