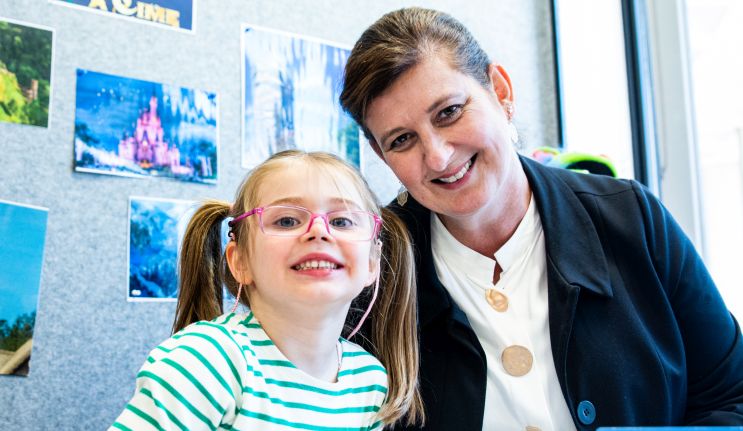 Stephanie McConnell
ALUMNI FOCUS
October 13, 2020
Ever since her own experience of school, alumna Stephanie McConnell (BA/DipEd 1991) knew that education had the potential to deliver more for students. Now, she has been charged with leading Lindfield Learning Village, a comprehensive government school on Sydney's North Shore that is mandated with sitting between best practice and next practice. A position it would seem she was made for.
Right from her student days, Stephanie McConnell was aware that education wasn't meeting the needs of the young people it was there to serve in light of the world they were entering. 'I've held this frustration for a long time,' she says. 'We can't rely on a 100-year-old model of education to meet the needs of students in the 21st century.'
She's not resigned to the fact, rather, it's one she's determined to set right. 'The world is changing at an astronomical rate, and it's the responsibility of the education system to recognise this and take a different approach.  The system needs to change,' she says.
'We can't keep pushing our children through an educational sausage factory and testing them in this way. It's simply not the best way for students to learn how to think, or critically reflect, when all they're doing is rote learning to regurgitate information in an exam setting.
'If there was some purpose to it, some value in the long run, it might be different, but it just doesn't hold any weight, not even for the universities,' she laments of the situation that is actually harming our children.
'Sadly, every year, the HSC kills a number of students by suicide because they can't cope with the pressure of it. It's not on; it's just not ok. We've got to do something differently.'
And it's even more imperative now. In addition to the pressure that exists broadly from society, not to mention the media and social media, Stephanie says the COVID-19 pandemic has brought into sharp focus for students the uncertainty of their future: 'They need more from us.'
Turning education inside out
That's where Lindfield Learning Village (LLV) comes in. With wellbeing firmly at the heart of the school's working model, Stephanie explains, 'Wellbeing is central to everything we do. If a child is not well in themselves – emotionally, physically, mentally, or has an underlying learning challenge – they can't learn until those things are addressed.'
It's why there are four Ws at the core of all learning at Lindfield. Stephanie explains, 'The first one is Wellbeing, so you're well; the second is Willing, that's about engagement; Winning is the third one, that's where you experience a feeling of success; and finally, Within, which is having a sense of belonging to a community.'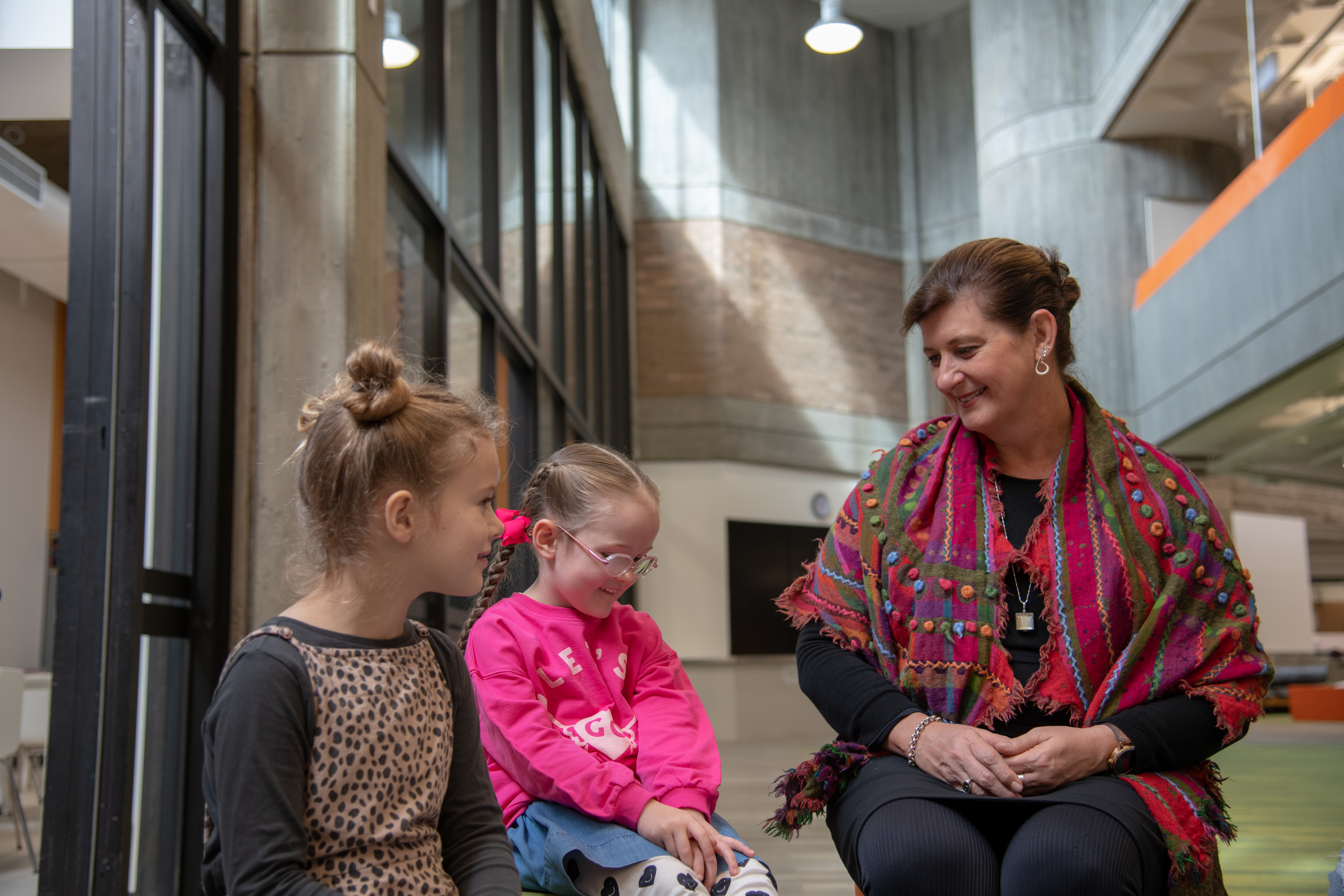 Part of that central wellbeing model is that every child has a learning guide, and they're part of what Lindfield calls a pod. Each pod varies in size, depending on the age group. There are four in Stephanie's Year 11 group, who will be the first cohort to complete year 12 next year, and around 12–15 students in a pod in primary.
She explains, 'It's their mentoring group, where the guide ensures students are learning, they're engaged, moving forward and exploring their areas of interest. The learning guide is also a trusted adult person they can speak to whenever they need.'
It's a bit like turning education inside out; it's no longer one size fits all, where students are made to fit into the box of education. 'That's a good description,' laughs Stephanie. But it doesn't stop there. 'It's about continually changing and evaluating, and looking for ways of making the education experience more effective for students.
'It's about taking on their feedback, and hearing their voice, but also teaching them what it means to have a voice, which isn't about students simply doing it their way. It's about being open, having a feeling of agency, and setting realistic expectations for themselves.'
Underlying these subtle differences in how the school works is an almost imperceptible egalitarian tone that permeates all levels. One of the many differences, which, layered one on top of the other, makes for something quite remarkable.
To make it work, however, takes a commitment from everyone involved to reimagine education – from the children to the parents and teachers. Not having school captains, which to Stephanie's mind can be 'exclusive', is one such important change. Leadership opportunities are pursued, demonstrated and measured in other ways, of course, it just looks a little different at Lindfield.
And it goes all the way to the top – not only does Stephanie, as principal, have her own pod of students to teach and mentor, the traditional principal's office is gone too, replaced by a more democratic arrangement enhanced by the building's purposeful regeneration.
Pause for thought
These subtle changes are all the more striking when you realise that just like all other comprehensive public schools in the state, Lindfield follows the NSW curriculum, which Stephanie says is surprisingly flexible. 'For us, it's about unpacking the default positions that teachers bring to that process and opening up the possibilities for what it could look like, rather than the way it has always looked.'
The key way Lindfield deviates from the stereotypical, 19th-century model of education –where 30 students sit in a classroom facing the teacher – is by allowing students to work across age ranges and stages.
'There's a learning continuum that's not dependent upon your age,' says Stephanie. 'We're working to move away from a very teacher-directed style to one that is a more student-led style of learning.'
There's never one teacher to a group of students, either. 'There are always multiple teachers, so there are more input opportunities. And it's not just one subject being taught at a time – we're moving toward an interdisciplinary way of learning, and then transdisciplinary, which completely decompartmentalises learning and is more conducive to a lifelong learning experience.'
But it's not a free-for-all by any means: 'Explicit teaching is and always will be an important part of the model. We have developed pedagogical modes for learning, which are based on a master class and then some flow or deep learning. There's a lot of collaborative work that happens as part of the learning experience, too.'
Underpinned by a strong research base – and a lot of accountability – the school has built a robust bibliography around the work they do. Their methodology and experience is sought after nationally and globally, which is not surprising given the school's mandate is to sit in the space between best practice and next practice.
'It can be an uncomfortable place to be,' admits Stephanie. 'It's about bringing all of your knowledge about what's best practice globally in education right now, combined with all your experience, and then pushing it to that next level – what could learning look like?'
Ask for forgiveness, not permission
The idea for Lindfield Learning Village came together over many years. It originated out of the need for more primary and secondary schools on the North Shore of Sydney, where schools are practically bursting at the seams. This led to the purchase of the old UTS Ku-ring-gai campus site – and a vision for a new kind of K–12 school.
As Stephanie explains, 'The model for the school was led by the work of Professor Stephen Heppell, who has been very influential in Europe and South America, and it quickly became an opportunity to think quite differently about how we approach schooling.
'There were some really great, brave thinkers on that pathway – Secretary of the NSW Department of Education Mark Scott has been especially supportive, and the department as a whole was open to looking at what might be possible.'
But it takes a village; literally. 'The people who took on the consulting process for what the school could look like were very innovative thinkers too, and key educators like Sue Low and Meredith Ash were influential. And we have seen incredible support from parents who are looking for an alternative for their children.'
As such, with the help of architects DesignInc, traditional classrooms gave way to flexible learning spaces that enhance rather than detract from learning – not an easy task in a building well-known for its brutalist style of architecture. 'It's been an exciting time,' says Stephanie, who is looking to grow the school to around 2000 students in the next few years, working with the architects to make sure this occurs in the best way possible.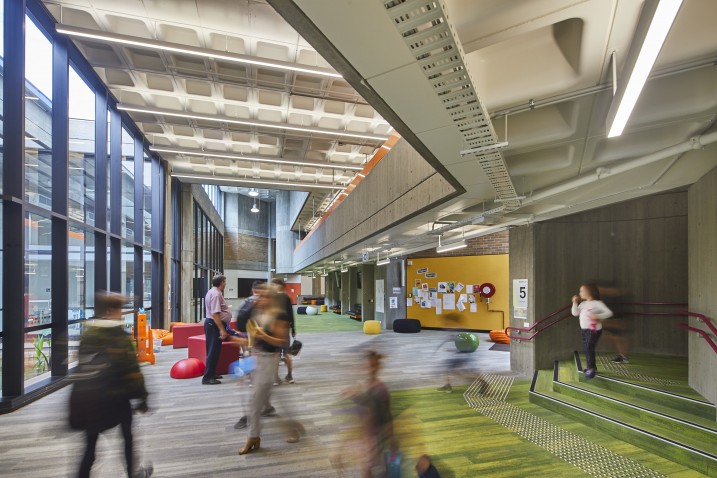 '
There's an enormous amount of interest in what we're doing. We're trying things that are really quite brave, which is part of our values. We talk about being brave and tenacious, holding lightly to the things we do, but holding tightly to the vision at the same time.'
But one person cannot do such a mammoth task alone, and Stephanie says, 'I've been fortunate to work with people who are willing to shake the tree. They have pushed me to take risks and do things differently, and to believe that there is an opportunity to shift the system.
'We're in an era now where there's a real openness to that. You can see it in the media, and COVID has forced the conversation, too – what is the point of the HSC? What is the value of high-stakes testing? And how do we measure the success of schools? These are all excellent questions that are worth pursuing.'
The heart of learning
Ultimately though, for Stephanie, it's the students who are at the centre of it all. 'I've always loved and been passionate about working with young people,' she says, tackling the issues that affect them directly and giving them the skills they need, based on the research.
'As a team, we've spent a lot of time bringing together a range of research areas to develop the key characteristics we believe are important to teach students. Rather than only valuing the academic outcomes of the curriculum, we focus on what actually needs to be at the heart of learning.
'Out of this came our five learning characteristics – resilience, collaboration, creativity, self-awareness and empathy – and we have built assessments and rubrics around those qualities.
'For example, students have been focusing on resilience throughout the COVID period, documenting this in their learning portfolio, which is a place to gather evidence of their learning and reflect on their experience as well as self-evaluate their resilience. We now have data that demonstrates a level of development in that area.
'For us, it's where the rubber hits the road, and it's working. Parents talk about how their child can use language to describe themselves when they feel down, or when they experience disappointment or frustration – they can now use the language of resilience to get themselves through a difficult period; it's making a real impact.
'As time goes on, we hope to measure and understand what affect this kind of learning might have on anxiety, for example, which is a really complex piece of the youth mental health puzzle. We would like to develop a research project in that area, as well as a longitudinal study of our students; where they go and how they fare.'
It would seem, so far at least, that doing things differently – moving away from the 19th-century model of learning – is having a positive impact on the students at Lindfield and will, in time, have an effect more broadly, too.
'I look forward to taking this to the world and making a difference,' says Stephanie. 'Our young people need us to think differently with them. They need us to hear their voice, and we need to make sure they don't feel disempowered by their educational experience.
'Above all, we need to capture their love for learning – it's inherent – and grow that as part of the system experience. Education is not something that is done to you – it's a pathway into the future.'
As Stephanie says, be brave.
Words: Megan English
Stephanie will be a panelist at this year's Trendsetter Webinar: 2020 (Re)visioning Education for the future on Tuesday 20 October. Register here.  

Stephanie McConnell, Principal at Lindfield Learning Village, holds a Bachelor of Arts and a Diploma of Education from Macquarie University.
Related links:
Trendsetter Webinar 2020: (Re)visioning Education for the Future Registration
Lindfield Learning Village
Designinc – Lindfield Learning Village